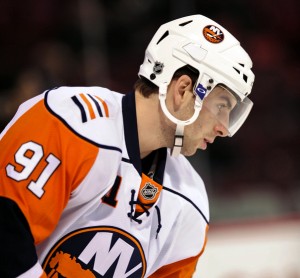 It has been a pretty bad offseason for the Islanders. They lost more talent than they got in free agency, made one big move to get Lubomir Visnovsky, who is now trying to get that trade voided which is now leading to predictions that they are once again a last place team. Off the ice things aren't much better either as the county's latest plan to save the Islanders is a plan that failed the last time they tried it and this time the "request for qualification" got a whole four applicants. On the bright side at least Rick DiPietro has made it off the IR and we still have that whole lockout situation to look forward to.
So now is the time to take a look at the one thing this Islander regime has hung it hat on, the future of this team. The team has been in a slow and steady rebuild since the Islanders last playoff appearance in 2006-07. In the five seasons since the team's goal has been to add young talent through the draft and trades.  The Islanders have gotten positive reviews from around the league for several of their drafts but as the years pass and they come into focus how do they look now?
(the rights of players marked with * are no longer owned by the Islanders)
2007 Draft
62nd Mark Katic – D (playing in Europe, Islanders own rights)
76th Jason Gregoire- LW *
106th Maxime Gratchev- LW *
166 Blake Kessel – D *
196 Simon Lecroix- D *
The first year of Snows tenure was marked bold trades to help the Islanders make the playoffs, trading their first and second round picks in this draft for Ryan Smyth (whose tearful press conference marked the beginning of players crying about being shipped to long island) and Richard Zednik respectively.
The Islanders didn't make their first selection until they took Mark Katic with the first pick in the third round (62, overall acquired in another trade). Since all of these picks came in the third round or later the fact that only Katic has ever played for the Islanders (11 games, 1 point last season) and most never played anywhere in the organization (Gratchev played in one game for Bridgeport) is not much  of a surprise.
It does however illustrate that when a team's trades to acquire playoff help fail (Islanders lost in the first round to the Sabers that year 4-1) it can destroy an entire draft class as not a single player from this draft class is still playing in the organization.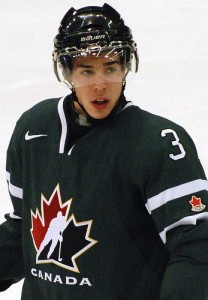 2008 NHL Draft
9th Josh Bailey-  C
36th Corey Trivino- C *
40th Aaron Ness- D
53rd Travis Hamonic- D
66th David Toews- C *
72nd Jyri Niemi- D *
73rd Kirill Petrov- RW (playing in KHL)
96th Matt Donovan- D
102nd David Ullstrom- C/LW
126th David Poulin- G
148th Matt Martin- LW
156th Jared Spurgeon- D *
175th Justin DiBennedetto- C (playing in Europe)
This was the first year that the Islanders turned themselves fully towards this rebuild. A year after trades left the Islanders with only five picks he traded down twice in the first round and used other trades to end up with thirteen picks.
While Josh Bailey has yet to live up to the promise of a 9th overall pick and while Trivino did go on to have a good college career at Boston University he is no longer Islanders' property (which is probably a good thing given his recent issues). The Islanders did land several legitimate players late Matt Martin, Kevin Poulin, Travis Hamonic, Aaron Ness, Matt Donovan, and even Jared Spurgeon (who never signed and now plays for Minnesota) who look like they are all NHL level players. The draft is always a crap-shoot, so by amassing all these picks the Islanders were able maximize their chances, and they were able to take shots with players like Kirill Petrov (a first round talent who dropped because of a contract in the KHL). While contract issues have still prevented a jump to North American hockey he remains an intriguing prospect. With several picks in this draft contributing at the NHL level already the Islanders found a lot of talent in what might have been the best draft class in the past six years.
2009 NHL Draft
1st John Tavares- C
12th Calvin De Haan-D
31st Mikko Koskinen- G (in Europe)
62nd Anders Nilsson- G
92nd Casey Cizkas- C
122 Anton Klementiev- D *
152nd Anders Lee- C
The most important pick of this draft was also the easiest as the Islanders selected John Tavares with the first overall pick, and he has become a star and the cornerstone for the franchise. By this draft Garth Snow's tendencies came into focus. The Islanders have showed that their scouting department has a very different idea of the prospects that either the Central Scouting System or the International Scouting Service. The Islanders had the 16th overall pick and traded up to get De Haan (25th NA skater per CSS) 12th overall who has since been plagued by injuries while several other defensemen drafted behind him are either making contributions in the NHL (such as Dmitri Kulikov(FLA) and Nick Leddy(CHI)) or looking like elite prospects (such Tim Erixon(CBJ) and David Rundblad(PHX)). Another interesting pick was the Islanders selecting Mikko Koskinen as the first goaltender taken in the entire draft even though he was the second ranked European goaltender. Koskinen had a few unimpressive years in North America and did appear in four NHL games (2-1, 4.33 GAA, .873 SV%) but will be returning to his native Finland for this season.
Meanwhile top ranked European goaltender Robin Lehner went to the Senators fifteen picks later and is starting to look like a future NHL #1 goaltender as he already has looked good in thirteen NHL games over the past two seasons(3-2, 2.01 GAA, .935 SV% in five games last year), while also winning the playoff MVP award as he led the Binghamton Senators to the Calder Cup.
The Islanders other tendency of taking high talent players with question marks did pay off however as the Islanders took a chance on fourth round pick Casey Cizkas (had a manslaughter charge from a rugby game death hanging over his head) who has since continued to play well at the junior and AHL level and looks to be a future effective NHL third line forward.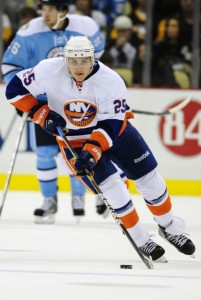 2010 NHL Draft
5th Nino Niederreiter- LW
30th Brock Nelson- C
65th Kirill Kabanov- LW
82nd Jason Clark- LW/C
125th Tony DeHart- D
185th Cody Rosen- G
In this draft the Islanders once again went bold and outside of the box with their first three selections, all players that would require significant time to develop. Niederreiter was a power forward that the Islanders were looking for but was very young (two weeks younger and he wouldn't have been draft eligible until 2011) and other first round pick, Brock Nelson (another trade up) was committed to playing college hockey. The third pick Kabanov was another of the risk/reward picks that Snow has made in the past, a talented player with character issues that caused him to fall into the third round.
All of these players are still works in progress; both Niederreiter and Nelson have put up decent numbers at the junior/college levels while Kabanov's issues seem to be continuing as he has bounced between five teams in the past two years.
2011 & 2012 NHL Drafts
It is way too early to pass judgment on either of these drafts but they both were more conventional without the trades to move up that were the norm in previous drafts. First-round picks Ryan Strome and Griffin Reinhart both filled organizational needs and look like the elite prospects they were drafted to be.
Given how difficult it has been for the Islanders to acquire free agents the draft is incredibly important to this rebuild and while the Islanders have been fairly successful finding role players with their late round picks but their top picks to this point have not developed into difference makers at the NHL level. All of these players still have time to become those players but several of the picks look questionable already, such as the Calvin De Haan pick or taking Nino Niederreiter over Jeff Skinner. With all the moves that go into rebuilding a team there are always successes and failures, but if the Islanders are going to compete they need to find a lot more talent than they have now.
John Imossi is a life long Long Islander and hockey fan, who still believes that the Islanders will be in New York come 2016. He has been writing about hockey for the past several years, and can be reached to talk hockey or anything else at John_Imossi@yahoo.com.