The 2017 World Junior Hockey Championships are just five months away and four countries are already getting started on their rosters.
Canada, USA, Sweden and the defending gold medalists from Finland will take part in the 2016 National Junior Evaluation Camp from July 31 through August 6 at USA Hockey Arena in Plymouth, MI. In previous years, the camp had been in Lake Placid, NY. The event is preparation for the 2017 IIHF World Junior Hockey Championships being held in Toronto and Montreal from December 26, 2016 until January 5, 2017. The OHL is well-represented among the four teams with 26 players taking part.
Canada Leads the Charge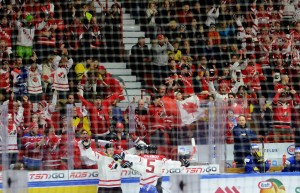 Leading the way is Team Canada with 12 OHL players invited, including goaltender Evan Cormier (Saginaw), defenceman Jakob Chychrun (Sarnia), and forwards Mitch Marner (London) and Dylan Strome (Erie). Both Marner and Strome are returnees from last year's team in Helsinki that looks to redeem itself after a quarter-final exit.
Team USA has seven from the OHL, including defenceman Sean Day (Mississauga) and forwards Logan Brown (Windsor) and Matthew Tkachuk (London). Tkachuk, and fellow-invitee, Otters' forward Alex Debrincat, were on the roster last year that won bronze.
Defending gold medalists Finland will have five OHL players taking part, including defencemen Vili Saarijärvi (Flint) and Markus Niemelainen (Saginaw), and forward Julius Nattinen (Windsor).  Saarijärvi and Nattinen were part of last year's championship team and will be relied upon as the Finns could lose some key pieces.
Finally, Sweden will have a pair of OHL players taking part in Gustav Bouramman (Sault Ste Marie) and Alexander Nylander (Mississauga).  The Swedes will be hungry this year after losing to the USA in the bronze-medal game.
Elite Talents On Display
Teams will start with practices on Saturday, July 30, while scrimmages start on Sunday, July 31 with USA White vs. Sweden at 1pm and USA Blue vs. Finland at 4pm. That continues on Monday, August 1 before a full day of practice on Tuesday, August 2. Games run Wednesday, Friday, Saturday and Sunday following that, with games scheduled at 1pm and 4pm each day except Sunday, when game are 4pm and 7pm.
Last season, the World Juniors set a European record with over 215,000 in attendance in Helsinki. Games were sold out months in advance. The National Junior Evaluation Camp is a great way to see this level of talent for a fraction of the cost, with tickets starting at $5. Full ticket, roster and schedule information can be found on the USA Hockey website.