We're deep into the dog days of summer, and most of the notable names on the unrestricted free agent market are either on the downswing of their careers (Radim Vrbata and Matt Cullen) or have set their asking prices much too high for contending teams to stomach (Kris Russell's reported $5 million ask comes to mind). Teams with glaring holes to fill have, for the most part, addressed their shortcomings via trade or with a savvy free agent signing.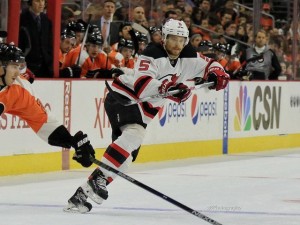 The past few weeks have brought to light an emerging trend in the NHL, as restricted free agents coming off of their first entry-level contracts are signing contracts for more money and term than ever before. Colton Praill, formerly of The Hockey Writers, wrote about the long-term cap savings that overlooking the traditional bridge deal presents to a team when faced with re-signing a young star.
Nathan Mackinnon, the first overall pick in the 2013 NHL Draft and the 2014 winner of the Calder Memorial Trophy, has yet to match his rookie totals in both goals and points. However, his sky-high potential and the opportunity to keep his cap hit low through his prime years was incentive enough for the Avalanche to invest seven years and nearly $45 million dollars into the rising superstar. Victor Rask, Mark Scheifele, and Danny DeKeyser are among other pending restricted free agents that have been locked up to long-term deals this summer. With several of the NHL's top young players currently locked in restricted free agent negotiations with their clubs, here's a look at what they might command in their next contracts.
Johnny Gaudreau, LW, Calgary Flames
At the forefront of the NHL's skill and speed over size, Johnny Gaudreau has emerged as one of the NHL's most dangerous scorers since entering the league in 2014-15. After a rookie season where he was a finalist for the Calder trophy, Gaudreau overcame the sophomore slump to finish sixth in the league in points last year. Not many players have been as consistent and reliable at a young age as Gaudreau, as he is 12th in the league in total points over his first two NHL campaigns.
One of the NHL's most exciting players and a centrepiece of the Flames, it's hard to imagine a scenario where the Flames sign Gaudreau to a contract that could be considered an overpayment. In addition to his stellar offensive game, Gaudreau is also a developing defensive player and one of the Flames' best forwards in suppressing shots against.
This report from Sportsnet back in February indicated that the Flames and Gaudreau had already begun working on a new contract for the diminutive winger. With how well Gaudreau's career has started, it's hard to imagine his camp accepting a bridge deal for two or three seasons, and the Flames likely want him locked up as long as possible as well. The report notes that Vladimir Tarasenko, who signed an eight-year contract with a 7.5 average annual value (AAV) last summer, is likely to be the closest comparable for Gaudreau in contract negotiations.
The Hockey Writers' Jim Parsons wrote more in-depth about Gaudreau's possible new contract recently. Gaudreau's immense value to the relatively low-scoring Flames is a big factor to consider, and his most recent season's production falls in line with some of the top players in the entire league. I can see Gaudreau commanding the maximum term allowed under the current CBA (eight years), with an AAV somewhere in the neighborhood of Tarasenko and Phil Kessel, another recent comparable.
Prediction: Gaudreau signs an eight-year, $64 million contract extension for a cap hit of $8 million.
Tyson Barrie, RHD, Colorado Avalanche
The conflict between the Avalanche and their top blueliner, Tyson Barrie, has been well-documented among the lack of breaking hockey news this offseason. Coming off of two consecutive seasons in which he totalled over 100 points, the 25-year-old defenseman has emerged as one of the most dangerous puck-moving defenders in the entire league. Despite being undersized at just 5'10" and 190 pounds, Barrie's defensive game has come around and he's now often employed as Colorado's top defenseman.
Tyson Barrie arb:
team offer: $4m & $4.25M. Player ask: $6M for one year

— Elliotte Friedman (@FriedgeHNIC) July 27, 2016

Unlike Gaudreau, it seems unlikely that the Avalanche are willing to commit to several years on any potential contract extension for Barrie. When they signed fellow defenseman Erik Johnson to a seven-year, $42 million dollar extension last offseason, GM Joe Sakic set a precedent that will be hard to break when it comes to extending arguably a more valuable player. Barrie's locked in an upcoming arbitration battle with the Avalanche, however, so it's looking increasingly likely that he'll receive just one or two years on his next deal rather than the seven that Johnson earned.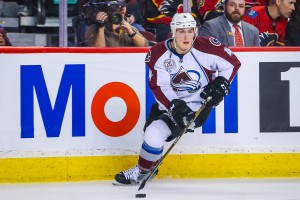 Looking at some comparables for Barrie, a list that includes Torey Krug, Sami Vatanen, and TJ Brodie, it's painfully clear that Barrie deserves a contract for more money and term than Colorado is supposedly offering. Colorado's decision to play hardball with one of their most valuable players could cost them if Barrie decides to accept a short-term contract offer that's likely coming soon. With both Jarome Iginla and Brad Stuart's hefty contracts coming off of Colorado's payroll next summer, Barrie's best option (other than scoring a long-term deal) is to sign a one-year contract in hopes that the Avalanche will pony up a contract next offseason. It's still not impossible that the two sides will get something done prior to arbitration, but that's looking like the most likely scenario.
Prediction: Barrie is awarded a one-year, $5.5 million contract through arbitration.
Rasmus Ristolainen, RHD, Buffalo Sabres
For all the credit that Jack Eichel received for helping the Buffalo Sabres out of the NHL's basement last season, Rasmus Ristolainen's progression into a legitimate top-four defenseman certainly helped improve Buffalo's thin defensive group. After putting up just 20 points in his second NHL season, Ristolainen more than doubled his point total and led all Sabres defensemen in ice time, playing in all situations and providing hope that he can eventually become a solid number one blueliner.
The Sabres, after two straight seasons of miserable last-place finishes, are flush with young talent and oodles of cap space. While the Sabres are not without several anchor contracts (Matt Moulson, Brian Gionta, and Josh Gorges combine for over $13 million in cap space), the majority of the Sabres core, including Jack Eichel and Sam Reinhart, aren't due contract extensions for two more seasons. As such, the Sabres can afford to offer Ristolainen, their presumptive future blueline anchor, a hefty long-term deal.
With other comparable young defenders scoring long-term deals, it stands to reason that the Sabres don't have much of an argument to hold Ristolainen to a bridge contract. Morgan Rielly, Aaron Ekblad, and Seth Jones are among fellow recent draftees that have already signed deals for six or more seasons this summer, and Ristolainen looks to follow in their footsteps. With the lack of depth the Sabres have on their blueline and their large amount of available cap space, GM Tim Murray shouldn't hesitate when it comes to giving the young Finn one of the most expensive deals on the team.
Prediction: Ristolainen signs a seven-year, $38.5 million (5.5 AAV) deal before arbitration.
Nikita Kucherov, RW, Tampa Bay Lightning
While Gaudreau is undoubtedly the most establish RFA still lacking a contract, Nikita Kucherov of the Tampa Bay Lightning has emerged as an NHL star in his own right. A second round draft choice in the same year as Gaudreau (2011), Kucherov's past two seasons has seen him blossom into one of the Lightning's most dangerous forwards. With 30 goals and 66 points, Kucherov led Tampa Bay in scoring in 2015-16, setting career highs in goals and points along the way.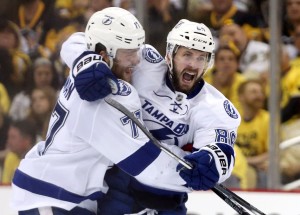 With a standout offensive skillset and an extremely impressive playoff track record, it would appear that Kucherov is a huge part of the Lightning's future. So what's the holdup with a contract extension for the young star?
Tampa Bay is entering a period where GM Steve Yzerman will have to get creative to fit all the components of his talented roster in under the salary cap. With Stamkos and Victor Hedman now locked up to hefty contract extensions, it doesn't leave a lot of room in the coming seasons to lock up several other pending free agents, including Tyler Johnson, Ondrej Palat, Ben Bishop, and Jonathan Drouin. Kucherov is just the first domino to fall, and it makes sense that Yzerman would try to save every penny he can when it comes to negotiating a new deal for the Russian sniper.
Kucherov and his camp certainly have a compelling case for a long-term contract extension, with Kucherov ranking near the top of his age group in most offensive categories. Filip Forsberg, a young forward with comparable talent and upside, recently re-upped with the Nashville Predators for six years, earning an average of $6 million per season. Kucherov should be aiming for that range with any new deal, and with his history of producing big numbers in important situations, it would easy to see his salary surpass that of Forsberg's.
Prediction: Kucherov signs a six-year, $39 million contract for a cap hit of $6.5 million.
Hampus Lindholm, LHD, Anaheim Ducks
After stumbling to a 1-7-2 record in their first 10 games, the Anaheim Ducks were able to capture their fourth consecutive divisional championship on the strength of their strong goaltending and stellar young defense corps. While one-half of their league-best goaltending tandem is gone to Toronto, the Ducks remain in good position to contend moving forward thanks to the rapid progression of young defender Hampus Lindholm.
While on the surface Lindholm's point total last season was the lowest of this three-year career, his development into one of the league's elite possession and shutdown defenders made him the centrepiece of the Anaheim defense. Lindholm's underlying numbers were among the best in the league last season, as his relative Corsi numbers and goals-for percentage were both tops on Anaheim and among the best in the league. And as Sportsnet's Dimitri Filipovic points out here, Lindholm's play tilts the ice in Anaheim's favour and raises the level of play of every Ducks teammate.
While Lindholm doesn't have the traditional counting stats associated with an elite defenseman, it's no longer a secret that the young Swedish rearguard is among the top players at his position. With several other young defenders already signing long-term deals this offseason, Lindholm certainly has a case for a long contract of his own. Morgan Rielly and Seth Jones are solid young defenders in their own right, but Lindholm is arguably the best of the trio and his importance to the Ducks will likely be reflected in his upcoming contract.
Prediction: Lindholm signs a seven-year, $42 million contract for an AAV of $6 million.
Joseph Aleong is an At-Large writer for THW from Toronto, Ontario. He is a graduate of Brock University in St. Catharines, ON. Follow him on Twitter @josephaleong11