At this point, the blue line population of the Arizona Coyotes continues to grow with longevity.
With anywhere from six to nine blueliners ready to step into the Coyotes' lineup, general manager John Chayka took additional steps to secure the future at the back end. In signing Michael Stone (6G-30A-36P) to a one-year deal and Connor Murphy (6G-11A-17P, plus-5) to a six-year contract, the Coyotes made sure there is less shuffle of important personnel. While a deal to lock in Murphy was not surprising, the length was unexpected.
Over the past year, Murphy's star clearly rose. Son of former NHL defenseman Gord Murphy, the likable 23-year-old emerged as an intelligent and productive blueliner. That's from the perspective of knowing his capabilities and playing to his strengths. Though his shot from the right point is not the hardest, Murphy prides himself on accuracy and the ability to get the puck on net. Then, it's up to teammates to charge down the slot, screen the goalie and put in loose pucks.
Yet, there was a major reason why the Coyotes settled on the six-year deal.
"We know (captain) Shane Doan will not be here forever," Chayka said in a conference call Thursday afternoon with Arizona reporters. "We believe Connor has strong leadership abilities, and will gradually fill this important role when Shane leaves."
The contract is for the six-years, $20.1 million, and Chayka indicated, at this point, there will be no re-negotiation at any point during the life of that agreement. A right-handed shot, Murphy, at 6 feet 4 inches, 212 pounds, could play with Kevin Connauton or Alex Goligoski, a pair of left-handed shots. Other left-handed shots in which he could be paired include Klas Dalhbeck and Jarred Tinordi. Yet, that's advanced thinking for coach Dave Tippett. For now, the Coyotes locked in Murphy for a considerable length of time, and believe the native of Dublin, Ohio, represents stability and production from their blue line.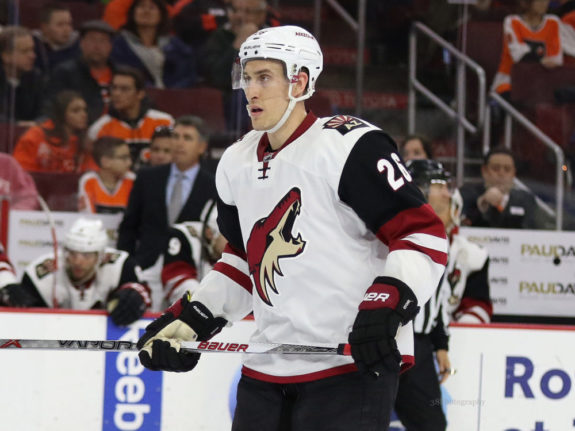 One-Year Deal For Stone
In signing a one-year deal also on Thursday, Stone made it clear his torn ACL and MCL influenced his bargaining power. Sustaining the injury on March 25 in the Gila River Arena on a hit into the boards from Flyers' defenseman Radko Gudas, Stone says he is nowhere close to skating and continues with therapy and measured rehabilitation.
While he zeroed in on Oct. 15, opening night at home against the Flyers, for a return to the lineup, that date is now clouded. Given the severity of the injury and a protracted period of recovery, Stone remains optimistic his return will be sooner than later.
"I've never had this type of injury before, so I don't know what to expect," Stone told Arizona reporters Thursday afternoon during a conference call. "When I'm ready to go, I'll go. At this point, there is no timetable, and we'll just see how things go."
Like Murphy, Stone's value last season grew. Tippett called the Winnipeg native, "a solid, NHL defenseman. Michael will never be a great superstar, wait, let's hope so, but he is as steady and productive as any defenseman in the league."
Had he not been injured, Stone thought he could negotiate a longer deal than one-year. Because there is no projected time of return, and the Coyotes signed defenseman Luke Schenn last week as an insurance policy. As far as contract length, Stone said both sides were satisfied going just one year out at this point.
With Stone and Murphy now signed, Chayka still has left wing Tobias Rieder on his radar screen. With about seven weeks until training camp, Chayka said there is no immediate rush to judgment, and assures listeners Rieder (14G-27A-37P) will be on the ice that initial day of camp in September.
Mark Brown is a former sports editor for daily newspapers in the Philadelphia and Cincinnati markets. He was named Best Sports Columnist, honorable mention 2004 by the Associated Press Society of Ohio. He is a contributor to major daily newspapers, including the Chicago Sun Times, Philadelphia Inquirer, Honolulu Star-Bulletin, Milwaukee Journal, Arizona Republic, Nashville Tennessean and the Associated Press. He was a Featured Columnist for bleacherreport.com and covered the Arizona Coyotes.