Edmonton Oilers defenseman Darnell Nurse is a restricted free agent (RFA) this summer. The Andrej Sekera injury at the start of the season created an opportunity for one of Nurse, or Matt Benning a chance to play top-four minutes. Benning was first but faltered. Once Nurse got his look, he gradually took off and has undoubtedly been one of Edmonton's best defensemen in 2017-18.
So the question now is how much will it cost the Oilers to re-sign the fledgling star in the making? The 23-year-old has already set career high's in goals (six), assists (12), points (18), and minutes played (21:43) through just 55 games this year. That's only a handful of career-highs. In reality, it's nearly every category across the board. Only Oscar Klefbom (22:45) has averaged more minutes per night than Nurse this season.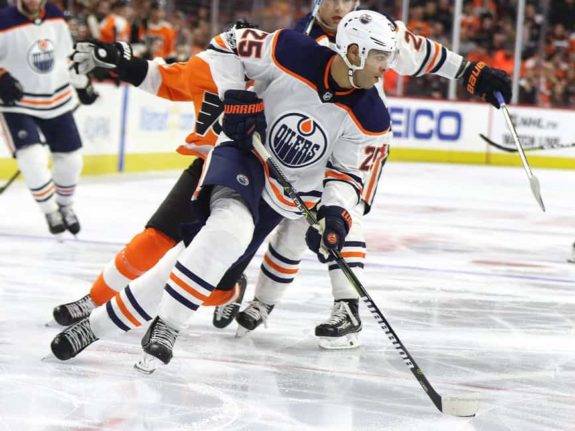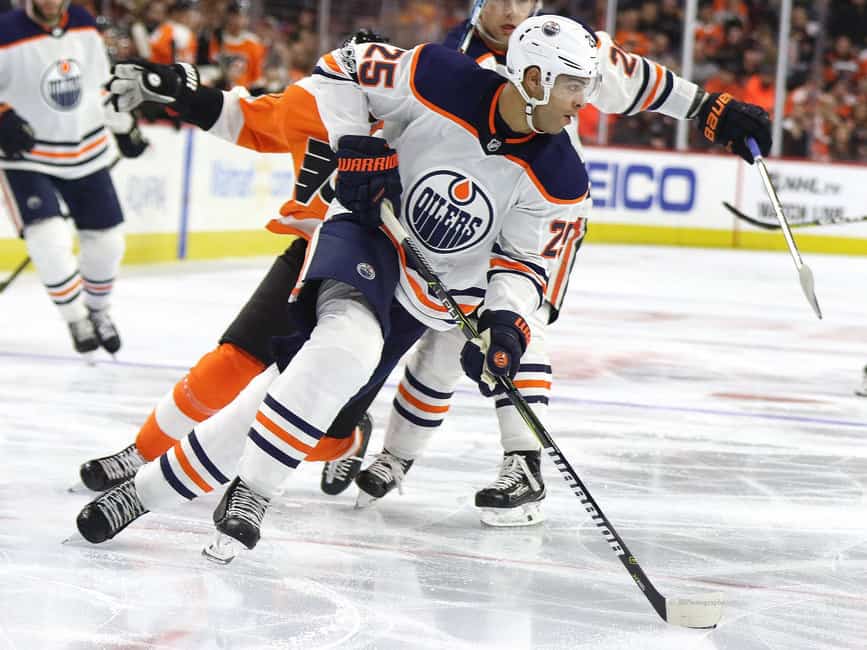 OILERS DEFENSE STATISTICS

PLAYER
Age
$$$
GP
G
A
PTS
+/-
PIM
TOI
S
P/PG

Oscar Klefbom

24

$4.1M

51

3

11

14

-12

14

22:45

153

0.27

Darnell Nurse

23

$863K

55

6

12

18

12

48

21:43

129

0.33

Adam Larsson

25

$4.1M

40

3

3

6

0

26

21:30

52

0.15

Kris Russell

30

$4.0M

55

4

16

20

0

8

18:54

68

0.36

Matt Benning

23

$925K

51

4

8

12

1

37

18:02

85

0.24

Brandon Davidson

26

$1.4M

31

3

2

5

-3

15

16:29

35

0.16

Andrej Sekera

31

$5.5M

18

0

1

1

-10

2

15:45

15

0.06

Eric Gryba

29

$900K

21

0

2

2

4

31

14:44

19

0.10

Yohann Auvitu

28

$700K

23

2

5

7

8

8

13:35

55

0.30
Contract Comparables for Nurse & Oilers
There's a ton of comparables to Nurse when it comes to his next contract. For this exercise, we'll limit it only to players that were signing their second NHL contract. We're looking only at players coming off their entry-level contracts (ELC). That also means players under 25  as well.
The next step is to look at players that are, more or less, around the same offensive production as Nurse this season. That means guys like Colton Parayko, Shayne Gostisbehere, Rasmus Ristolainen, Seth Jones, and Morgan Reilly are excluded. We'll also leave out Aaron Ekblad because let's be honest; Nurse is not a $7.5 million defenseman.
CONTRACT COMPARABLES FOR DARNELL NURSE

PLAYER
AGE
TEAM
DATE
YRS
CAP
GP
G
PTS
TOI
CF%

Michael Matheson

23

FLA

Oct/17

8

$4.8M

52

6

19

20:57

47.9

Josh Manson

25

ANA

Oct/17

4

$4.1M

57

3

25

20:32

51.6

Damon Severson

23

NJD

Sep/17

6

$4.1M

52

8

15

19:21

51.7

Brett Pesce

22

CAR

Aug/17

6

$4.0M

48

2

12

21:02

52.6

Jaccob Slavin

23

CAR

Jul/17

7

$5.3M

56

4

15

22:48

52.9

Nikita Zaitsev

25

TOR

May/17

7

$4.5M

41

4

10

22:39

46.9

Jacob Trouba

22

WPG

Nov/16

2

$3.0M

50

3

20

22:10

50.4

Hampus Lindholm

22

ANA

Oct/16

6

$5.2M

45

8

19

22:43

53.1

Olli Maatta

21

PIT

Feb/16

6

$4.0M

58

3

19

19:01

52.2
What we're left with is a list of nine blue liners that should be sound comparables. Here's what we know. On a short-term bridge deal, Edmonton has a comparable in Jacob Trouba. The Winnipeg Jets were able to squeeze Trouba into a two-year deal with a $3 million cap hit.
Related: The Electrifying Emergence of Darnell Nurse
There was a contract holdout, Trouba requested a trade, and the two sides agreed to get something done to showcase and potentially trade him. Since then the two sides have mended fences, and the trade request was rescinded.
The rest of the deals range from four to eight years in term, with the median number of years being roughly six. Excluding Trouba's generous discounted price, the average value of the rest of the deals fall around $4.5 million. Using these comparables, is it fair to say the market value is a six-year $27 million contract with a $4.5 million cap hit?
Oilers Search for a No.1 Defenseman
We will look to do something to try to improve our team, short and long term. We've got some assets that we could trade here. If we could add another top defenceman that would be real good.

– Bob Nicholson, Oilers CEO
Aside from finding a top-line scoring forward, the Oilers are still in search for that elusive No.1 defenseman they've been without. Oscar Klefbom, Adam Larsson, and Andrej Sekera are good defensemen, but neither of those three is a No.1 unfortunately. Neither is Nurse, but that's ok because there's plenty of value in Nurse.
Nicholson's comments suggest the Oilers are still searching for that top defenseman, but to do that, they'll need to shuffle some contracts around. Klefbom and Larsson are on value deals at $4.16 million each, whereas Sekera has a hefty price tag at $5.5 million.
Factor in a Nurse extension, and Kris Russell's lingering contract that pays him $4 million to be a No.5, and Edmonton has $22.32 committed to five defensemen for next season.
As The Athletic's Jonathan Willis points out, Nicholson's comments are an interesting take considering just how much general manager Peter Chiarelli has spent on the defense already. Only five other teams in the Western Conference have spent more money this year on their defense than the Oilers.
Related: Darnell Nurse – I Don't Have Dreams. I Have Goals
That list includes the Winnipeg Jets ($29.1), Calgary Flames ($25.7 million), Nashville Predators ($24.1 million), Los Angeles Kings ($23.2 million), and St. Louis Blues ($22. 8 million). The difference between those teams and the Oilers is that each of them has a clear No.1 defenseman, whereas Edmonton still doesn't. It's irresponsible. If this is the deal Edmonton signs Nurse to; they'd have $12.55 million to sign another nine players if the cap goes to $78 million.
Where Does the Oilers Defense Go from Here?
Nurse is a part of the solution and should be here. There's a lot of belief that Klefbom can bounce back next season as well. Larsson is somewhere in the middle as he's been a defensive stalwart at times, but is still finding himself on a night-to-night basis. The rest of the defense should be seen as expendable and as chips to help land that elusive No.1 eventually.
Nurse will get paid close to market value, but someone else will need to be traded. Edmonton would be ill-advised to spend near the same amount on their entire defense this season on just five defensemen for next year.
Do you agree? Tell us your thoughts in the comments below.