It appears the Edmonton Oilers are still one of the many teams actively trying to make something happen at the trade deadline. There are rumours the Oilers are looking for a backup goaltender, depth forward and potentially a faceoff specialist. Names like Jaroslav Halak, Radim Vrbata and even Ales Hemsky have been thrown around.
One of the keys to any moves Edmonton may make could require first freeing up money.
My guess is Oilers shift their sights towards a rental winger, 3rd or 4th line. Money will be an issue, Draisaitl bonuses could be costly.

— Ryan Rishaug (@TSNRyanRishaug) March 1, 2017
Why?
With the success of young Oilers Connor McDavid and Leon Draisaitl, there are some performance bonuses that may come due which could affect Edmonton's ability to fit players under this year's cap. Draisaitl, for example, has $2.475 million in "B" bonuses that he could reach, while McDavid has upwards of $2.85 million in bonuses he will undoubtedly reach as the NHL current points leader.
For Edmonton to add any rentals — many of whom have significant cap hits — the Oiler's may need to move money out to make these deals work.
Andrew Ference
One of the players eating away at some of the money on the Oilers' books is soon-to-be retired defenseman Andrew Ference. His $3.25 million dollar salary would help give Edmonton wiggle room in any acquisitions.
As is described when it comes to a player like Ference, capfriendly.com says:
When a player is placed on LTIR, their cap hit technically remains on the team's cap payroll and it continues to count as it always did. It also does not provide the club with additional cap-space savings that can be banked for future use while the team operates below the salary cap. Instead, LTIR provides relief if the club's averaged club salary, or payroll, begins to exceed the upper limit. The amount of relief that the club receives is calculated on the day the player is placed on LTIR.
With Ference logically done his NHL career, Elliotte Friedman is reporting that Edmonton is looking to move Ference's contract for some cap relief. Ference, despite having a no-move contract, wouldn't stand in the way.
EDM trying to move remaining cap hit for Andrew Ference ($3.25M), up at the end of this season. Would create flexibility.

— Elliotte Friedman (@FriedgeHNIC) March 1, 2017
Matt Hendricks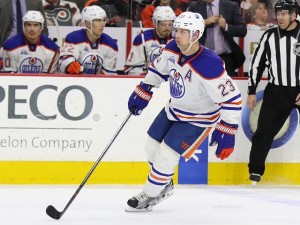 If the Oilers aren't successful moving Ference's contract to a team like Arizona or the NHL's newest franchise in Las Vegas, the Oilers may look to move out a depth player with a higher cap hit.
Matt Hendricks is not a full-time Oiler at this point and probably playing his final year with the team. He's got a $1.85 million dollar salary as a depth forward at best.
[irp]
The Oilers may look to fill his spot with a player like Jujhar Khaira or Drake Caggiula and move Hendricks in a trade with a team willing to take on salary for a later-round draft pick.
Salary Retention
If all else fails, the Oilers will have to convince teams to retain salary in most deals. This was an approach Edmonton took when acquiring David Desharnais. Montreal retained 20% of Desharnais' salary in the deal that sent Brandon Davidson to Montreal. This is a technique the Oilers also used when they obtained Patrick Maroon at least year's deadline.
As the deadline nears and fewer and fewer trades happen, some teams may be a bit more willing and Oilers GM Peter Chiarelli may be banking on that fact. It's worked for him before, it may work for him again. The point is, as moves and trades take place, it's never too late to count the Oilers out.
Jim Parsons is a freelance writer who covers the Edmonton Oilers and news and rumors posts here at The Hockey Writers.
You can also catch him writing at NHLtradetalk.com, The Sportster and hosting weekly video casts, THW News and Rumors Rundown, plus Oilers Overtime.
Follow below on any my social media accounts.