The Vancouver Canucks escaped Edmonton with a win, but they don't have too much to be proud of. It was an ugly game, nine goals in total, and one that could have really gone either way. Ryan Miller kept his unbeaten streak against the Oilers going, and Edmonton still has yet to win a game against the Western Conference this season. It's a remarkable and embarrassing feat, one that could potentially carry on considering their upcoming schedule.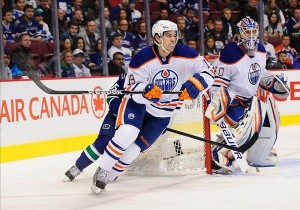 After facing the Eastern conference dwelling New Jersey Devils on Friday, the Oilers have games against the Blackhawks, Stars, Predators and Blues. Yes, there is a really good chance the Oilers could finish out the month of November winless in their own conference. They were in last night's game, right till the very end, as they almost tied it up with eight seconds to go. But it was determined that David Perron kicked the puck in. It was the right call, and the Oilers skated away with no points, despite being tied 4-4 midway through the third period.
Ben Scrivens didn't have a great night. There were a few goals, like the game winner, that he was left out to dry, but he didn't make the big saves his team needed.
"I'll let my goalie coach determine what's a bad goal or a good goal, if you don't mind," he said. "I battled. I thought I made some saves to keep them in it." [Global News]
Whatever you say, Ben. Vancouver wasn't exactly on their game last night either, but they got that fifth goal, and it was enough. The Oilers fell short, yet again. With the game in the balance, Dallas Eakins let the top line handle things, despite the fact that they had done little up to that point. Steve Pinizzotto scored his first, while Boyd Gordon, Andrew Ference and Teddy Purcell notched the other Oilers goals. Taylor Hall had a glorious chance as the final seconds ticked down but Miller shut the door. David Perron's disallowed goal would have been only his second of the season.
"It was kicked and the rule says if it doesn't hit another player and it only hits me, it's no goal," (Canucks goalie Ryan) Miller said. "That's what the rule is there for, you can't pick up your skate blade in the crease and make a kicking motion, so I think it's the right call. If it had deflected off his skate or hits him, I could live with it, but I saw him kick it and it didn't touch anybody else, so I feel like it was the right call." [Global News]
Eakins acknowledged the lackluster performance of his stars, despite giving them all the chances to tie the game late.
"The guys that have to be critical for us, right through our lineup whether it's a group of forwards or some of our D, they weren't there for us the whole (game)," Oilers Head Coach Dallas Eakins said. "They showed sparks of coming but for whatever reason, they couldn't get it done. The guys we rely on less played well. Your key guys have to be your drivers every night. It's just not two or three, we had a number of guys struggle through different portions of the game." [Oilers.com]
It's got to be frustrating and discouraging, to look at your record and see that you can't beat teams from your own conference. It's not even December, and it just feels like the Oilers season is already over. Unless they suddenly move to the Eastern Conference.