With no NHL games on tap last evening, we look at some news and notes around the world of puck.
Lacroix haunts Jr. Habs
Andre Lacroix, a smallish centre with a large skill-set, is making a run a the OHA Junior A scoring race this season, after being deemed not quite good enough for the Montreal Junior Canadiens last season.  Lacroix was sent to the Peterborough Petes last year when the Junior Habs found themselves overstocked with forward talent.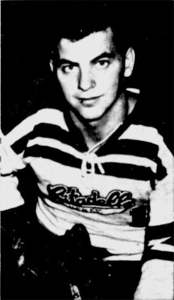 Last night Lacroix handed Montreal a huge dose of payback, coming up with a six-point night as Peterborough trounced the Junior Canadiens 9-3.  Lacroix led the way with two goals and four assists.  Don Herriman and Billy Plager also had two goals each for the Petes, with singles netted by Mickey Redmond, Dan Sharpe and Dale Watson.
Montreal goal-getters were Brian O'Byrne, Lucien Grenier and Don Liesmer.
In the other OHA game, the Hamilton Red Wings claimed a narrow 6-5 win over the St. Catharines Black Hawks in Hamilton.  Real Lemieux scored the game winner with less than seven minutes to play to power Hamilton past the Black Hawks.  Peter Loveless had two goals for the Wings, Nick Libett, Peter Mahovlich and Jimmy Peters getting the others.
Kenny Hodge had two for St. Catharines.  Stew Roberts, Wayne Maki and Brian Macdonald counted once each.
NHL notes
The New York Rangers report that rookie defenceman Arnie Brown will be lost to the team for three to six weeks with a rib fracture.  Brown was injured in Tuesday's game against the Detroit Red Wings.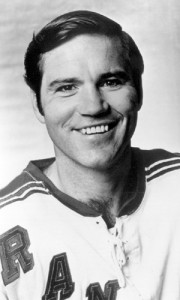 The Rangers are the surprise team of the NHL this year, thanks mainly to vastly improved defensive play.  Goaltending by Marcel Paille and Jacques Plante has been better than average.  The defence corps, led by Harry Howell and rookies Rod Seiling and Arnie Brown, has been far better than expected.
Terry Sawchuk will remain the starting goalie for Toronto this weekend, although Johnny Bower appears to be close to making a return to action.
Ron Stewart missed the Leaf practice yesterday, nursing a sore foot.  He was injured when a skate cut through the boot of his skate against Montreal on Wednesday.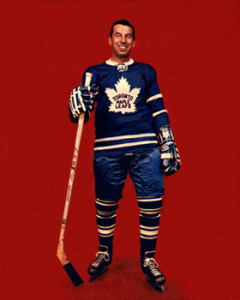 Montreal also came out of Wednesday's game with new names for their injury list.  Bobby Rousseau suffered a badly bruised shoulder courtesy an Eddie Shack body check.  Ralph Backstrom had to leave the game with a wrenched back. Both are questionable for this weekend's action.   Jean Beliveau tried to give it a go in the Wednesday game, but his groin continues to be a problem and he played only two shifts.
Beliveau is off to a slow start this year, with only 10 points so far.  At this point last season, he had amassed 23. Backstrom, meanwhile, was goalless at this time a year ago, and has already tallied five times this season.
Former NHL defenceman Howie Young is continuing his antics in the Western Hockey League with the Los Angeles Blades.  In one recent game he set a record by being fingered for eight minor penalties.  Young used to be able to intimidate minor league officials, but with the NHL referees now doing WHL games, Howie's act doesn't fly with them.
Former NHL star Fleming Mackell is now the playing coach for the New Glasgow Rangers of the Maritime Senior League.  He is burning up the league, with 10 goals and 10 assists for 20 points in only five games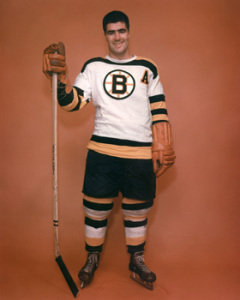 Ulf Sterner, the Swedish forward who is playing with St. Paul of the CPHL says that the national teams of Sweden or Russia would give the New York Rangers or Boston Bruins "a very rough time" if they were to play each other.  Sterner is tied for second place in CPHL scoring with eight goals and seven assists in his first season on this side of the pond.
Another retired NHL'er, Gus Mortson, may be given a 5-game "tryout" with the Buffalo Bisons of the AHL.  The Bisons are down to three defenceman and Mortson, who has been playing amateur hockey the past four seasons after his retirement from the NHL, would jump into the Buffalo lineup to help out.  He is allowed to play up to five games without endangering his amateur status.