It is all too familiar territory for the Columbus Blue Jackets.
After being blanked by the Detroit Red Wings 5-0 on Tuesday night, the Blue Jackets find themselves in the midst of yet another slow start to their season.  They have currently lost 10 of their last 12 games.  Their record of 6-11-1 has them in last place in the Metropolitan Division.  Only Buffalo has a worse record than them, and that is only by 1 point.  Things have obviously not gone according to plan this season.
But there is hope in spite of all that has gone wrong thus far.  Prior to the Detroit game, the Blue Jackets had a record of 6-10-1.  On November 12, 2013, after an overtime loss to the Washington Capitals, their record was, 6-10-1.  What happened to the Blue Jackets last season?  They made the playoffs.  They got much better as the season went on.
It is easy to want to panic about this team.  There was a bunch of hype coming into the season.  Many had thought that the Blue Jackets franchise had once and for all turned the corner.  All of that is still true.  There are many factors that have contributed to this start, with injuries being the biggest factor.  A turn around is certainly possible.  If you need evidence, they did just beat the Flyers and Sharks, with many regulars still out of the line up.  We are going to take some time to outline what things need to happen for the Blue Jackets to turn this season around.
Would The Real Blue Jackets Please Stand Up?
When you think of the Columbus Blue Jackets, when things are going right, you think of a team who consistently forechecks and puts pressure on the other team.  But in this latest losing streak, that hasn't really been there.  Granted, part of being able to establish a forecheck is playing from ahead.  When you lose 10 of 12, you are not ahead on the scoreboard all that often.  The team did have to open up things some in the 3rd period against Detroit in an effort to get back in the game.  The Blue Jackets are not a team that is built to come from behind.  Their game revolves around having a strong, aggressive forecheck, combined with good special teams, and having Sergei Bobrovsky backstop them.  Special teams, at least the power play, has been there.  Bobrovsky has been up and down thus far, but mostly because of the play in front of him.  What has been lacking?  The forecheck.  As regular starters come back into the lineup, this element of their game will work its way back into form.  Once this happens, the other elements of their game will fall into place.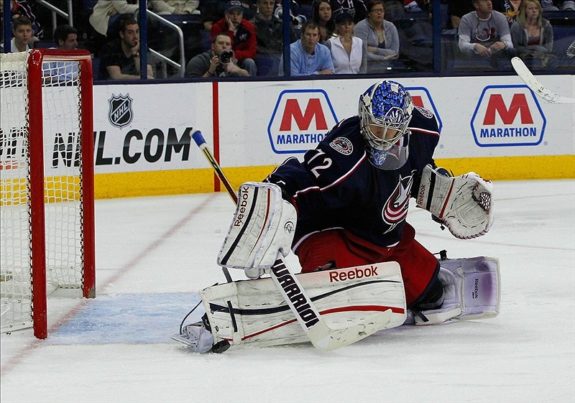 Going Back To Basics
Sometimes, we overlook the simplest things.  In the case of the Columbus Blue Jackets, there are some simple things that are missing from their game.  Have you noticed the passing during the losing streak?  There were not many completed passes.  When you can't complete a pass, you can't attack the other team the way you want to.  It seems so simple, right?  But when a team's passing is not crisp and precise, it greatly affects other parts of the game.  One of which is, the forecheck!  Notice a pattern yet?  If the Blue Jackets are going to right the ship, they need to get back to basics.  They need to be able to pass the puck effectively.  They need to make smarter decisions with the puck.  They need to spend more time in the other team's zone.  These things cannot be overlooked.  Execution of these simple plays does help limit what the opposition can do.  They have to react to what you are doing.  Again, when a majority of regular starters return, this part of the game will get better.  In the meantime, keep it simple.
I'm kidding, sort of. But the puck hasn't spent a lot of time in the San Jose zone this period. Very little time, in fact. #CBJ

— Rob Mixer (@RobMixer) November 16, 2014
Discipline, Discipline, Discipline
Did I mention the word discipline?  Just making sure.  If you watched the Detroit game, you know exactly what I am talking about here.  The Blue Jackets are down 2-0 in the 3rd period.  In reality, they are still in this game.  Then, Ryan Johansen takes a lazy penalty.  What happens next?  Yep, it's 3-0 Red Wings.  Game is mostly out of reach now, thanks to taking an undisciplined penalty.  His penalty actually earned him a seat on the bench for the remainder of the 3rd period.  After the game, Johansen didn't disagree with Todd Richards decision to bench him.  He knew what he did was dumb, especially at that point in the game.  To make matters worse, Scott Hartnell later takes an equally dumb penalty, after Detroit made it 4-0.  Yes, emotions can run high, but you just can't let those emotions get the best of you.  He took a double minor, and we didn't see him for the rest of the game.  The message was clear.  It doesn't matter who you are, or what line you play on.  You are not exempt from being benched if your play warrants it.  Simply put, if Johansen doesn't take that penalty, who knows what happens the rest of the game?  Staying disciplined gives you the best chance to win.  It sounds so easy, but amazingly, it happens more than we want it to.  If the Blue Jackets want to turn this season around, they must stay disciplined and accountable.  Penalties like in the 3rd period Tuesday must not happen.  Otherwise, the only question will be how high their draft pick will be in 2015.
Johansen on 3rd-per benching:"It was a bad penalty on my part. I can't take those. Coach made a good decision, I thought. It is what it is."

— Aaron Portzline (@Aportzline) November 19, 2014
Again, there is no need to panic yet about this team.  They have not had their entire full roster yet this season.  The key will be adhering to the 3 things listed above.  Their playoff chances hinge on these things.  If they execute them, there will be spring playoff hockey.  If not, they will have nobody to blame but themselves.  The puck is now in the player's court.