By saying six simple words in his retort to Mike Milbury last night, Bob McKenzie instantly endeared himself to New York Islanders fans. Milbury – who at the time was musing about Brendan Shanahan being able to skip coaching and GM duties to get to the Maple Leafs' presidency – has long been reviled by Islanders fans, but McKenzie gave a response that not only pleased Islanders fans, but one that instantly encapsulated so much Islanders history from the last two decades.
For those that missed it, here it is below:
With McKenzie replying, and implying, that the New York Islanders also wished he had skipped his GM role with the team, Islanders fans immediately took to Twitter and Facebook to express their approval of McKenzie's comments. However, regardless of the jokes, laughs, and taunts that Islanders fans had at Milbury's expense last night, McKenzie's response perfectly illustrated the plight of any die-hard Islanders fan from the mid-to-late 1990s to the present day.
The Immediate Reaction
To say that the reaction of Islanders fans to McKenzie's comments was positive would most definitely be an understatement. Not only did Islanders fans bask in the glory of Milbury being burned on national television, they took to their social media accounts to show just how much they agreed him.
Without further ado, here are some of the twittersphere reactions (with some sarcastic commentary of my own infused below the tweets):
Milbury said he wished he went straight to presidency & skipped being GM.

Mckenzie said, "So do the NY Islanders" pic.twitter.com/q67roGBlv8

— BFan (@BFan81) November 20, 2014
A standing ovation for Mr. McKenzie indeed. You are now a hero to many of this fanbase.
Bob McKenzie takes a stab at Mike Milbury to his face/Is my new hero >> http://t.co/f8RCnI8GDd pic.twitter.com/gHBR7PiIuS

— connor (@ConIsles) November 20, 2014
Enter the endless, and hilarious, memes that will ensue from this still that was pulled from the archives. Excellent job, Isles Blog.
WHAT A SHOT BY MCKENZIE, Milbury's feelings head to the dressing room, seemingly hurt.https://t.co/xlBNww1H69

— Doc Emrick (@DocInRealLife) November 20, 2014
Even Doc Emrick got into the fun, but I have to ask, if Milbury's feelings hurt too much, then can he possibly be benched?
https://twitter.com/NYRangersZone/status/535261522235506691
Come on now. When a Rangers-centric account joins in, you know others were watching and witnessing the years of pain as well.
https://twitter.com/JudsonK217/status/535250078815244289
Good suggestion. That'd be gold, but as the commenters on this tweet mentioned, you have to squeeze Don Cherry in there somewhere. Guest appearance?
I wasn't watching NBCSN. After McKenzie's zinger, I hope Milbury didn't beat him with his own shoe.

— Dan (@cultureoflosing) November 20, 2014
Dan Saraceni even had a write-up on the topic, but I have to ask, is Milbury nimble enough to pull off such a feat again?
While it was plain to see that Milbury had left an indelible mark on a franchise and their fanbase, Milbury's comments (and McKenzie's subsequent reaction) perfectly captured the struggles of the Isles and their fans from the mid-to-late 1990s to the modern day.
The Milbury Years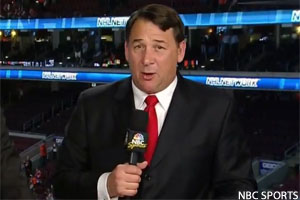 Although Mike Milbury's reign of terror started with the Islanders almost two decades ago, his decisions are still remembered to this day. Sure, younger Islanders fans – and probably those in newer generations – might not have experienced the Milbury Years, many die-hard fans from the dynasty years had to endure such a trying time in Islanders history.
Trading away the likes of Bryan Berard, Bryan McCabe, Todd Bertuzzi, Zdeno Chara, Olli Jokinen, Roberto Luongo, J.P. Dumont, and countless other players, Milbury not only drew the ire of the New York Islanders' fanbase, he made sure that he kept it throughout the years.
Handing out a ridiculous contract to Alexei Yashin and choosing Rick DiPietro with the first overall pick in the 2000 NHL Draft, Milbury quickly entrenched himself into the hearts of Islanders fans – you know, the part of the heart that bears the weight of all of that unnecessary hate.
When it was announced that Garth Snow would be taking over for Milbury as the General Manager of the Islanders, a collective sigh of relief was probably exhaled by Islanders Country – though how long this relief lasted is up for debate. Tasked with rebuilding a farm system that was essentially barren, Snow has spent the last several years restocking the ranks and making diligent moves to help better his team despite being financially handcuffed at certain times.
The mark that Milbury left behind on the franchise and their fans is undeniable, and the former GM/Coach's ineptitude with the Islanders has in some way, shape, or form affected the job that Snow has had to do over the last few years. Snow's moves have been highly scrutinized by Isles fans at times – and who could blame them after having endured the disaster that Milbury put them through?
Islanders fans have patiently waited for their team to become a contender in the NHL world over the last couple of decades, and the Milbury years only serve to remind them of drafts, trades, and free agent signings that only set the team back in terms of progression. Despite the fact that Milbury will live on in the memories – or nightmares – of some Islanders fans, the tone of last night's reaction demonstrated how far the Islanders, and their fans, have come when trying to bear through such difficult times.
A New Era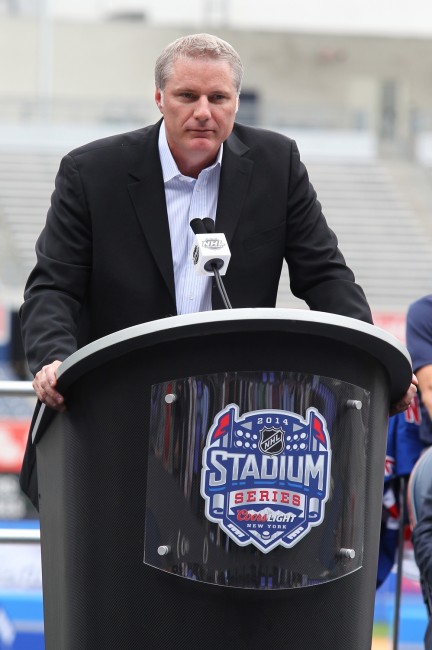 Under the leadership of general manager Garth Snow, the Islanders have slowly rebuilt their prospect pipeline from top to bottom. With individuals such as Griffin Reinhart, Ryan Pulock, Michael Dal Colle, Joshua Ho-Sang, and countless other highly touted prospects in their system, Islanders fans certainly have something to look forward to in terms of the development of young talent over the next few years.
However, the biggest difference for the Islanders this season is that they have a team that hasn't looked this good in a pretty long time. Not only is John Tavares not shouldering the offensive workload this season, the Isles are getting key contributions from all around their lineup – whether it be secondary scoring, clutch defensive play, or timely play from Jaroslav Halak or Chad Johnson.
Such a progression of the on-ice product has certainly not been lost on the fans. Craving a competitive team that can have some sustained playoff success, Islanders fans finally have a team that they can be optimistic about – and that is probably part of the reason as to why McKenzie's comments from last night were taken in such a positive manner.
Of course, Milbury was definitely lambasted for the umpteenth time by Islanders fans after the exchange between him and McKenzie, but it seemed as though Islanders fans were shrugging off Milbury's comments. With the Islanders playing well night in and night out – and the fanbase revved up and thirsty for each coming gamenight – Milbury wasn't met with the same vitriol that his name is usually greeted with. Instead, it felt as though Islanders fans were able to – for the first time in a while – laugh at the absurdities of Milbury without directing their full-fledged hatred toward the commentator.
There might not be a way for some Islanders fans to forget the times that they lived through during Milbury's tenure with the Islanders, and who could blame them? Wasted draft picks, pointless trades, absurd contracts. Is there really something appealing in the aforementioned description?
Keeping all of that in mind, there is something to take away from all of the previously mentioned negativity. Of course, Mad Mike had his fair share of decent transactions, but the rigors that he put Islanders fans through only strengthened the resolve of the fanbase.
Although Garth Snow has received a good amount of criticism during his years as the Isles' GM, it's also safe to assume that fans aren't worried about their general manager making a move that could impact the team for multiple years to come. Savvy contracts and shrewd transactions have been the name of the game during Snow's tenure in the Islanders' front office, and the fruits of patient labor are just starting to show themselves for the young Isles – perhaps that is why such a loyal and dedicated fanbase found it so easy to dismiss Milbury's comments from last night.