Matt Bartkowski has been here before. He's played NHL games and he's spent time in the press box. He's felt the highs of being on the ice with the Bruins and the lows of being passed over in lineups in favor of players fresh from the AHL. While all of this surely hasn't been easy for Bartkowski, it has helped him re-focus his game and learn what is required of him within the Bruins system. In the stressful position the Bruins find themselves in now (with multiple injuries and possible illness shaking the team's defence) the team needs Bartkowski to be excellent more than ever before.
Bartkowski's Very Slow Start
Bartkowski, 26, has had a relatively disappointing season to this point. After going through salary arbitration over the summer and being re-signed by the Bruins to a new $1,250,000 contract, Bartkowski has been under pressure to be productive and consistent with his play. This has been a challenge for the defenceman and he has recently returned to the Bruins lineup after spending seven consecutive games as a healthy scratch.
In addition to sitting out those seven games, Bartkowski saw other players make the lineup in the place he would typically be called upon to fill. He watched from the press box as players called up from the Providence Bruins skated in games instead of himself who was readily available to use on the ice. David Warsofsky, Joe Morrow and Zach Trotman were all called upon to fill in gaps in the lineup that head coach Claude Julien just simply could not afford to put the "old" Bartkowski into. That this fueled his practice and helped him refocus his game is simply conjecture, however it had to have made him think about his position with the team and what he needed to do in order to crack the lineup again.
Bart's Back
In all of the discussion about his play, Bartkowski has been cast as a "bad player" by certain fans who scoff at his being in the lineup and bemoan the fact that he is still a Bruin. Luckily for Bartkowski though, it appears that head coach Claude Julien has always seen something in the player that he liked and has given him chances to prove what he can do not only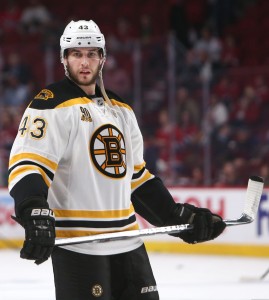 to the fans, but to his teammates and himself. Fluto Shinzawa (Bostom Globe)
reports
:
"He sat quite a few games," said coach Claude Julien, who took Bartkowski out of uniform for seven straight. "His game just wasn't up to par. He certainly wasn't a good asset for us. So we sat him out, but kept working with him. He kept a good attitude. He kept working at things during practice. When he got his chance, he looked like a guy who was ready. I thought he was pretty good against Carolina. No doubt he was even better tonight."
In the game against the St. Louis Blues that Julien referenced in the above quote, Bartkowski definitely looked like a different player. He appeared to be more confident than he has in his past outings and it paid off on the ice for him as he made some big moves and broke up plays that the former Bartkowski would have been loath to do. Kyle Brasseur (EPSNBoston.com) noted that:
If you're looking for proof that his confidence is back, look no further than the first period. After finding himself out of position and allowing Blues forward Alexander Steen a chance to hustle up ice for a nearly unopposed breakaway, Bartkowski quickly reacted, catching up to Steen and putting the body on him while steering the puck off his stick. Perhaps most impressive of all, Bartkowski avoided a penalty in the process… Later in the game, Vladimir Tarasenko also had a chance at a clear breakaway rushing up ice toward Bruins goalie Tuukka Rask, but Bartkowski dove to take the puck away from him and thwart yet another scoring chance.
Bartkowski also gained his first point of the season: an assist on a Torey Krug goal.
When Adam McQuaid was injured, the remaining defencemen were called upon to fill in the gap and make sure they maintained their play. Bartkowski spent nearly 21 minutes on the ice, which far exceeds his average time on ice this season thus far.
With both Adam McQuaid and Zdeno Chara out of the lineup for the foreseeable future, it's Bartkowski's time to make an impact on the ice once again. Given his increased abilities since his return, he is likely to be called upon to help out in the team's time of need. Matt Bartkowski absolutely still has good games left to play and can think and react quickly when he needs to, but his confidence has not always allowed him to be the player he could be. Now that he's seemingly found that confidence, he can work towards helping out the ailing Bruins and prove why he's worth keeping in the lineup.