The career of Edmonton Oilers' goaltender Mikko Koskinen has been a whirlwind thus far. He went from being selected by the New York Islanders with the 31st pick of the 2009 NHL Entry Draft to making his debut with the team two years later, before returning to Europe and becoming one of the best goaltenders in the KHL, then finally earning a contract with the Oilers.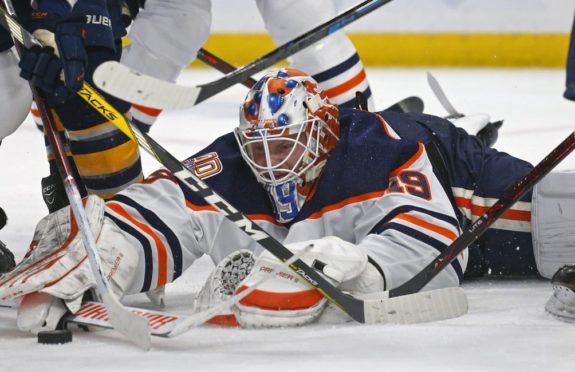 On Jan 24, Koskinen played in his 100th game in an Oilers' uniform. The road to reaching this milestone wasn't always smooth, and he certainly faced his fair share of rough patches, but throughout his first 100 games with the Oilers, he's provided exactly what they needed from him.
The Oilers Took a Gamble on Koskinen
When the Oilers signed Koskinen in 2019, they were very much betting on an unknown commodity. While he'd shown himself to be one of the KHL's top goalies, posting a more than impressive .937 save percentage (SV%) in his final season in the league, he was still unproven at the NHL level and in his late twenties. With that being said, when rumours began to spread that the Oilers were interested in signing the Finnish netminder, few expected him to be given the type of contract that he ended up with.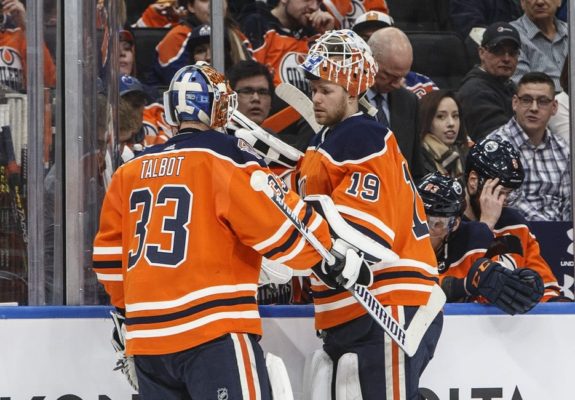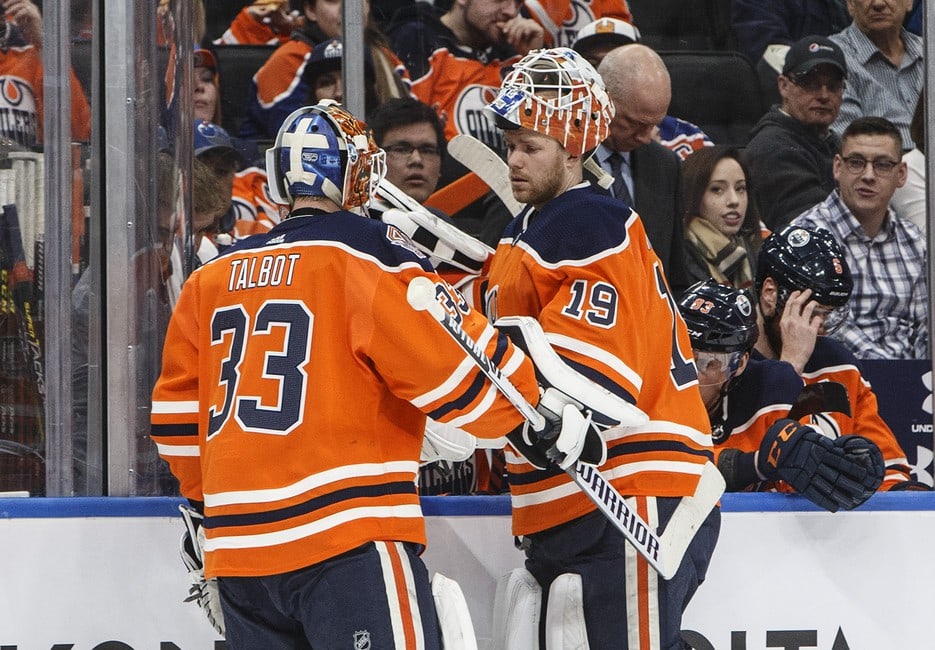 Koskinen was thought of by fans as someone who could come into the organization as a backup goaltender to take some of the pressure off of then starter Cam Talbot, but that isn't what his contract indicated. At a time where the average cap-hit of backup goalies hovered around $1.5 million per year, Koskinen was given a one year deal at $2.5 million.
For a team that was tight against the salary cap with holes to fill, signing Koskinen to a contract like this was certainly a gamble, especially considering that he was also given a no-move clause, which is far from the norm for a backup goalie. It was immediately obvious that Koskinen was there to put the pressure on Talbot and vie for the Oilers' starting goaltender position, and that's exactly what he did.
Becoming a Starter
Koskinen was given the nod to start his first game with the Oilers on Oct 27, 2019, making 27 stops in a win against the Nashville Predators. From that point on, he would never look back. His next game would be a 40 save shutout against the Chicago Blackhawks, a performance that would be the start of a red-hot month of November, which would see him go 6-2-1 with a 2.18 goals-against average and a .927 SV%.
While he started only one game in the first month of the 2018-19 season, Koskinen saw his role greatly increase in the upcoming months. With a strong beginning to his first season as an Oiler and with Talbot struggling, the starting position was his. Obviously impressed with Koskinen's play, the Oilers' front office rewarded him with a contract extension, signing him to a three-year deal that would pay him $4.5 million per season. This extension would soon be followed up with a trade that sent Talbot to the Philidelphia Flyers in exchange for young goaltender Anthony Stolarz, who would only play in six of the Oilers' remaining 32 games that season.
He was now making starter money and had transitioned from being the head-man in a tandem with Talbot to being the Oilers' lone option in net. The team's faith in Koskinen had some worried that the decision to increase his role and give him a significant raise was somewhat premature, with him having played in only 26 games since his return to the NHL. These concerns only continued to build as Koskinen hit a rough patch after signing his new contract. In those 26 games prior to the extension, he had posted a very respectable .911 SV%, but in the 29 games after re-signing, his save percentage dipped to a poor .901 SV%. Looking at his first season as a whole, his stats were below average for starting goaltenders, but he'd shown stretches of brilliance that would resurface over the next season.
Koskinen Has Been Exactly What the Oilers Needed
Koskinen's second season for the Oilers was very much an improvement from the first. Starting off red-hot, he won his first five starts and posted a .928 SV% through his first 10 games. One thing that allowed him to play to the best of his ability is the new support he gained in net in the form of signing Mike Smith as a backup goalie. He now had someone to share the workload with, similar to the situation with Talbot in which he flourished, and while still the Oilers' main option, he no longer had to be their only option.
In this second season, he proved that he truly belonged in the NHL, finishing in the top half of the league in both save percentage and goals against average. This is all the more impressive considering the team he played behind were near the bottom of the league in possession metrics such as Corsi and expected goals against, as well as having allowed some of the most high-danger scoring opportunities.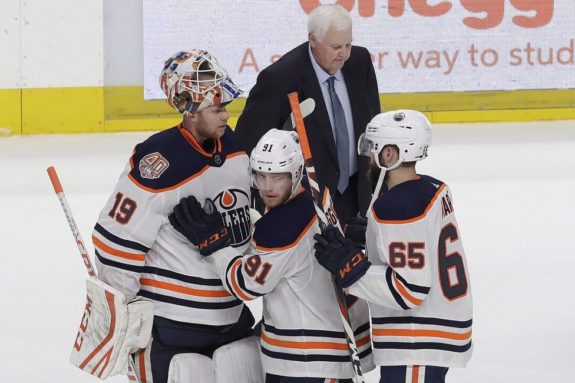 While not a superstar, Koskinen has provided the Oilers with precisely what they needed most by giving them an opportunity to win games, night in and night out. His stats through his first 100 games are entirely average, but that's fine. A few goaltenders with similar numbers to Koskinen over that same span are John Gibson, Matt Murray, Marc-Andre Fleury, and Alexander Georgiev, which isn't bad company to be listed among. Average goaltending is something the Oilers have struggled to find over the past decade-plus, with Devan Dubnyk, Nikolai Khabibulin, Ben Scrivens, Ilya Bryzgalov, and Victor Fasth being among the goaltenders that have taken a crack at the position in recent years and failed to stick.
With a growing mindset that superstar goaltenders aren't needed to be competitive or to contend for a Stanley Cup, what the Oilers need from Koskinen is consistent goaltending, remaining at least at an average level. If he can continue to provide this while backing a team with a wealth of offensive talent and rapidly improving young defensive gems, Koskinen can be a key part of the Oilers' success. Simply continuing his form from his first 100 games is just what the organization will need from their goaltender if they are to be a contender in coming seasons.
---
---