The Edmonton Oilers have made headlines by signing defenseman Oscar Klefbom to a multi-year extension that is already coming under scrutiny.
The reports have indicated that Klefbom, 22, has signed a $29.1M/7 year deal with a $4.167M cap hit which makes him the third highest paid defenseman on the team behind recently signed free agent Andrej Sekera ($5.5M) and pending unrestricted free agent Nikita Nikitin ($4.5M).
The new deal starts in 2016-17 and runs until 2023-24 when Klefbom will be a 29-year-old unrestricted free agent.
The hope between general manager Peter Chiarelli, management and coaching staff is that the Swedish defenseman becomes a No. 2/3 defenseman capable of playing big minutes along side the likes of Darnell Nurse, Griffin Reinhart, Sekera and possibly Justin Schultz as the core develops.
Regardless how you look at it this is a great deal for the Oilers on paper.
Hats off to Chiarelli for having the foresight to get this done.
Say what you will about the previous regimes uncanny sense to throw money and hand out terrible contracts, the core of the team is fairly inexpensive in comparison to the rest of the league.
Taylor Hall, Ryan Nugent-Hopkins and Jordan Eberle were all signed to the same long-term $6M per deal and as it is with paying for potential there are some trying years but all three are premier players and if available would bring tremendous value in return not just for their play but how low the actual financial burden for another franchise would be.
The Oilers aren't shopping them but if performance ever became an issue there would be enough teams with the rise in cap hits that would find the contracts easier to absorb.
Ditto for the Klefbom deal.
---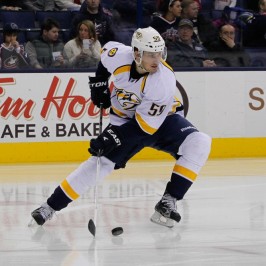 Comparables
The two big names that come to mind with this deal and his comparables are Roman Josi (Nashville Predators) and Adam Larsson (New Jersey Devils).
Josi, 25, signed a $28M/7 year extension that started in 2013-14 and the move has paid off well for Predators GM David Poile as Josi tied for fifth in defenseman scoring last season with 15 goals and 55 points behind only Erik Karlsson, Brent Burns, PK Subban and Dennis Wideman.
Larsson, 22, signed a $25M/6 year extension this summer after a career year leading the Devils defense with 21 assists and 24 points in 64 games.
The 2012 4th overall pick faced a rocky start to his NHL career splitting the two previous seasons between the NHL and AHL.
Now Larsson is considered the Devils top defenseman.
---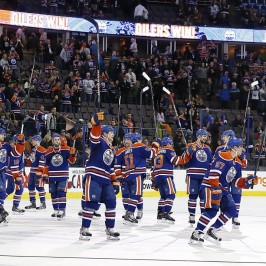 What's This Mean For The Team's Future Cap Problems?
It's a mixed bag of results from everyone looking at this.
For one side the contract is a reasonable number that could benefit the Oilers core down the road as things are going to get expensive one day with Connor McDavid, Leon Draisaitl, Darnell Nurse and Griffin Reinhart all still on entry level contracts.
McDavid is going to get a premier contract between $8-10M, Draisaitl could settle into a $4-5M range and ditto for Nurse.
Still have to factor in Reinhart and possibly Nail Yakupov as part of the core.
This Klefbom deal is a good starting point to buy the Oilers a few years where they can still go out and get a couple pieces while they build a contender.
In 5-6 years things are going to have to get creative cap wise but in the short term the Oilers will get $9M in cap relief this summer with some tough contracts belonging to Teddy Purcell and Nikita Nikitin coming off the books potentially (not ruling out a Purcell re-signing however).
Then add in Andrew Ference and that's $12.2M in cap space to work with and get alot of these deals done.
Remember the cap is generally trending up on a year by year basis essentially so things might not be as bleak as some are predicting it to be.
Still the entire purpose of this deal is paying for potential, those deals are working out for the Predators and Devils but only time will tell if this is a steal of a deal or a hindrance on the Oilers cap situation down the road.
---
What's Everyone Else Saying?
Generally there is support for the deal and Oiler fans are quite happy with the extension as per the poll by David Staples of the Edmonton Journal.
Here are some quick hits from the Twitter world in regards to the Klefbom deal.
So 88% of #Oilers fans like Chiarelli's bold signing of Klefbom. Yeah, me too. Early on-line poll results. http://t.co/34HwIdrDSK

— David Staples (@dstaples) September 20, 2015
"@CraigCustance: AAV on Oscar Klefbom deal $4.167 million. @TSNRyanRishaug first reported 7-year deal." Type of guy Oilers need long-term — Ryan Kennedy (@THNRyanKennedy) September 19, 2015
Klefbom signing has little to do w/ Chiarelli & everything to do w/ the #Oilers locking up their core young talent. This is nothing new.

— Rob Soria (@Oil_Drop) September 20, 2015
In response to early reaction, currently working on an article which shows Klefbom is well worth his new contract. #Oilers #NHL — Brett Slawson (@brettslawson92) September 19, 2015
Edmonton Oilers regular contributor providing insight on all things Oilers including club history, prospect profiles, trade breakdowns, and everything else in between. Check back regularly for new and exciting content. Follow on Twitter @SanderTHW.