When it comes to the Edmonton Oilers' Connor McDavid and the Pittsburgh Penguins' Sidney Crosby, you're looking high into the rarefied air of great hockey players. Both are generational players and, although their games are quite different, they do have some similarities.
Is it a fluke then or simply telling that McDavid and Crosby – who are nine years apart in age (Crosby is 33 years old and McDavid is 24 years old) – will likely reach the 500-point mark of their careers within the same number of games? 
Related: Connor McDavid Predicts Jesse Puljujarvi Will Be Huge for the Oilers
McDavid is a single point away from reaching the 500-point milestone; and, should he score tonight against the Winnipeg Jets in Edmonton tonight, he'd score his 500th point in exactly the same number of games (369) it took Crosby to reach the same milestone. That's odd; but, it's also perfect as well.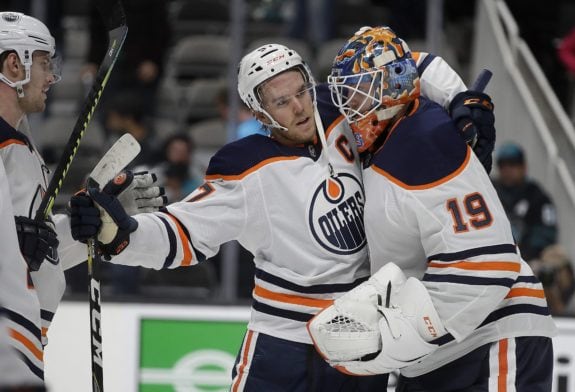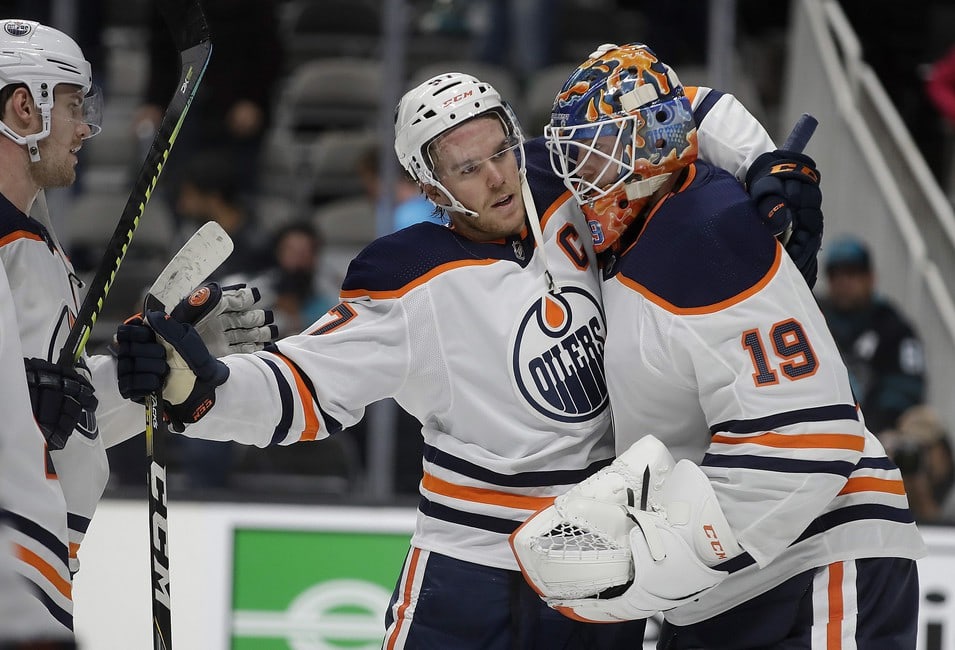 As I say, both are generational players and it's nice for fans to have these two great players' names linked forever in the record books.
But how is it for McDavid? What does he think about having a chance to reach the 500-point milestone in 369 games, just like Crosby reached it?
McDavid Emulates Crosby in Several Ways
During an interview yesterday, McDavid was asked that very question in a round-about manner. Specifically, he was asked if he found it "weird" that he was poised to reach the milestone in the same 369 games it took Crosby. He was also asked if he emulated Crosby. 
Related: NHL Dynasties: Which One is No. 1
Ever the diplomat off the ice, McDavid answered graciously, and probably honestly, by noting: 
"I think that's pretty cool. He (Crosby) is a guy that I grew up watching. He's done a couple of other things that I'm trying to do with all his [Stanley] Cups and all that stuff." 
McDavid then added: "He's been so successful in this league and has done everything that I want to do. He's a great guy to follow."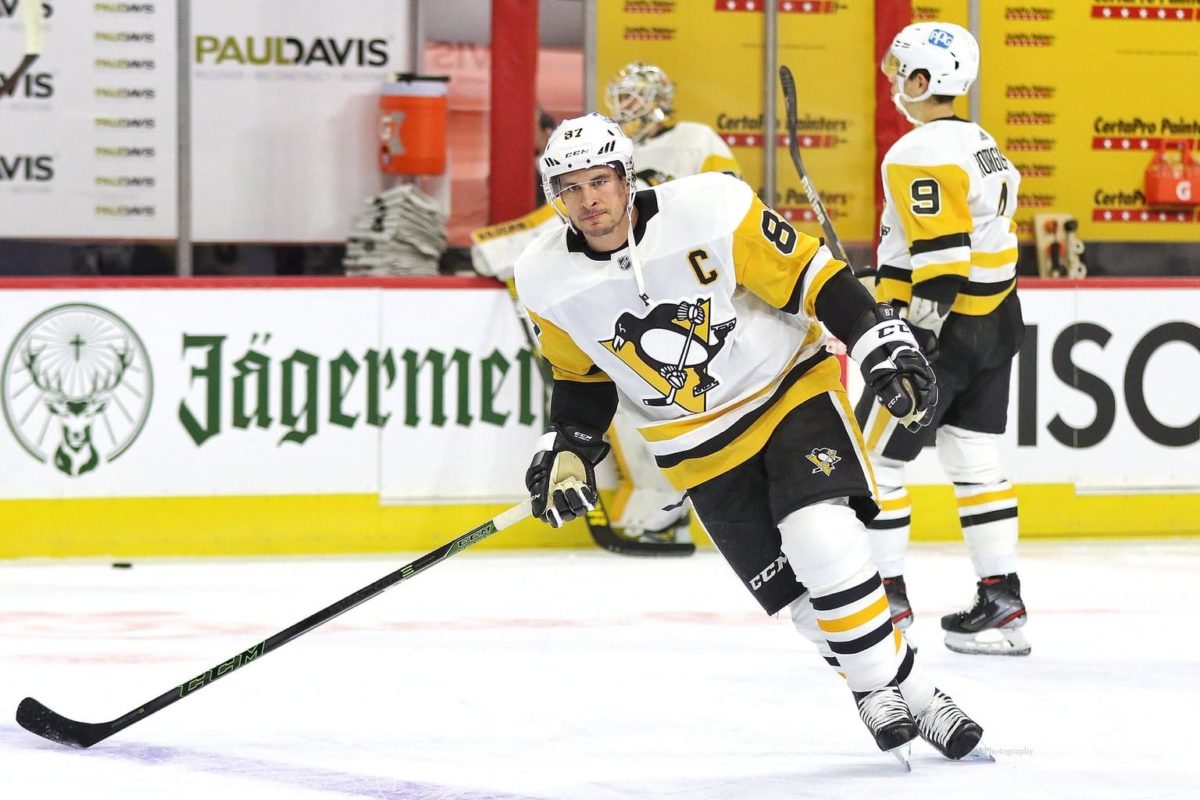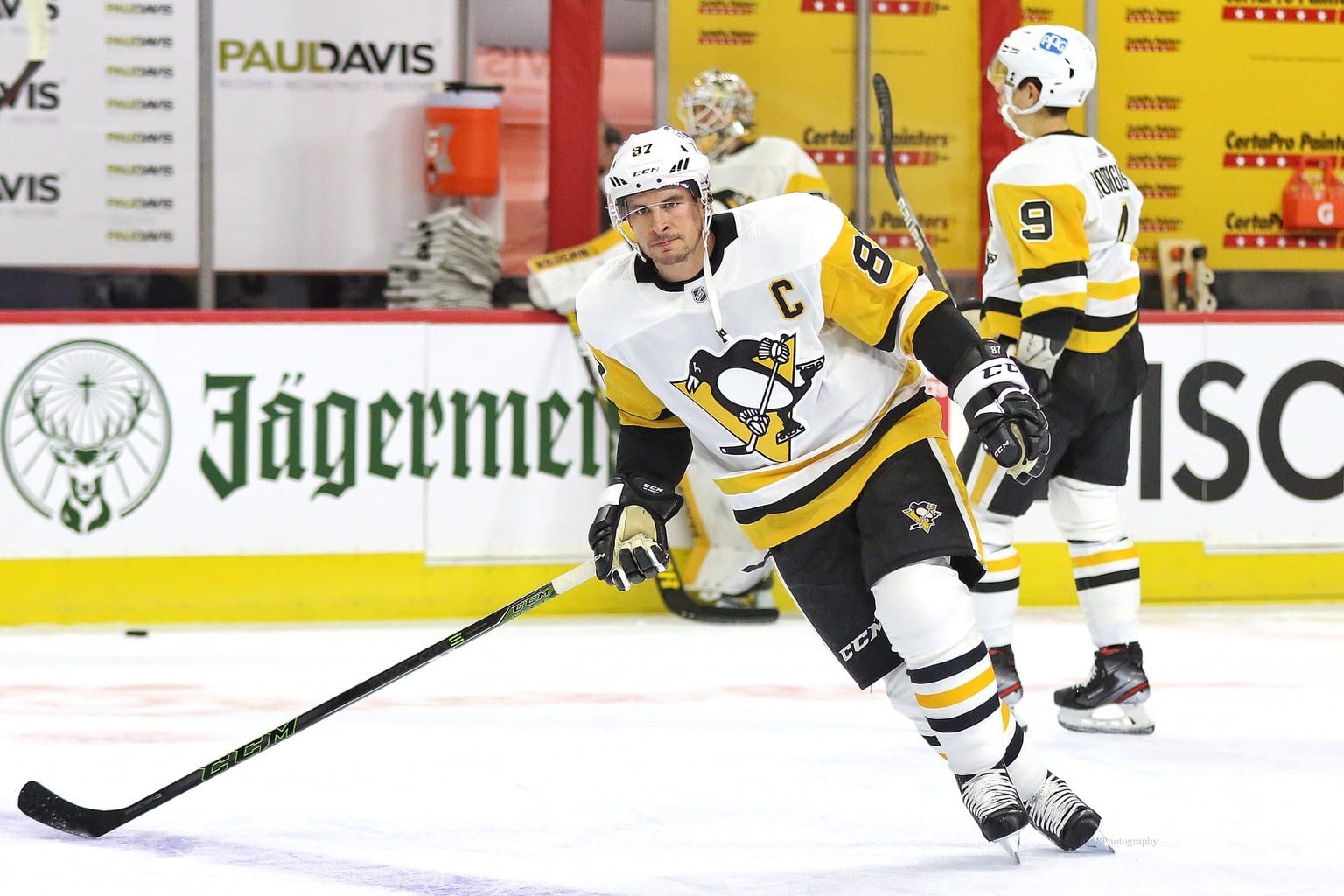 Toward the end of the interview, McDavid shared an answer that probably hints at some of his deep similarities with Crosby – not necessarily about their respective games, but about their respective levels of drive to become great players. 
McDavid noted that Crosby has "kind of done everything he's set his mind to. He wanted to get better in face-offs and he's done that, he wanted to score more goals and he did that. I think there is definitely lots of lessons in his game because his game has changed over the years and he does whatever he can to be successful."
Related: Top 10 Highest Scoring NHL Games of the Modern Era
In other words, McDavid is driven to become a great player. Similar to Crosby, who McDavid honors by noting that he sets out to get better at the game and actually works at it until he does get better, McDavid too seeks to evaluate his weaknesses and improve them. There's just no way one can listen to McDavid talk without knowing that one part of what makes him such a great player is that he's absolutely driven to become a great player.
McDavid wants to be the best hockey player to ever have played; and, he'll work to make it so! In that, he's exactly like Crosby.
McDavid Talks About Crosby's Accomplishments
In the video below, McDavid spoke about what he can still emulate from Crosby's game.
McDavid Isn't Slowing Down this Season
McDavid will soon be one of the ten fastest players to ever reach 500-points and he won't be slowing down any time soon. In fact, if NHL fans are looking for McDavid's scoring to ebb, it won't be this season. He currently leads the NHL with 30 points (nine goals, 21 assists) in 17 games. Crosby, on the other hand, has scored 12 points (five goals, seven assists) in 13 games this season. 
Over the past few seasons, McDavid has also been a prolific scorer. The 24-year-old Oilers' center has scored at least 100 points during three of his last four seasons. He would have hit 100 last season but was stopped in his tracks by COVID-19. In the end, he totaled 97 points (34 goals, 63 assists) in 64 games prior to play being paused.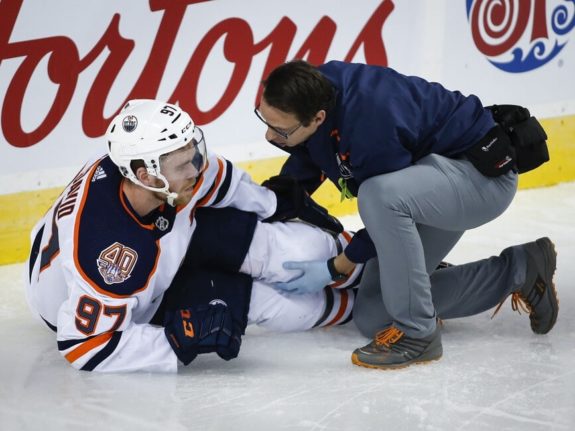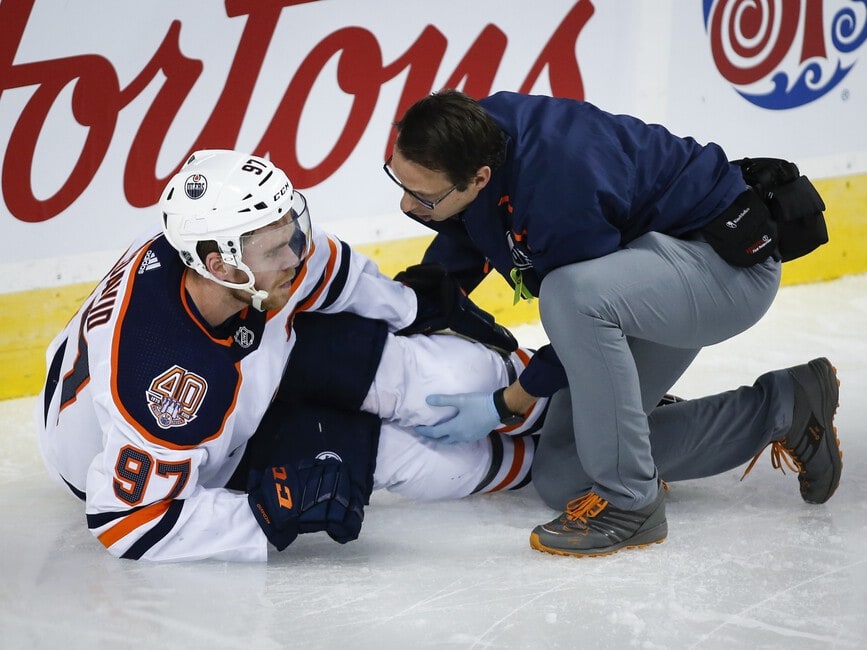 According to NHL.com, McDavid and Crosby's careers share a number of similarities and differences. Now having played 368 games, McDavid stands at "499 points (171 goals, 328 assists), 133 even-strength goals, 341 even-strength points, 35 power-play goals, three shorthanded goals, eight overtime goals, 36 game-winning goals, and has a 14.9 percent shooting percentage."
In Crosby's first 368 games, he's scored "497 points (180 goals, 317 assists), 123 even-strength goals, 284 even-strength points, 55 power-play goals, two shorthanded goals, five overtime goals, 21 game-winning goals, and had a 14.7 percent shooting percentage."
But what separates the 33-year-old Crosby from the 24-year-old McDavid is that Crosby has been part of a Stanley Cup winner three times (2009, 2016, 2017).
McDavid Will Soon Join Other NHL Greats: Gretzky, Lemieux, and Crosby
McDavid will likely this week join other great NHL players who've reached the 500-point milestone. It's no surprise that Wayne Gretzky ranks first. He reached 500 points playing in 234 games. It's also no surprise that Mario Lemieux ranks second. He needed only 287 games to reach the mark.
Related: Which James Neal Will Show Up for the Edmonton Oilers in 2020-21?
It would be fitting if McDavid did hit the mark tonight in exactly the same number of games that Crosby took. They both are great NHL players and, fortunately for fans, great ambassadors of the game. As fans, we've been fortunate to see each of them play.
---
---
The Old Prof (Jim Parsons, Sr.) taught for more than 40 years in the Faculty of Education at the University of Alberta. He's a Canadian boy, who has two degrees from the University of Kentucky and a doctorate from the University of Texas. He is now retired on Vancouver Island, where he lives with his family. His hobbies include playing with his hockey cards and simply being a sports fan – hockey, the Toronto Raptors, and CFL football (thinks Ricky Ray personifies how a professional athlete should act).
If you wonder why he doesn't use his real name, it's because his son – who's also Jim Parsons – wrote for The Hockey Writers first and asked Jim Sr. to use another name so readers wouldn't confuse their work.
Because Jim Sr. had worked in China, he adopted the Mandarin word for teacher (老師). The first character lǎo (老) means "old," and the second character shī (師) means "teacher." The literal translation of lǎoshī is "old teacher." That became his pen name. Today, other than writing for The Hockey Writers, he teaches graduate students research design at several Canadian universities.
He looks forward to sharing his insights about the Toronto Maple Leafs and about how sports engages life more fully. His Twitter address is https://twitter.com/TheOldProf