Nail Yakupov's ascension to the NHL ranks has not been as smooth as many around the hockey world had anticipated.
The 2012 first overall pick had a respectable rookie season with 17 goals and 31 points. Enough to earn him consideration to be in the top group of rookies that year, but not enough for an actual nomination for the Calder Trophy.
It was a year that would be looked upon more favourably if he had built on it in his sophomore season. Unfortunately for the Oilers, Yakupov regressed and put up just 11 goals and 24 points. The more telling stat is his dismal -33 rating on the year which was one of the worst in the league.
So what should Oilers fans expect from Yakupov this season?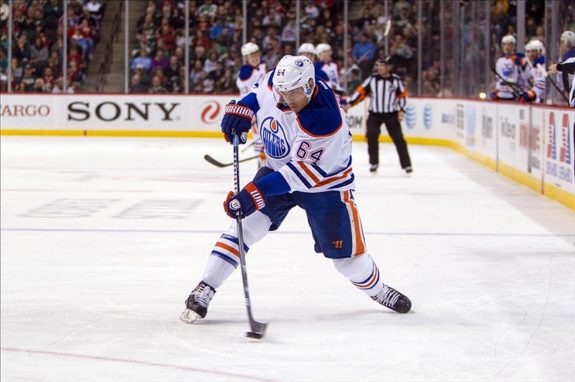 The Difference a Year Makes
Last season one of the issues appeared to be the relationship between Yakupov and first year coach Dallas Eakins. Yakupov always seemed to fall short of what Eakins wanted and the two never really seemed on the same page. It led to Yakupov playing up and down the lineup and generally looking lost on many nights.
Going into a second year with Eakins, one would have to assume at least some of those issues have been worked out and the remainder to be ironed out in training camp.
While there is no denying the year he had, Yakupov also suffered from terrible puck luck to boot and in a year where everything else goes against you, that just seems to be the way. Even the difference of a few bouncing pucks going in rather than seeming to find a way to stay out of the net will go a long way this year.
The Talent is Still There
It's easy for people to forget that Yakupov is still just 20 years old and only two years removed from being the first overall pick.
With the lockout shortened season, he has just 111 NHL games under his belt, which less than a season and a half.
He is still a dynamic offensive player with the ability to be an explosive contributer. He is lightning quick, has a rocket of a shot with a ridiculously quick release.
There have been certainly players over the years with similar skill sets that have faded into obsurity, but that's not Yakupov. If he still has not progressed in two more years, we'll have a new discussion. However currently, he is still capable of putting the puck in the net for the Oilers.
Part of the issue has been comparing him to Taylor Hall and Ryan Nugent-Hopkins, the previous two #1 picks. He may never live up to the star Hall is emerging into, but he doesn't need to.
He will likely never become the 40-50 goal scorer some had predicted on draft day, but if he can get to a point where he can put up at least 25 a year, the Oilers would be thrilled.
More Depth Up Front
With the offseason additions made by GM Craig MacTavish, the top nine looks to be set going into the season, with the only question mark being whether rookie Leon Draisaitl with stick with the big club.
In addition to Yakupov, Hall, Nugent-Hopkins, Jordan Eberle, David Perron, Mark Arcobello, Benoit Pouliot and Teddy Purcell appear set to begin the year on the top three lines, with either Draisaitl, Anton Lander or Boyd Gordon rounding out the group of nine.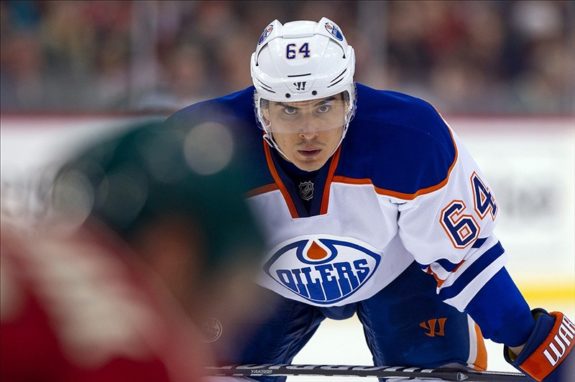 In comparison to last season there is far more depth, size and talent than last year's complement.
Some have pointed to the fact that the added players will limit Yakupov's ice time as Eakins will have to find everyone their share.
The fact is Yakupov played just 14:18 per game last season which ranked him 9th among Oilers forwards. It's hard to believe his ice time will decrease any more than that . With any improvement at all expect Yakupov to come in around 15 minutes per night.
The difference will be that this season whether he is on the second line or the third he will have capable offensive players alongside him. Last year he had a myriad of linemates and often played with players that had far less ability than what the top nine will look like this season.
New Number, New Nail
There is one other change that Yakupov will have made for the new season. Time will tell whether it's impact will be solely on paper or whether there is a psychological impact in his play.
Yakupov will be donning the #10 sweater that was left vacant when captain Shawn Horcoff was traded. He previously wore #64 in his first two seasons, but has been #10 at all prior stops in his previous career.
Whatever the trigger, Yakupov can use all the help he can get in turning last season into a forgotten memory.
The Oilers need Yakupov to rebound and be a factor for them this season if they have any hope of being in the playoff conversation.
All signs point to improvement from Yakupov, and the Oilers hope that jump is a significant one.
________________________________________________________
Follow Carl on twitter @CarlTHW and Google+ for more articles