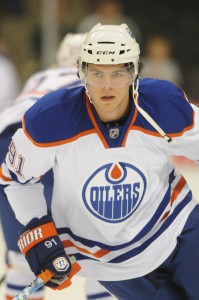 The Edmonton Oilers have lost six straight games. Their faint hope of a playoff spot is pretty much snuffed out. The team fired their General Manager on Monday, and many thought the team would come out with purpose on Tuesday night. But alas, it was more of the same for the 2012-13 version of the Oilers. Last night's loss to the Minnesota Wild pretty much summed up all of the Oilers troubles this season.
 "We're getting behind and not staying patient enough to get ourselves back in the game. We're giving up our D structure." – Ralph Krueger. "We want to be good. We have to be that desperate all the time. It's all about character and pride right now. It's painful right now. Six games in a row is unacceptable, especially when we know how good we can be." – Magnus Paajarvi. "Whether we're in the playoffs or not, we have to start winning some games and changing the mood in here." – Taylor Hall. (Oilers Twitter)
Lack of character?
Yes, this team boasts some of the best young talent in the game, but is there not enough character in that dressing room to will this team to victory? Ryan Symth's best days are behind him, and there's a good chance his voice is no longer being heard. Team captain Shawn Horcoff is a grizzled vet with a lot of experience, but he can only do so much. The Oilers need more grit and toughness, and all do respect to newcomer Mike Brown, it needs to be a culture change up and down the line-up.
The question on everyone's mind is: when is all the young talent going to start making a tangible difference in the standings? They need time to grow, absolutely, but they are all generally the same type of player. Smallish skilled forwards without much jam. Kudos to Taylor Hall for trying to add some toughness to his game, but it usually results in questionable hits as oppose to anything else. Even the guys on defense aren't nearly physical enough, and it's starting to show in how easily this team is getting pushed around.

Is a Shake-up in the Works?
The firing of Steve Tambellini and promoting of Craig MacTavish was the first step in the Oilers road to change. Kevin Lowe was pretty fired up in his press conference, and that's likely more frustration over his team's lack of production than anything else. He claims people need to be more patient, but save for an unlikely playoff run in 2006, this team has done absolutely nothing in terms of on ice success for quite a while now. For a storied franchise with such a rich history like the Oilers, that's simply not good enough. There was too much premature excitement over this team, and it resulted in unrealistic expectations.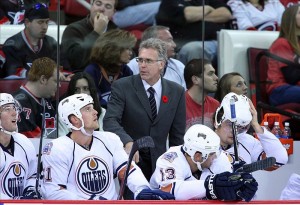 Will Craig MacTavish make some kind of big splash in the offseason? Maybe trade one of the young stars for some more experienced, gritty players? Will this season spell the end for guys like Ryan Whitney, Ryan Smyth and Ales Hemsky in Edmonton? Sam Gagner has been their most consistent forward all season, but maybe he will end up fetching the biggest return.
How can the Oilers be fixed?
I would imagine there are many GM's who would trade their roster for that of the Oilers, but as we've seen this season, skill isn't everything. A good hockey team has to have the chemistry and mix of everything, not just one type of talented forward. A lot of the Oilers have been underachieving this season, that's for certain. Ryan Nugent-Hopkins has three (three!) goals on the season. Only four Oiler players have more than 10 goals on the year, and only two have more than 30 points. For a team with so much supposed firepower, that's simply not good enough.
The problems they've had scoring goals is not all that hard to decipher. When the team can actually establish a forecheck, they cycle well. And they have a plethora of puck-moving defensemen. But no one on this team can get the puck under control long enough to allow the skill to spring into action.
There's a lot to be said for what gritty players can do for a hockey club, and the Oilers are proving how important they are. This team is far too easy to push around. They need the kinds of players who go to the dirty areas and get the puck. They need players with size who can make space for the smaller, skilled forwards. They need a back-end that will intimidate the opposition, make players afraid to go to the front of the net. Edmonton has built a strong core of talent. But it's clearly going to take much more than that to turn this team into a real playoff contender. Craig MacTavish will certainly have his work cut out for him.