After a month-long slump, the Montreal Canadiens' most highly-touted rookie is finally showing signs of life for the struggling Habs. The 18-year-old American, who was drafted 3rd overall at the 2012 NHL Entry Draft, scored his 7th goal of the season on Monday against the Philadelphia Flyers.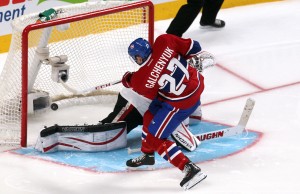 In his last 7 games, the versatile forward has notched 4 goals and 3 assists for 7 points to go along with a +1 plus/minus differential and 13 shots on goal. On the season, Galchenyuk (AKA Chucky) has recorded 7 goals and 15 assists for 22 points with an impressive +9 rating in 42 games with the Bleu Blanc Rouge. Galchenyuk has also 20 penalty minutes to go along with two game-winning goals and 70 shots on net (1.67 per game).  This ranks Galchenyuk 6th in scoring among rookies, behind players like Jonathan Huberdeau, Nail Yakupov and his teammate Brendan Gallagher. He will certainly receive some votes for the Calder Trophy awarded to the best NHL rookie.
After going scoreless in 18 games from February 25th to April 4th, when he finally found the back of the net at home against the Winnipeg Jets, Chucky has finally regained his confidence and is clicking very well with linemate Lars Eller. Despite his offensive drought, the young forward has demonstrated great defensive qualities and a good positioning in his defensive zone this season after dominating junior hockey during the lockout.
Galchenyuk is currently ranked 6th among rookies both in scoring with 22 points and in the +/- category with a +9 differential. The big difference compared to the most productive rookies is that he is ranked 58th in time among rookies who have played at least ten games this season with an average of 12:24 minutes per contest.
While his teammate Brendan Gallagher is getting 2:17 minutes/game on the man advantage, Galchenyuk is barely getting any ice time on the special units, averaging a mere 1:03 minute/game on the power play. Heck, Chucky has only one PP point this season, recording a stunning 95.4% of his points at even strength. In fact, the former Starnia Sting star has recorded one point every 23.68 minutes of play.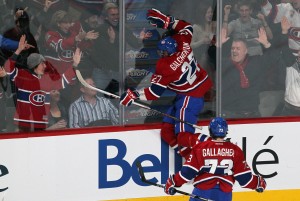 In comparison, the team's #1 pivot Tomas Plekanec has notched one point every 26.06 minutes of play and team captain Brian Gionta has scored one point every 33.08 minutes of play. The best forward in this department is the other Habs' rookie Brendan Gallagher with a point every 22.08 minutes of play.
With Brian Gionta slumping right now (only 1 goal in his last 12 games) and Michael Ryder missing tonight's contest with an upper-body injury, it would be a good opportunity for head coach Michel Therrien to use Galchenyuk and Eller with Plekanec on the first power play unit.
Galchenyuk will also be reunited with familiar linemates as Brandon Prust will draw back into the line-up after missing last contest with a shoulder injury. Prust will line-up beside Eller and Chucky, a trio that played very well together earlier this season.
Galchenyuk attending a Toronto Raptors' game with fellow rookie Nathan Beaulieu:
Nice view #dancers @natebeaulieu @Fanxchange pic.twitter.com/nL5hyxts0D

— Alex Galchenyuk (@AGally94) April 12, 2013
Like Therrien did with Gallagher, it is time to increase Chucky's playing time in prevision for the last stretch and the playoffs. The kid has proven that he is ready to benefit from more playing time, especially on the man advantage where other players have been underperforming this season, most notably David Desharnais (only 5 points) and Brian Gionta (only 6 points).
The Canadiens would make the most of Galchenyuk's creativity and hockey IQ by rewarding him with more quality ice time with better players, rather than play only the remaining 20 seconds of a power play where he has practically no chance of putting points on the board.
Alex Galchenyuk undressing Robin Lehner on March 13, 2013
It's time for a changing of the guard in Montreal, and Galchenyuk and Gallagher should be the main beneficiaries of this much-needed change in Habs land!