These are curious times for the Edmonton Oilers. With Darnell Nurse not yet ready to return to the lineup, Matt Benning headed to the IR list and Kris Russell banged up, the organization was forced into making an internal move to help address their current situation. Instead of making the obvious move of recalling veteran rearguard Mark Fayne and one of Jordan Oesterle or Griffin Reinhart, the club decided to go with the two youngsters in their time of need. So what's up?
Oesterle and Reinhart recalled after Benning (placed on IR) and Russell banged up in last night's game.

— Jack Michaels (@EdmontonJack) February 4, 2017
In case you haven't been paying attention for the past year and a half, it has become rather obvious the head coach is not a fan of the former New Jersey Devils blueliner. Despite dressing for 69 of the Oilers 82 games in 2015-16, it's no secret Todd McLellan was using Fayne due to situation, rather than want. A rash of injuries and the trading away of Justin Schultz left him searching for warm bodies to close out the season. But that was no longer the case in October.
Fayne Passed on Oiler Depth Chart
With Adam Larsson and Russell now on board, the re-signing of Eric Gryba and Benning turning heads from the moment training camp opened, McLellan had a decision to make.  While the 29-year-old started off the year as an extra in Edmonton, suffering an injury mere minutes into his season debut made the decision a rather simple one for the Oiler bench boss. Though he did receive another cup of coffee after Nurse was hurt, he was used sparingly over three games and had the injury bug bite him once again.
https://twitter.com/DKingBH/status/827931423931760640
Injuries aside, best case scenario had Fayne slotted as the No. 9 defenceman on the Oilers depth chart. Not exactly an ideal situation for a player carrying a $3.625 million cap-hit for both the current and 2017-18 campaigns but that is the route the club decided to take. Considering where they currently sit in the standings, it would be hard to argue against the decision. But with three of their top eight currently unavailable, one would have thought adding a player with nearly 400 games of NHL experience, in the midst of a playoff push, was an obvious move make.
And yet when the call for reinforcements was placed to Bakersfield, the American blueliner was skipped over. In my mind, if McLellan were a fan of the game Fayne plays, he would have been first on the list….especially when one takes into account his handedness and experience. Instead, they turned to a couple of kids with a grand total of 60 games between them to help fill the void in their time of need.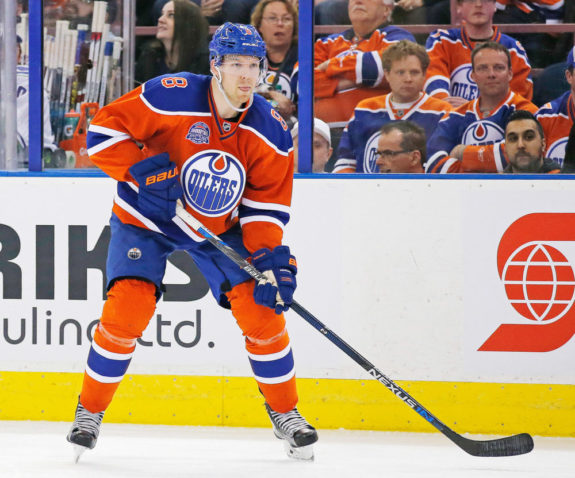 Are Oilers Showcasing?
Oesterle has battled injury this season with the Condors but been excellent when in the lineup. Also, let's not forget the 24-year old showed well during his brief stay with the big club and his skating ability would be welcomed addition to the lineup. As far as Reinhart goes, the fourth overall pick of the 2012 Entry Draft has yet to find his way at the pro level but has arguably played the best hockey of his career over the last six to eight weeks.
Why not Mark Fayne? -bm #oilers

— Oilersnation.com (@OilersNation) February 4, 2017
While both are seemingly playing well in the AHL and headed in the right direction, not sold on the notion they are ready for prime time at this point in the Oilers season. With nine of their twelve February games coming on the road, Edmonton doesn't exactly have a favourable road to travel this month. Sounds like a perfect spot for a guy who's been down this road before. Call me crazy but this is a crucial month for this group, not a time to see how guys react to certain situations.
With Benning going on IR, and Russell nicked up Davidson could see increased minutes.
Pro scouts ask about him all the time

— Bob Stauffer (@Bob_Stauffer) February 4, 2017
Could this be a move to help showcase either Oesterle or Reinhart as potential trade chips, along with fellow rearguard Brandon Davidson, heading into the deadline? Potentially but that should not come at the cost of putting the best possible team on the ice and Peter Chiarelli doesn't strike me as the kind of general manager to make such a move. In other words, this all Todd McLellan. If he doesn't believe Mark Fayne is the best fit for what his team needs, recalling him for the sake of doing so would truly be a pointless endeavour…let's hope his hunch is right.