It's fair to say the Washington Capitals like playing in Montreal at this point. Almost one month after Alexander Ovechkin tied Maurice Richard with his 544th career goal at the Bell Centre, Caps head coach Barry Trotz passed Dick Irvin Sr. with his 693rd victory on Sunday, becoming the sixth-most prolific coach in history with the 3-2 win over the Habs.
First Period
Ovechkin was held off the scoresheet in this one, with Canadiens goalie Carey Price holding him in check. In fact, Price was on his game in general in spite of the three goals against. It really took a perfect shot to beat him, and that's essentially what Jay Beagle delivered three minutes in, letting off a shot in the slot that went post and in to open the scoring.
One shot, one goal. Caps up 1-0 after Beagle beats Price. pic.twitter.com/usjwf7b6gT

— Marc Dumont (@MarcPDumont) February 4, 2017
Habs forward Alexander Radulov replied, when Phillip Danault successfully kept it in at the Capitals blue line a few minutes later. Danault ended up collecting the primary assist on the play, getting it back from captain Max Pacioretty before handing it over to Radulov who beat Caps goalie Braden Holtby cleanly with a wrist shot.
Radulov scores his 13th of the year. Great work by Danault to keep the play alive. pic.twitter.com/25lr3M0wIm

— Marc Dumont (@MarcPDumont) February 4, 2017
Second Period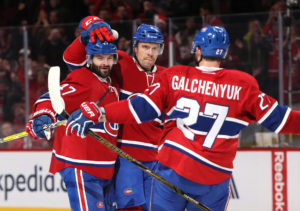 The second was almost a carbon copy of the first, with the Capitals getting 12 shots on goal for the second straight period. Montreal would only have 12 total by the end of the frame. Furthermore, Caps forward Andre Burakovsky repeated Beagle's feat, by beating Price with a near-perfect shot that went top corner about midway through the second frame.
While Radulov also had a shot at deja-vu to pull his team even again by scoring soon thereafter, the goal was immediately and justifiably waved off for goaltender interference because Pacioretty bowled into Holtby untouched. Radulov enjoyed a partial breakaway a few minutes later, beating defenseman Matt Niskanen to the inside, only to manage a relatively weak shot on Holtby, who put an end to the threat for the time being.
Third Period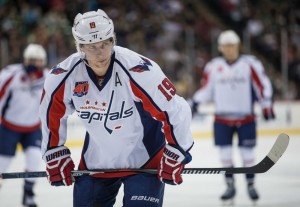 The only real blemish on Radulov's game as a whole was the penalty he took for hooking Ovechkin four minutes into the third. Nicklas Backstrom scored the eventual game-winning goal off a point shot on the ensuing man advantage. Radulov nevertheless managed a key assist on Pacioretty's goal just two-and-a-half minutes later, which brought his team within one yet again.
The expression "too little, too late" comes to mind, as, aside from back-to-back chances by Alex Galchenyuk in close and a shot that Shea Weber ultimately whiffed on from in the slot in the dying seconds, that was all she wrote for the Habs. However, just "too little" would be more accurate as the Capitals outclassed the Canadiens from the start in this one. It was theirs to lose. They didn't let it slip away, possibly for Trotz, but more likely just for the win.
---
Scoring Summary
FIRST PERIOD
WSH – Jay Beagle (11) assisted by Daniel Winnik and Tom Wilson
MTL – Alexander Radulov (13) assisted by Phillip Danault and Max Pacioretty
SECOND PERIOD
WSH – Andre Burakovsky (11) assisted by Brett Connolly and Lars Eller
THIRD PERIOD
WSH – Nicklas Backstrom (15) assisted by Matt Niskanen
MTL – Max Pacioretty (25) assisted by Alexander Radulov
THW Three Stars
First: Alexander Radulov (1 goal, 1 assist)
Second: Jay Beagle (1 goal)
Third: Nicklas Backstrom (1 goal)
---
NEXT UP
Montreal Canadiens vs. Edmonton Oilers
Bell Centre – 1:00 p.m. EST on Sunday, February 5
Broadcast channels – SN, RDS
2016-17 Season Series: First Matchup of the Season
NEXT UP
Washington Capitals vs. Los Angeles Kings
Verizon Center – 12:00 p.m. EST on Sunday, February 5
Broadcast channels – NBC
2016-17 Season Series: First Matchup of the Season