The Edmonton Oilers rookie camp was a pleasant surprise. It boasted an influx of intriguing talent and optimism for the future. What's even more encouraging is the Oilers' prospect pool. A once dry pipeline is now running strong with plenty of high-quality youth. 
Kailer Yamamoto, Ethan Bear and Caleb Jones were the headliners of rookie camp. All three were strong. However, it was the performances of three seemingly unknown players that caught my eye.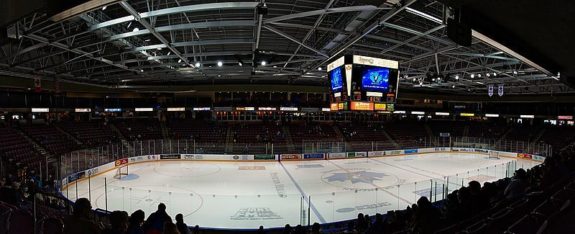 Chad Butcher
The former Medicine Hat Tiger was perhaps the most dangerous offensive player for the Oilers.  Butcher's ability to dish the puck and make plays is incredible to watch. He formed a very effective duo with Yamamoto on the top line and provided the bulk of the offence for his team. What I like best about Butcher are his speed, skill and offensive instincts.

He can maneuver the puck well and is good at positioning himself in the right areas to receive passes or make them. Being a centerman comes with a lot of responsibility and hard work. With Butcher, I see a player who can drive the play. He reads the ice well and knows where to find his line mates.
He is signed to an AHL contract with the Bakersfield Condors. Should his dynamic offensive game correlate to the pro level, I can see an entry-level contract from the Oilers extended his way in the near future. 
Kirill Maksimov
A fifth round draft pick of 2017, the Oiler prospect had his first taste of rookie camp and played quite well. Maksimov is an 18-year-old who split last season with the Saginaw Spirit and the Niagara Ice Dogs in the OHL.
I like what Maksimov brings to the table. His 6″2, 192 lb-frame is an asset and with time he will grow into his body. He isn't the flashiest player out there, but he plays an excellent two-way game and is a skilled player.
I noticed during camp that he has a knack for battling along the boards and retrieving the puck. His shot is adequate and he knows how to score. Skating is his great strength. Although not overly physical, he can play hard and win battles. His work ethic is admirable. In terms of style of play, I see similarities between him and Tyler Pitlick.
One advantage he has over other players on this list is time. Drafted in June, Makismov has a few years to hone his skills before earning an entry-level contract from the Oilers.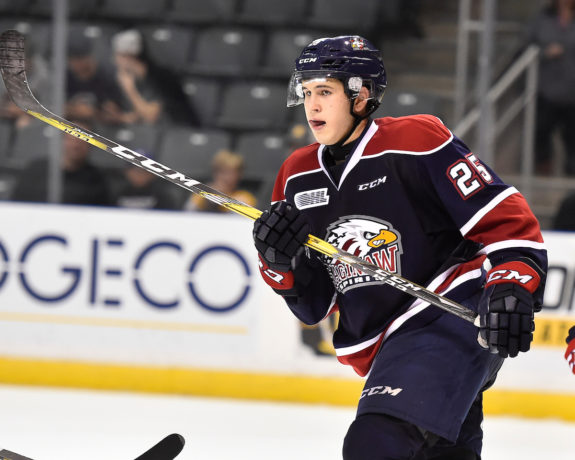 Evan Polei
The bear-like left winger weighs in at 228 lbs and boy, does he use that size well. Coming off a huge season in which he potted 33 goals with the Red Deer Rebels, Polei has hit his stride at the right time.
He has tremendous strength and a nasty mean streak. He likes to throw the body and tussle with the opposition although his skating is a bit of an issue. Despite his lack of speed, he makes up for the deficiency with world class puck protection and high hockey IQ. He has good skill with the puck and a heavy shot. I see a lot of Milan Lucic in Polei.
In the game versus the Macewan/NAIT Allstars, there was a particularly impressive shift in the first period where Polei was coming into the offensive zone along the wall. He overpowered at least three opposing players attacking him. The puck was still on his stick when he came away from the boards. He ended up making a play out of it and produced a quality scoring chance on net as a result. 
Right now he's on an AHL contract with Bakersfield. It all starts with how good of a season he has. If he can adjust to the pros and make a difference, there is a chance that his stock rises with the organization.
21 year old hailing from Leduc, Alberta. Over 16 years of hockey experience and once upon a time, played at a high level.