After running as one of the hottest teams in the league for 13 games, the Edmonton Oilers have dropped their last two, with special teams playing a major role in both losses. Against the Vancouver Canucks on Sunday, the Oilers allowed the Canucks to score three power play goals on five chances while squandering their only chance on the man advantage. Two nights later, against the St. Louis Blues, the Oilers had five power plays but generated only three shots and didn't score.
Since Oscar Klefbom's injury 10 days ago, the Oilers' power play has struggled. The team managed two power play goals in the game he was injured, but have scored just once in their 10 opportunities since.
The Power Play with Oscar Klefbom
The Oilers' top power play setup has aligned similarly throughout the year, with Connor McDavid normally occupying the right half-wall, Ryan Nugent-Hopkins on the left wall, and Leon Draisaitl around the goal line on McDavid's side. The point man, or top of the umbrella, has been Klefbom. That quartet has played over 102 minutes together this season on the power play and has been joined by various fourth forwards, most recently, and most successfully, Alex Chiasson, playing the 'net-front' role.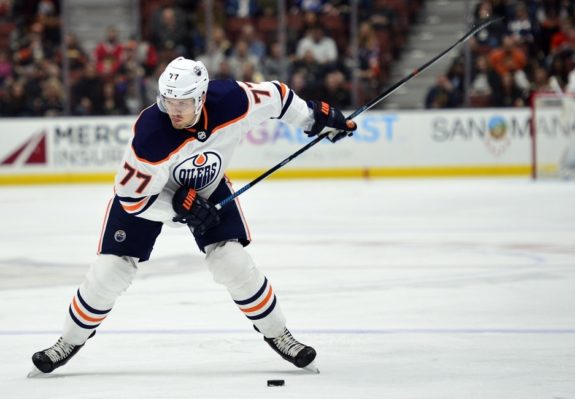 Using NHL.com's team stats and Natural Stat Trick, the best readily available statistics to help predict future power play success are shots and scoring chances, which each offer a moderate to strong correlation to goals scored while on the man advantage. It is helpful to use predictive numbers rather than simply counting success by goals or power play percentage because the sample size of shots and chances are higher than the sample size of goals, and therefore is more likely to be repeatable.
Take the Toronto Maple Leafs, for example. They may be due to improve upon their power play. Despite possessing the seventh-best power play in the league, the Maple Leafs are generating scoring chances at a rate 35 percent better than any other team. A correction towards expected goals will see them score more, not less.
Anyways, back to the Oilers. The power play with Klefbom at the point has been reasonably effective. It does not quite stand up against some of the top units in the league, but the shot and scoring chance numbers suggest they are regularly in good positions to score. In the table below, I compare them to some of the best units in the league highlighted by their most common four players. I measure the statistics per two minutes of power play time to provide an effective visual of what is happening on each complete power play.
Power Play Success
| Unit or Team | Time | Goals/2 min | Shots/2 min | Chances/2 min |
| --- | --- | --- | --- | --- |
| Klefbom/Draisaitl/McDavid/Nugent-Hopkins | 102:40 | 0.253 | 2.084 | 2.201 |
| Rielly/Tavares/Matthews/Marner | 49:07 | 0.529 | 2.199 | 3.013 |
| Byfuglien/Wheeler/Schiefele/Laine | 88:36 | 0.429 | 2.280 | 2.122 |
| Carlson/Ovechkin/Backstrom/Kuznetsov | 102:40 | 0.409 | 1.695 | 1.636 |
| Letang/Malkin/Crosby/Kessel | 82:31 | 0.315 | 1.624 | 1.794 |
While it is clear that some of these notable top power play units are outpacing the Oilers in the goal scoring department, Klefbom's unit has done well at generating shots and chances. You'd like to see the team's most talented players bury more of their chances, but a power play that is typically on the attack and assertive in this manner should provide the team energy and retain momentum even when it doesn't score.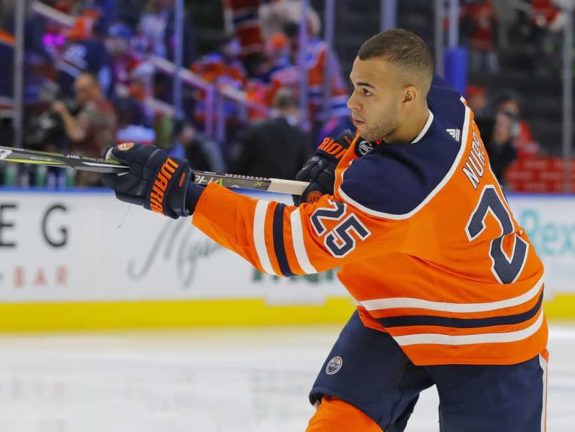 The Power Play Without Oscar Klefbom
In the four full games since Klefbom's injury, the power play has not only struggled to score but it has often robbed the Oilers of their momentum, and in some cases, their chance to win. Klefbom has been replaced on the top unit by Darnell Nurse, while the rest of the personnel has remained.
| McDavid/Draisaitl/Nugent-Hopkins | Time | Goals/2 min | Shots/2 min | Chances/2 min |
| --- | --- | --- | --- | --- |
| With Klefbom 2018-19 | 102:40 | 0.253 | 2.084 | 2.201 |
| With Nurse since Dec. 11 | 12:01 | 0.166 | 0.999 | 1.165 |
The sample size is small, and could be corrected with a good game or two, but the results are staggering. Nurse has not been regularly used on the power play to this point in his career, and with McDavid nearly always responsible for, and successful at, getting the puck into the offensive zone, Nurse's best skill as a puck transporter is negated. His acumen for skills more relevant to the power play, such as short, quick passes and effectively getting heavy shots to the net is less proven.
That said, the Oilers are handicapped by a severe lack of alternative options. A creative solution could be to try a five-forward setup with offensive-minded players like Ty Rattie, Ryan Spooner or even Jesse Puljujarvi available, but I don't see head coach Ken Hitchcock going that route just yet.
Matt Benning and Jason Garrison have seen some power play time this season, but the goal, shot and scoring chance numbers with them on the ice are comparable to Nurse's, albeit on the second unit and not the team's best talent. The last option, and perhaps the most likely, is to see recent call-up Caleb Jones ascend to that spot after one or two games on the second unit, a process which Jason Gregor and others suggested began at Thursday's practice.
PP units for Oilers..
#1..McDavid, Draisaitl, RNH, Chiasson and Nurse
#2.. Puljujarvi, Lucic, Rattie, Spooner and Jones

— Jason Gregor (@JasonGregor) December 20, 2018
Help Could Be on the Way in the Form of Andrej Sekera
The Hockey Writers' own BLH as well the Edmonton Journal's Jim Matheson each offered their takes about the struggling power play over the past couple days. Matheson also mentioned Benning and Jones as options, and quoted Hitchcock as coaching the players back to "attack mode" and "playing downhill" on the power play (from 'Edmonton Oilers have to pound the dents out of their rough power play', Edmonton Journal – 12/20/18).
The solution I expect might last longest, however, is a little off the radar. While Klefbom is not expected back until early-to-mid February, the Oilers have another proven power play option coming back from injury, as Andrej Sekera might be ready to return within the next few weeks.
A solution emerging sooner is ideal, and Sekera may take some time to re-acclimate to NHL hockey, but power play duties will not test his conditioning or skating as much as five-on-five play. During his last full and healthy season, he provided ample evidence that he is a serviceable power play contributor.
| McDavid and Draisaitl | Time | Goals/2 min | Shots/2 min | Chances/2 min |
| --- | --- | --- | --- | --- |
| With Klefbom & Nugent-Hopkins 2018-19 | 102:40 | 0.253 | 2.084 | 2.201 |
| With Sekera & Lucic 2016-17 | 92:45 | 0.367 | 2.178 | 2.329 |
The Oilers will need their star forwards to carry the power play for the next few games and also hope their five-on-five play and goaltending can shoulder the load for the team in the Klefbom's absence. However, as the numbers above show, the team may not need to wait for Klefbom to return for their top power play unit to regain a prolific point man. Sekera may be poised to fill in for the time being and then slide back to an improved second unit once Klefbom is healthy as well.
Drew is a sports fanatic. After completing a Master's in Coaching at the University of Alberta, Drew served as a high school athletics coordinator and now is the Executive Director for the Canadian Interscholastic Athletic Administrators Association. Follows the Oilers religiously, as well as the Duke Blue Devils and the Indianapolis Colts. Blue Jays and Raptors bandwagon jumper when necessary.