The Edmonton Oilers have another good one coming as prospect Raphael Lavoie has transformed himself and become a very good young player. Drafted in the second round in 2019 by then-newly hired general manager Ken Holland, he has started to become the player the Oilers had envisioned he would be.
The best lineup to ice every night is a combination of experience and youth, and though the Oilers were lacking some high-end youth for a while, they got some this season, and Lavoie may be the next to make his mark in the NHL. We'll look at the timetable for his arrival in Edmonton, how he has developed into one of the team's top prospects, his short- and long-term fit, and what to expect.
Condors Head Coach Praises Lavoie
A few days ago, Bakersfield Condors head coach Colin Chaulk was a guest on Oilers Now with Bob Stauffer and he revealed a lot about Lavoie that will answer many of our questions. At this time, Stauffer noted that Lavoie has 20 goals, 33 points, and is a plus-13 in his last 33 games at that point. Any point-per-game player in the American Hockey League (AHL) is deserving of at least a shot in the NHL, even if it's not right at this moment for the young forward with the Oilers.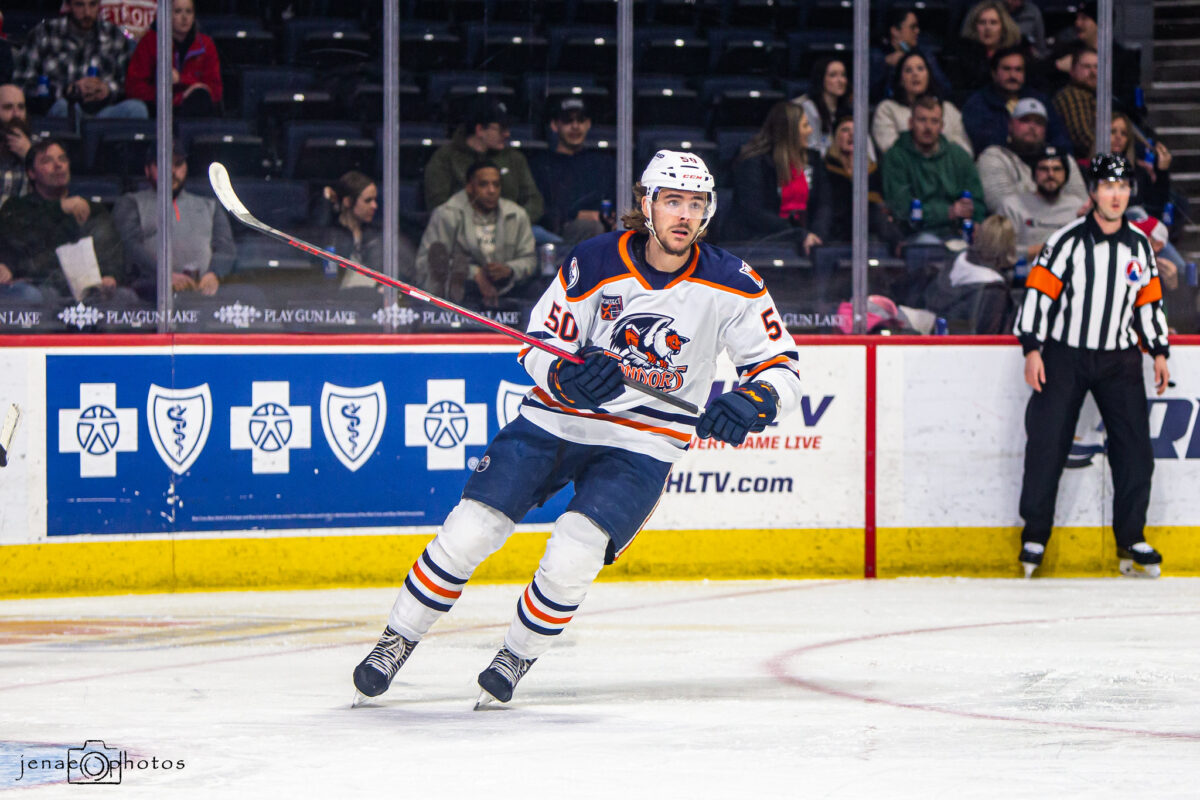 Chaulk said that, "One thing that he (Lavoie) has been doing very well is protecting the puck and using his big frame." The coach mentions he plays like he's 6-foot-4. This is good to hear considering not all big players play that way and it gets in the way of reaching their maximum potential. Chaulk also noted that until Christmas of 2021, Lavoie didn't play like he was 6-foot-4. This was a reason for the uptick in performance in the second half of last season. The start of this season got derailed by injuries, but we are seeing the type of player Lavoie is going to continue to be now when healthy. He has been called a streaky scorer, but injuries may be a reason why. When he's playing to his size and doing all the key things right, that's when he is the point-per-game player we're seeing.
Diving a bit deeper into what Lavoie has been doing right, Chaulk also stated, "He's holding onto the puck. Before, at times, he would throw things away." Holding onto the puck is a sign of confidence and something the best players tend to do. They want to make things happen and be in control with the puck on their stick and are confident they can get it done. We see that in Edmonton with Connor McDavid, Leon Draisaitl, etc. and didn't see that with Jesse Puljujarvi. What we saw there was the former Oiler throwing the puck away or to a teammate quickly once acquiring it and his confidence was definitely low with the Oilers at the end of his tenure.
Related: 3 Oilers Who Won't Be Back Next Season
---
Latest News & Highlights
---
More so, "He's (Lavoie) driving pucks to the net. He's not trying to go through people, he's going around people." He's always had a great shot and had 0.54 goals per game in his final four years before turning pro. Chaulk noted that Lavoie has worked on a quicker release and hitting the net a lot more.
How Soon is Lavoie's Arrival in Edmonton?
Stauffer asked the question of if Lavoie should merit consideration for a recall this season if there were an injury on the wing. Chaulk said that, "His skating, will, commitment to hold onto pucks and playing harder is there." He noted that he thinks Lavoie can be an NHLer and can play a game, but obviously hasn't yet. But he is trending in the right direction. Sometimes all it takes is a few games to get their feet wet and a taste for the NHL before sending them back to the AHL or Junior. Give them experience and a first-hand look at what the competition is really like to see if they can handle it and if they feel they can handle it.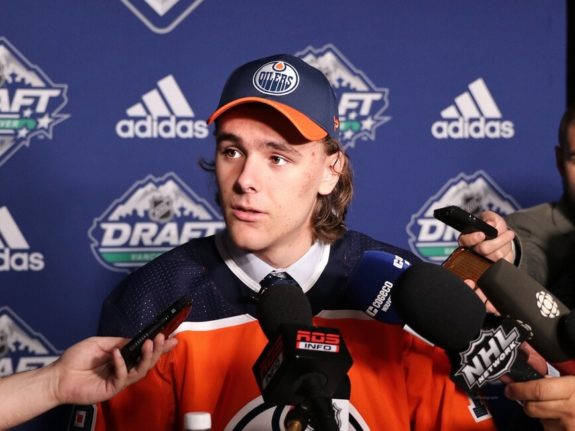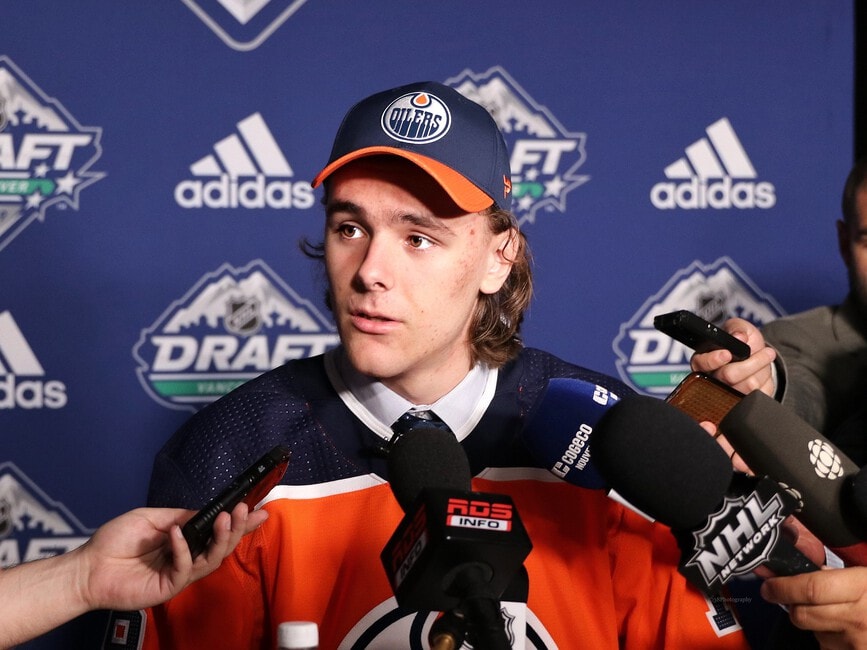 Chaulk also thinks that it's a big ask to have him come in this season for the Oilers, but with a strong AHL playoffs and confidence and swagger at a high, it is reasonable to think he can make the Oilers out of training camp next season. This is understandable as Dylan Holloway would be an option before Lavoie this season as well as possibly Tyler Benson (who lost his opportunity with a season-opening injury). James Hamblin also got a shot in the NHL already this season with the Oilers, and if they're desperate enough for help, could go the more experienced direction at this time of the season.
Seeing as Lavoie hasn't put together a full season of this dominance just yet for various reasons, an early or late 2023-24 season arrival for him would be the best bet. As a power-forward with a great shot who can use his body, he will be an asset for the Oilers for a long time if it can transfer over to the NHL (from "Lowetide: Oilers scoring prospect Raphael Lavoie reaching a crossroads", The Athletic, Dec. 10, 2022). As for a short-term impact on the team, the Oilers could get a young and hungry player with lots of offensive upside who would be under contract for cheap. Think of a bigger but less physical Klim Kostin for the Oilers' depth for a few years. Lavoie is trending in the right direction and the anticipation for his arrival in the NHL should be ramping up as he is bound for the Oilers within the next calendar year.