When the Chicago Blackhawks dealt Brandon Hagel, it was the unofficial beginning of their scorched-earth rebuild. General manager (GM) Kyle Davidson traded the 24-year-old forward to the Tampa Bay Lightning on March 18, 2022, signaling a new direction after years of mediocrity.
In exchange, Davidson received forwards Taylor Raddysh and Boris Katchouk, in addition to 2023 and 2024 first-round picks. Davidson didn't have to move Hagel; he was young enough that he could've been a great building block. But while he has flourished with the Lightning, it's easy to see why Davidson made the deal in retrospect.
Hagel Trade Was Shocking But Reasonable for Blackhawks
Although Davidson said he'd lead a rebuild of the Blackhawks when he took over as GM, this trade was surprising. It wasn't obvious the rebuild would involve dealing young talent such as Hagel, Alex DeBrincat, and Kirby Dach. However, the team performed well below expectations in 2021-22. Davidson opted for a significant overhaul of the on-ice product by letting go of fan favorites while acquiring more draft capital, and moving Hagel was just the start of that process.
Related: Blackhawks Hagel Trade Signals Start of the Rebuild
---
Latest News & Highlights
---
There's certainly an argument that the Blackhawks should've kept Hagel. A 2016 sixth-round pick of the Buffalo Sabres, the Blackhawks signed him in Oct. 2018. He largely exceeded expectations in 2020-21, his rookie season, with 24 points (nine goals, 15 assists) in 52 games before following that up in 2021-22 with 37 points (21 goals, 16 assists) in 55 games for the team.
Yet, the offer was likely one Davidson couldn't have refused, as two first-rounders and two young players were a lot to receive. Hagel has improved his value since, though, and is having a career season with the Lightning with 56 points (24 goals, 32 assists) in 69 games.
The Lightning might've paid a premium, but their window remains open despite a competitive Eastern Conference. They made a similar move last month in acquiring Tanner Jeannot, and while it might've seemed like an overpayment, it may not matter as much if he and Hagel help them win another Stanley Cup.
Assessing the Blackhawks' Return
Both Raddysh and Katchouk were NHL-ready players at the time of the trade. However, they couldn't find consistent roles with the Lightning. Over the last year, they've received more playing time with the Blackhawks.
Raddysh skated in 21 games for the Blackhawks after the trade to end 2021-22. He tallied 10 points, five of which came in his first six games for the team. As shocking as it might've sounded a year ago, he's the team leader in goals (20) and points (33) this season. While consistency has sometimes been an issue, he has played arguably the best hockey of his NHL career as of late, with seven points (six goals, one assist) in his last five games.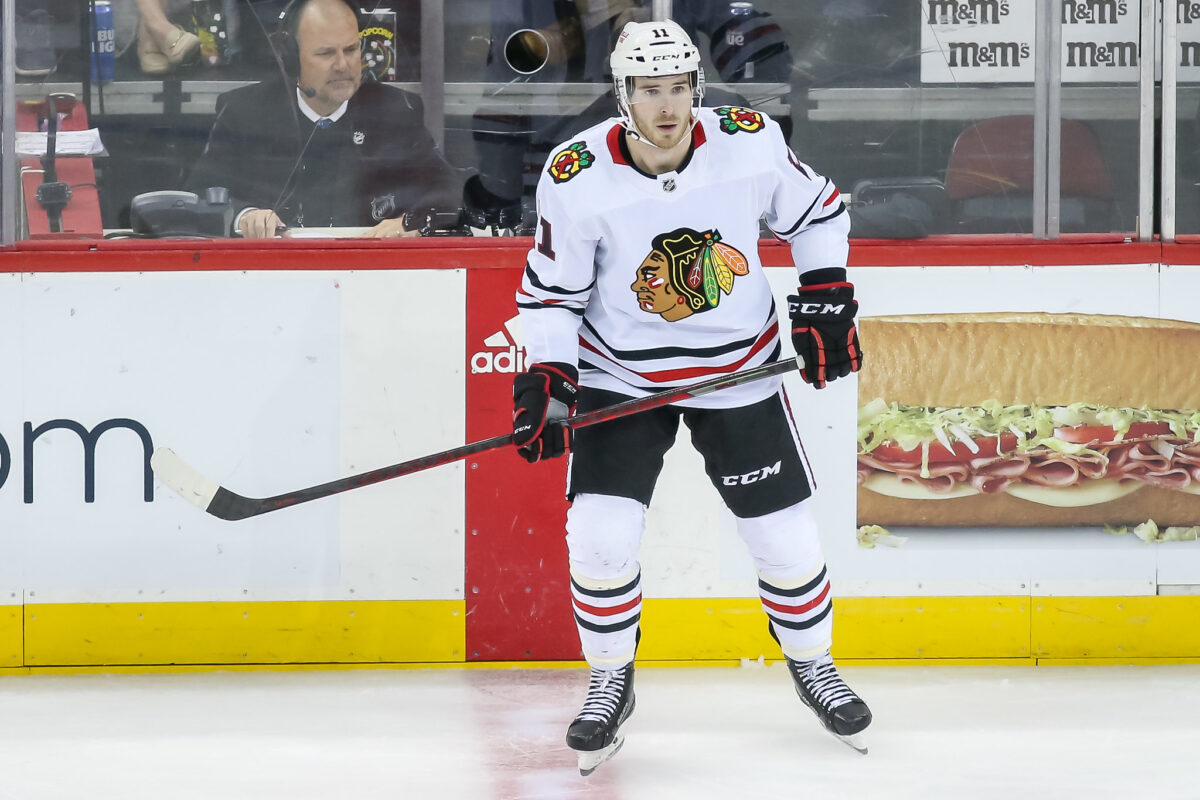 Despite Raddysh's success this season, next season could be even more important for the versatile 25-year-old forward. He's set to become a restricted free agent in 2024, when Davidson could decide whether he'll be part of the future. Regardless, he'll be due for a raise; he currently has an annual average value of $758,333, one of the Blackhawks' best-value contracts. It'd also be easy to see him getting flipped this offseason or at next year's deadline if a team were to, say, offer a first and/or multiple second-rounders.
Of the two players, Katchouk's far less likely to stay around for the long run. However, he's been a good contributor in the bottom-six and has also impressed lately, with five points (two goals, three assists) in his last four games.
Furthermore, the two first-rounders should be valuable. The Blackhawks own a combined 14 picks in the first two rounds of the next three drafts while having an above-average prospect pipeline. At the same time, Davidson could always use some of those picks to land a top prospect or a young player, like when the Montreal Canadiens acquired Dach, even though they're still rebuilding.
This was a good return for the Blackhawks then and still is a year later. Raddysh has slowly grown; while he might be a different player from Hagel, he's young enough that he could be part of the future. Having more than enough draft capital isn't a bad thing, either.
Lightning Are Winners, But Only for Now
As impressive as the Blackhawks' return was, it'd be silly to declare them winners of this trade. Like Hagel, Raddysh's ceiling is likely a top-six forward, but he's only finishing his second NHL season. The Blackhawks could also miss on both picks, should they keep them. Meanwhile, Hagel has thrived in Tampa Bay and has made up for some of the forward depth they've lost since their last Stanley Cup in 2021, including Yanni Gourde, Blake Coleman, and Barclay Goodrow.
Related: Blackhawks Should Consider Moving on From Ian Mitchell
That doesn't mean the Blackhawks haven't benefited, as the future is brighter for the organization than it was a year ago. With both picks from this deal, they now have four first-rounders in the next two drafts, which could potentially be five if the New York Rangers make the Eastern Conference Final due to the Patrick Kane trade.
Had the Blackhawks not gone into teardown mode last offseason, they likely would've been a borderline playoff contender at best. If Davidson hypothetically ran back most of last year's group, including Hagel, The Athletic projects they would've missed the playoffs and had a similar performance to last season (from 'What if the Blackhawks didn't go all in on the rebuild?,' The Athletic, 01/12/23).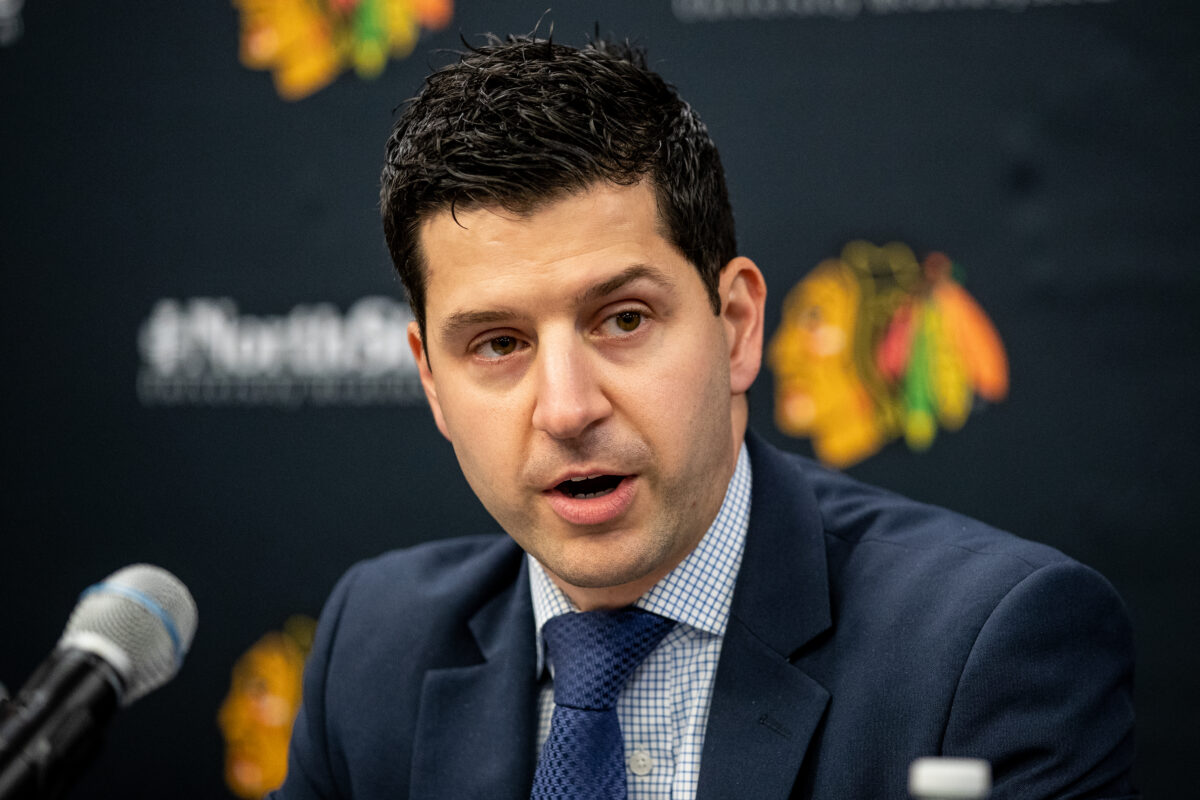 The Blackhawks tried retooling during the 2021 offseason by adding Seth Jones and Marc-André Fleury, but it just didn't work. Teams like the Vancouver Canucks and Philadelphia Flyers have tried the strategy, but neither has benefited. Both clubs sit in the bottom 10 of the NHL standings, and only recently did the Flyers commit to a rebuild after also being stuck in mediocrity. There's no guarantee it'll work for the Blackhawks, but it was the most logical direction.
The winner of this trade should be clearer in three to four years. Yet, both teams were smart to make it, and it reflects their focuses. The Lightning are fully committed to the present, despite a below-average pipeline. The Blackhawks are prioritizing the future, as they should be. Dealing Hagel, as tough as it might've been, was the first step in that process.
---
---