The Chicago Blackhawks are going through a transition period where everyone is trying to make a name for themselves as the team steps into the next chapter of their rebuild. One of the names that fans were looking at was Taylor Raddysh. Although he was one of many forwards that needed to have a breakout season, it helped that he also seemed the most likely to do it. Although he had a good season for the Blackhawks after being acquired from the Tampa Bay Lightning at the trade deadline in March 2022, he has taken his game to the next level this month.
Raddysh's Development With Blackhawks
Going into this season with the Blackhawks was huge for Raddysh. Speculation was that he was possibly a bottom-six forward but with top-six potential. When he was with the Lightning, he had 12 points in 53 games but couldn't crack the lineup in the Lightning long-term because their championship depth was set, so he spent the prior three seasons with the Syracuse Crunch of the American Hockey League (AHL). Blackhawks general manager Kyle Davidson saw Raddysh as an opportunity to take a chance on someone that could be a 20-goal scorer but also provided intangibles on special teams, which brought similarities to the player they traded in place of him: Brandon Hagel.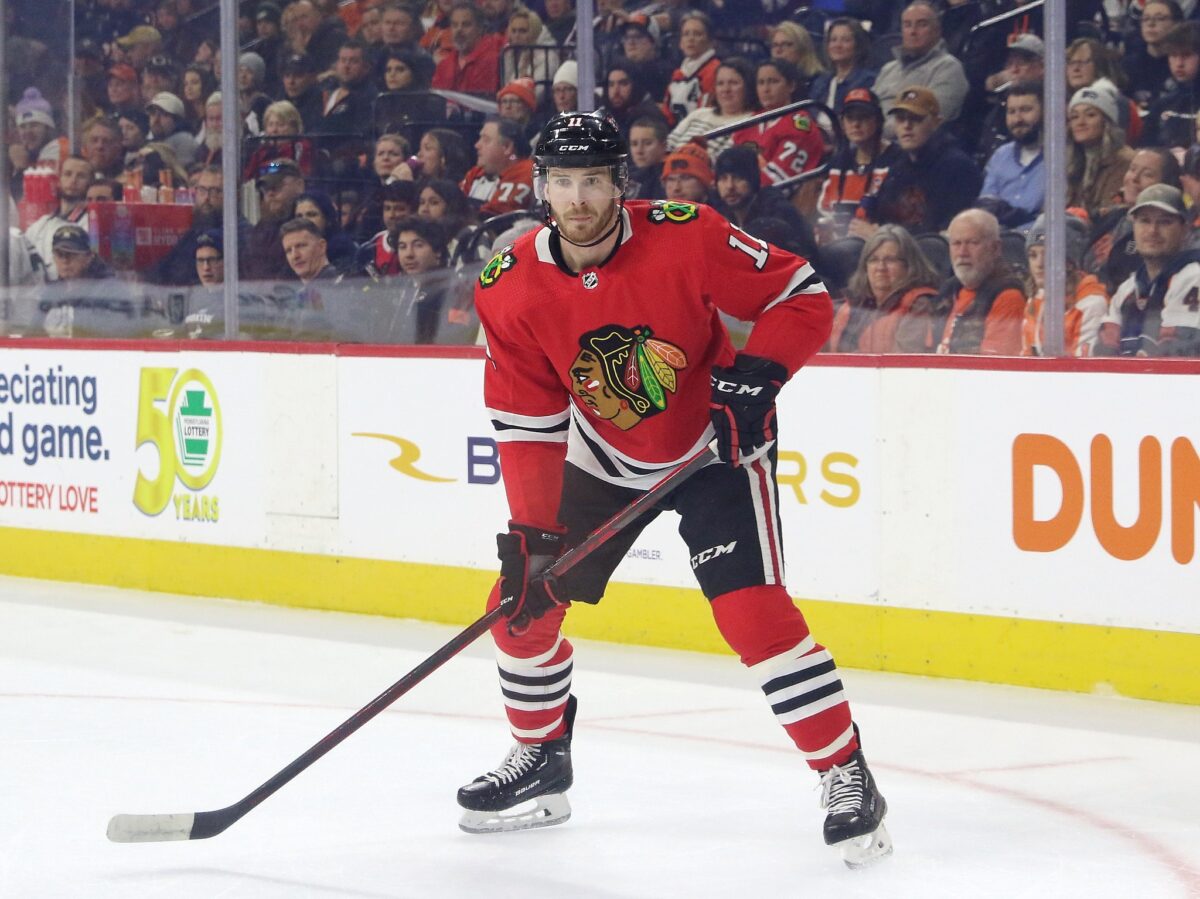 Although Raddysh is not Hagel and likely won't match his production, he could still be an impact player necessary for the rebuild. He got a great opportunity on the Blackhawks because he has been made more of a presence on the top-six, most notably the second line, and the team wanted to see how he would fare with more responsibility and talent-wise; he seemed up to the task. After being acquired, he had 10 points in 21 games, which is a 39-point pace in a regular 82-game setting. He had 11 goals and 22 points between two teams last season. With an entire season in Chicago, he was expected to surpass those numbers. Mainly because he plays a significant role on the power play; three of his six goals with the Hawks last season came on the power play.
Raddysh's March Madness Production
Something about Raddysh that was noticeable even from last season is that he can be inconsistent. For example, he endured a stretch last year where he had three points in two games, then went cold for the next six games. This year, the same thing happened: he had three points in two games, then went pointless for the next seven. His hot and cold streaks go by months, as well. He had a great January, with 10 points in 13 games. However, he struggled for February as he only netted two points in 12 games. Despite the adversity, up to the trade deadline on March 3, he was third-best on the team in goals (14) and fifth-best in points (26). Still, with the subtractions of Patrick Kane and Max Domi due to trades and Jonathan Toews on injured reserve, he jumped to the second-best scorer behind Seth Jones (28 points).
Related: 5 Blackhawks Poised for Breakout Success in 2022-23
---
Latest News & Highlights
---
The aftermath of the trade deadline is telling because teams are playing with new players, and there is no telling how they will gel. Raddysh has thrived since the trade deadline, leading the team with six goals and seven points. He also leads the team in shooting percentage (33.3%), shots (21), points-per-game (1.17), and power-play goals (2). This has come with mostly playing with Tyler Johnson and Cole Guttman on the second line.
Going into the week of March 6, Raddysh was on a 15-game goal drought, which he broke with a two-goal game against the Detroit Red Wings on March 8. Since then, the floodgates opened, and he is now on a four-game point streak, including getting his first career hat trick against the first-place Boston Bruins on March 14. It's his second four-game point streak this season, as his last one came in January. In addition, he can create a career-best record if he reaches five games against the Nashville Predators on March 16.
Raddysh Makes the Blackhawks Better
Raddysh's game screams "goal scorer." Head coach Luke Richardson has always praised Raddysh's two-way ability being just as responsible on the defensive side of the game, but he reminds me a bit of former Blackhawk Andrew Shaw. Shaw was a net-front presence and liked to hang out in the dirty areas. Likewise, Raddysh notches many goals because he stakes out the same places. In general, you have an excellent chance to score if you position yourself near the net. Take a look at one of the goals he scored against Boston.
Related: Chicago Blackhawks' Taylor Raddysh: 5 Quick Facts
The pressure is high for Raddysh because of the player he was traded for and because since the Blackhawks' big-time playmakers have left, it is now or never to show he could be a difference-maker on his own. Before the season started, Raddysh talked about building off what he did last year on the top six, working hard, and hoping that the puck luck follows. It seemed like a slower pace to start, but when you're hot, you're hot, and production is finding him right now. Currently, Raddysh has 20 goals, 13 assists, and 33 points in 67 games to be the team's leading scorer. 13 of them are power-play goals. He must be incredibly proud of whatever expectations he had for the season. The 25-year-old is establishing himself on the Blackhawks, and with only one year left on his contract ($758,333 AAV), the team can have more confidence that he can be a part of the solution on special teams and in the top-nine in the future.
Raddysh has all the skills needed to be an all-around NHL player, and this is the best he has looked all year. Remaining consistent will be a focal point of the team's production, so he needs to continue down this path. Look out if he does because Chicago may have gotten another hidden gem.
---
---