The Montreal Canadiens finished the 2021-22 season dead last in the NHL standings. As hockey fans would expect, this resulted in them selling off several veteran players leading up to the 2022 trade deadline. The same strategy is used by every team that knows it won't make the playoffs, so it was no surprise.
Ben Chiarot, Tyler Toffoli, Artturi Lehkonen, and Brett Kulak were all dealt by the Canadiens for draft picks and prospects. The sell-off continued in the offseason when Jeff Petry was traded to the Pittsburgh Penguins for a younger Mike Matheson on the blue line, and they also acquired a future first-round pick from the Calgary Flames when they agreed to take on the final year of Sean Monahan's contract.
Related: 3 Takeaways From Canadiens' Weekend in New York
---
Latest News & Highlights
---
All of those trades are exactly what you'd expect from a rebuilding team. However, the last-place Canadiens also traded away a first-round pick at last year's NHL Draft. It is unusual to see the 32nd-place team dealing away such high picks, but it is a move that is already starting to pay dividends.
Draft Day Trade Shocker
In a series of moves on the draft floor, the Canadiens sent Alexander Romanov to the New York Islanders for the 13th overall pick in the 2022 NHL Draft. Romanov was just 22 years old, but the rebuilding Canadiens acquired a first-round pick, which makes sense.
The surprising move was they traded that first-round pick away just a few minutes later, as they moved that 13th overall pick, as well as a third-round pick, to the Chicago Blackhawks for Kirby Dach. While trading away such high picks is risky for a team so far away from contending, this one is already looking great for the Canadiens.
Dach was a bit of a risky acquisition as he struggled to produce offence in three seasons with the Blackhawks. He was selected third overall in the 2019 NHL Draft but had 19 goals and 59 points in 152 games over three seasons in Chicago. He still had plenty of time to develop, but there was not a lot of production during that entry-level contract.
Canadiens' Gambled On Dach's Potential
When the Canadiens acquired Dach, they needed a big offensive breakout to make the trade worthwhile. He was still 21 years old at the time of the trade and signed a four-year contract with a manageable $3,362,500 million cap hit. After just half of a season, the contract — as well as the trade — are looking like strokes of genius from general manager Kent Hughes.
The Fort Saskatchewan, Alberta native started the season at centre but moved to the wing as the team made room for Nick Suzuki, Sean Monahan, Christian Dvorak and Jake Evans to all play down the middle. This moved Dach out of his natural position, but it did allow him to play with Suzuki and Cole Caufield on the team's top line. And that line flourished.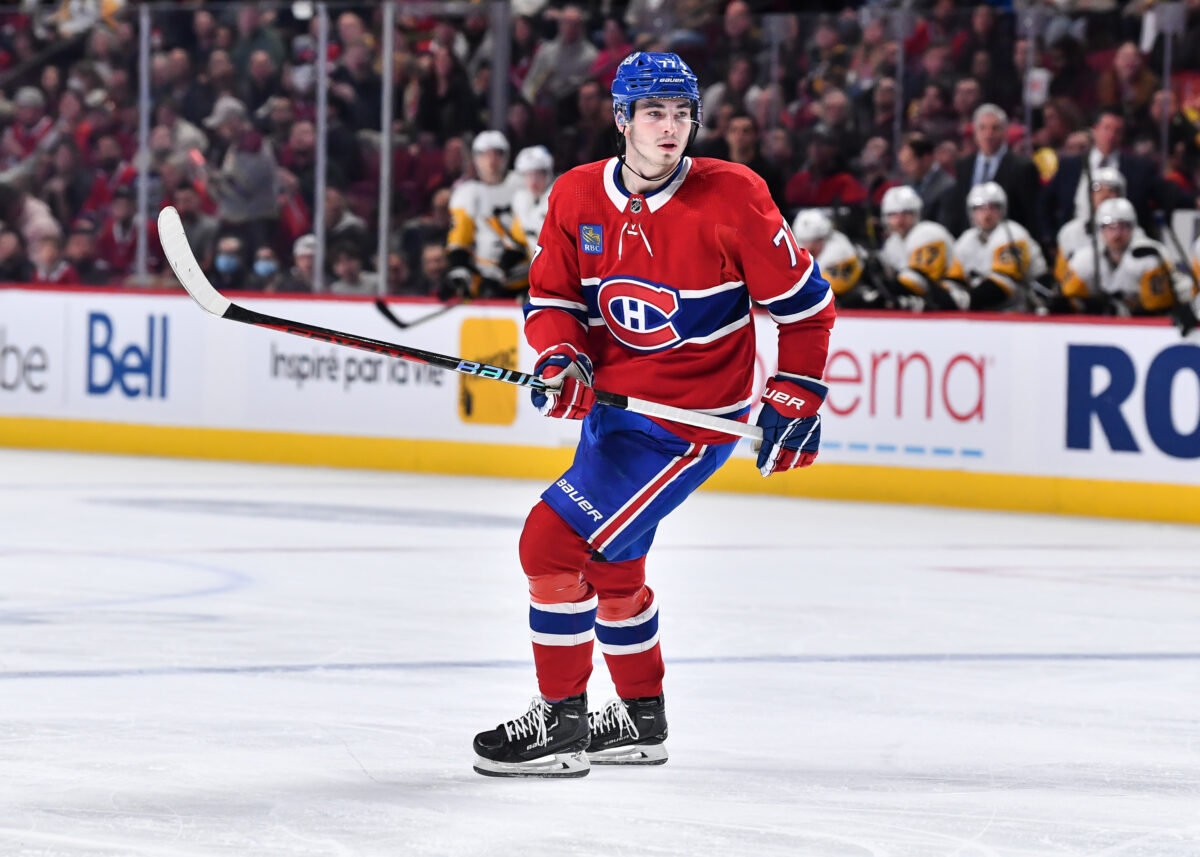 The 6-foot-4, 212-pound Dach found his scoring touch when given the prominent role and now has eight goals and 27 points in 44 games. He has already set a career-high in points and still has about half the season left to play. With Monahan and Evans currently injured, Dach has moved back to centre, but the points keep coming, and his all-around game continues to grow.
He found some open ice off the rush against the New York Rangers on Sunday and fired home a wrist shot when Dvorak found him with a cross-ice pass. Shortly after, Dach hustled on the backcheck and broke up a play in the defensive zone to eliminate a Rangers scoring chance.
And a great back check by Dach. All on the day that he surpasses his best season in the NHL with 27 points.

— Brian Wilde (@BWildeMTL) January 15, 2023
Dach seemed to find some offensive confidence while playing with Suzuki and Caufield. Now, he is showing he can be a two-way contributor on a separate line from that dynamic duo.
Dach's Two-Way Game Growing Immensely This Season
Dach is using his size to create space and win battles, is showing off incredible vision, beat defending Vezina Trophy winner Igor Shesterkin with a wrist shot in his latest game, and carries the puck from the defensive zone to the offensive zone with ease. He just cruises into the attacking zone, backing the defenders off with his combination of size and speed, and constantly creates scoring chances.
His next goal will tie his career high from last season, but that was in 70 games. He already has more assists and points than he ever had in a year with the Blackhawks and is still just 21 years old.
In his 44th game of the season, #Habs Kirby Dach set a new career high with 27 points. Last year he had 26 in 70.

That puts him on pace for 50 points in his 22-year-old season.

— Frank Seravalli (@frank_seravalli) January 16, 2023
It was a bit of a shock to see the Canadiens trade away a first-rounder pick after finishing last. The easy thing to do would have been to use the pick and preach the words rebuild and patience. That is surely what the Blackhawks are doing. But the Canadiens chose to roll the dice on a top-three selection that was already on the trade block. Comparisons to Alex Galchenyuk and Jesperi Kotkaniemi came next, but those worries are already put on ice.
After a few short months in Montreal, Dach is showing he still has all the tools that made him such a high draft pick, and he is putting them together to turn into an excellent two-way second-line centre. He is on pace to reach 50 points if he continues producing at his current rate and is destined for greater numbers in future years. After 44 games, Dach appears on the cusp of being what the Canadiens envisioned he could be behind Suzuki, which proves this long-term gamble is paying off very quickly.
---
---