With the calendar turning to 2023, things are starting to heat up with the prospects for the Boston Bruins. Since January started, there have been some impressive performances from some of the Black and Gold's prospect pool.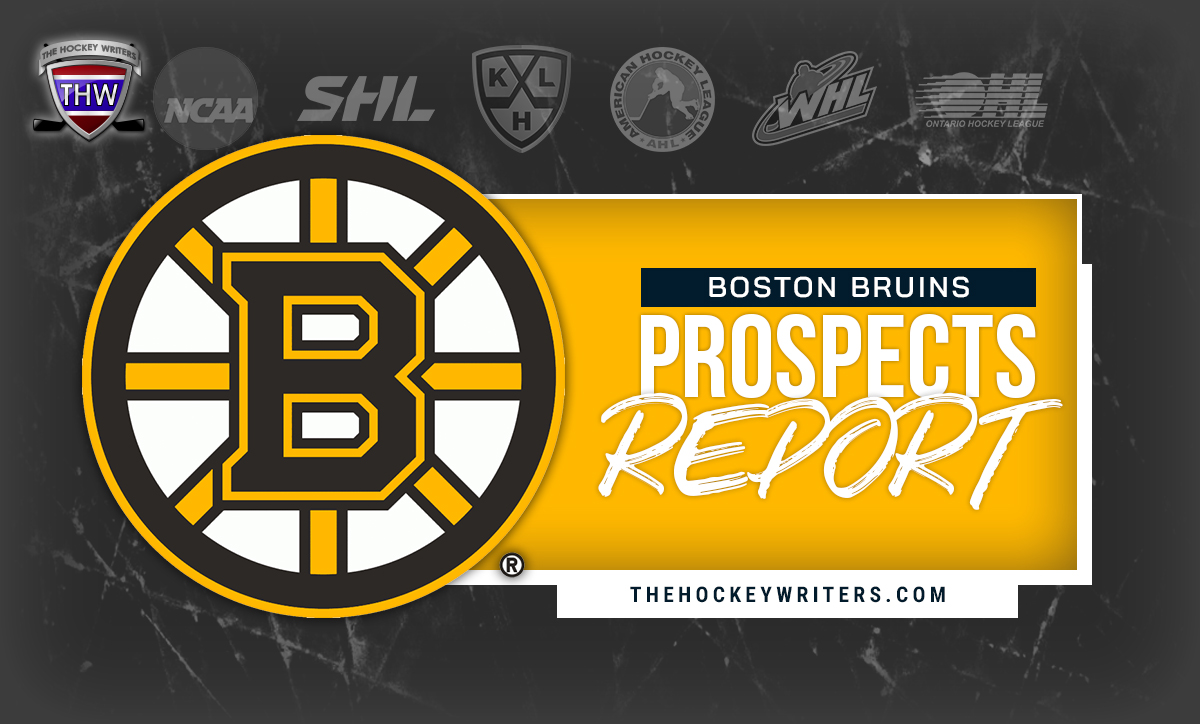 In this edition of the latest Bruins Prospects report for The Hockey Writers, two members of the Providence Bruins in the American Hockey League (AHL) earn a trip to the upcoming All-Star Game, and two prospects are continuing their strong seasons in the Ontario Hockey League (OHL).
Matthew Poitras Stays on Torrid Pace
Needing center depth for the future, the Bruins selected three at the 2022 Entry Draft, and their first selection in the second round and 54th overall was Matthew Poitras. The 5-foot-11, 172-pond right-shot is leading the Guelph Storm in scoring with some impressive numbers in the OHL.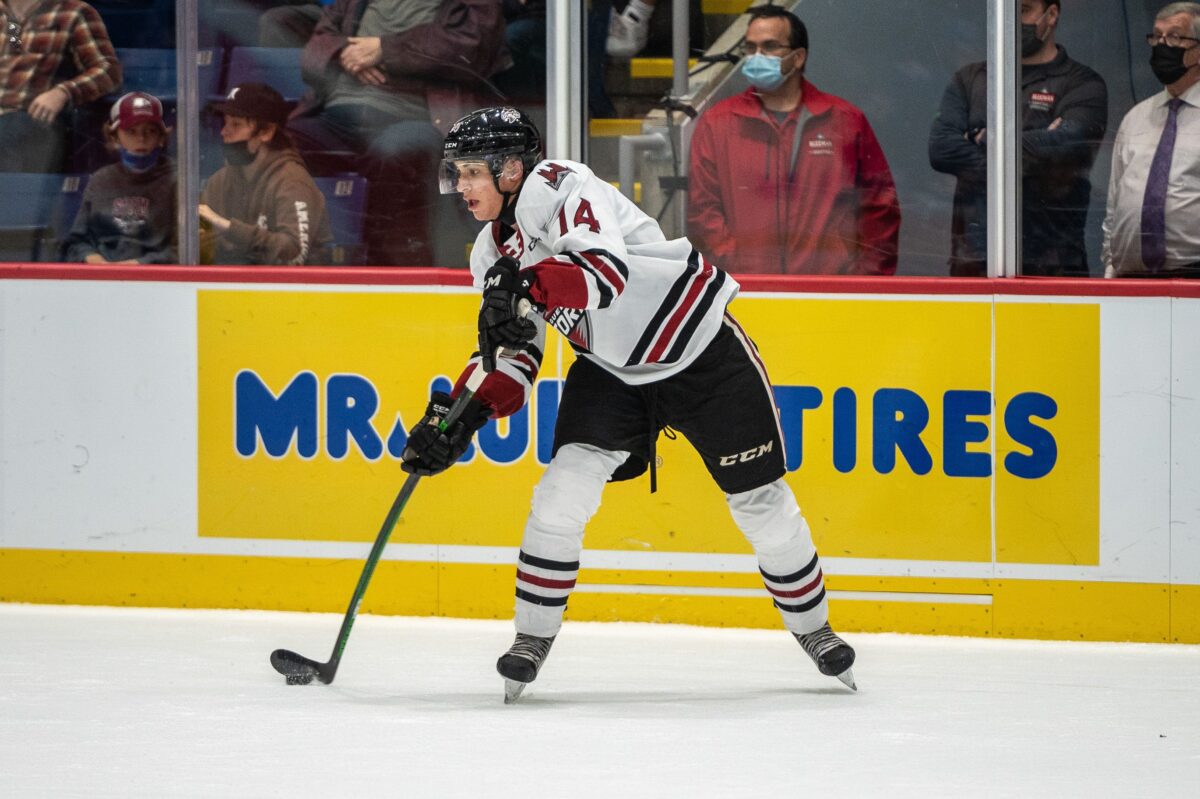 In his last five games, Poitras has 10 assists, including three in a 6-3 win over the London Knights on Jan. 13 and two in a 6-4 loss to the Owen Sound Attack. For the season, his development into a playmaker has taken off. In 36 games, he has nine goals and 39 assists for 48 points, just two points shy of his total in 68 games in 2021-22. His skill set is what caught the eye of Bruins Associate Director of Amateur Scouting Ryan Nadeau.
"We see a player that's a driver, someone who has the puck a lot and can make things happen," said Nadeau. "Even when he doesn't have the puck, the motor is running, he's getting involved."
Poitras is still some time away from signing his entry-level contract, but if his development continues in the direction it's heading this season, it's a good sign for the future.
Bussi & Lettieri Earn AHL All-Star Honors
Two members of the P-Bruins will be attending the AHL All-Star Game in Laval, Quebec on Feb. 5 and 6. Goaltender Brandon Bussi and forward Vinni Lettieri will be heading to the festivities next month.
Bussi was signed as an undrafted free agent following his senior season at Western Michigan University last March. This season for the P-Bruins, he is 12-2-3  and sports a very impressive 2.16 goals against average (GAA) and a .935 save percentage (SV%) in his first full pro season. His GAA ranks him fourth in the AHL, while his SV% ranks him No. 1. He's allowed just 36 goals in 17 games. What the future holds for him in the organization remains to be seen, but the Bruins front office has done a nice job building some goaltending depth.
Related: Boston Bruins' 2022-23 Midseason Grades
---
Latest News & Highlights
---
Lettieri was signed last summer among a number of players to add some depth in Providence and in his first full season with the Bruins minor league affiliate, he's stepped in and been a nice addition. In 36 games, he leads the team with 29 points and leads the team with 13 goals. He was set up by top prospect Fabian Lysell for the game-winning goal in a 3-2 overtime win over the Hartford Wolf Pack on Jan. 15. The 5-foot-9 right-shot center has been a valuable addition to a young P-Bruins squad as a veteran who has some AHL experience before signing with the Bruins. 
Brett Harrison Joins Spitfires and Gets Slotted With Shane Wright
Another Bruins center prospect, Brett Harrison, was recently traded at the OHL trade deadline from the Oshawa Generals to the Windsor Spitfires. After he was acquired, the Spitfires made another deal, this time acquiring Shane Wright, the No. 2 overall pick of the Seattle Kraken in last July's Entry Draft in Montreal. The duo has been placed on the first line by former Bruin and Windsor coach Marc Savard.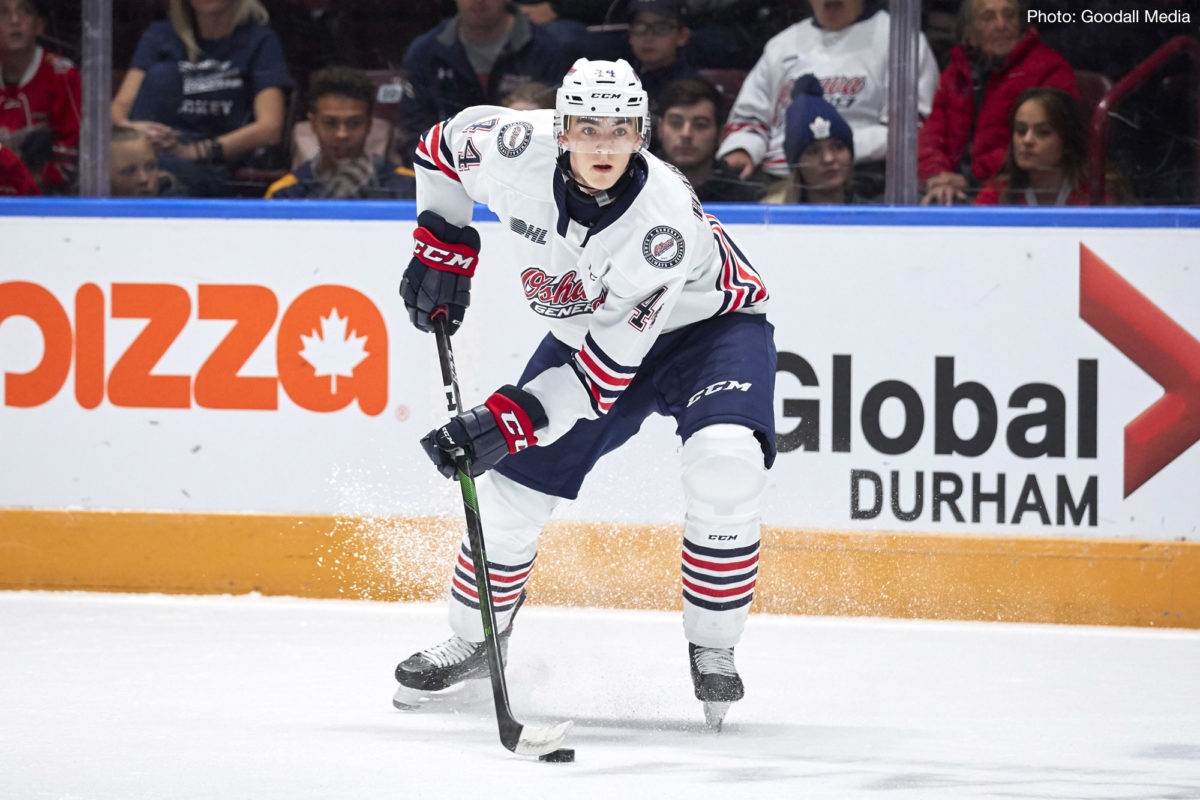 In 27 games for the Oshawa Generals this season before the trade, Harrison had 16 goals and 17 assists, but since joining the Spitfires in six games, he has five goals and five assists. Number aside, Harrison has taken a major step in his development in the last two seasons since being drafted 85th overall in the third round of the 2021 Draft. A natural center, he has been playing a lot on the wing this season, and getting to play with a talent like Wright is going to help his development. Harrison signed his entry-level contract last summer and should end up in Providence in the AHL in 2023-24.
With the NHL trade deadline approaching on March 3, expect the Bruins to be active to make a move to strengthen their roster ahead of the playoffs. To do so, some of Boston's prospects will be in play as part of a trade, but with a prospect pool that is not highly thought of, it remains to be seen who general manager (GM) Don Sweeney agrees to part ways with. Could some of these names be on the move? We'll find out in the next six weeks.
---
---