When the puck is dropped at center ice at the TD Garden on Jan. 14 against the Toronto Maple Leafs, it will be the official start to the second half of the 2022-23 regular season for the Boston Bruins. As the top team in the NHL with a 32-5-4 record, first-year coach Jim Montgomery and his team have far exceeded preseason expectations.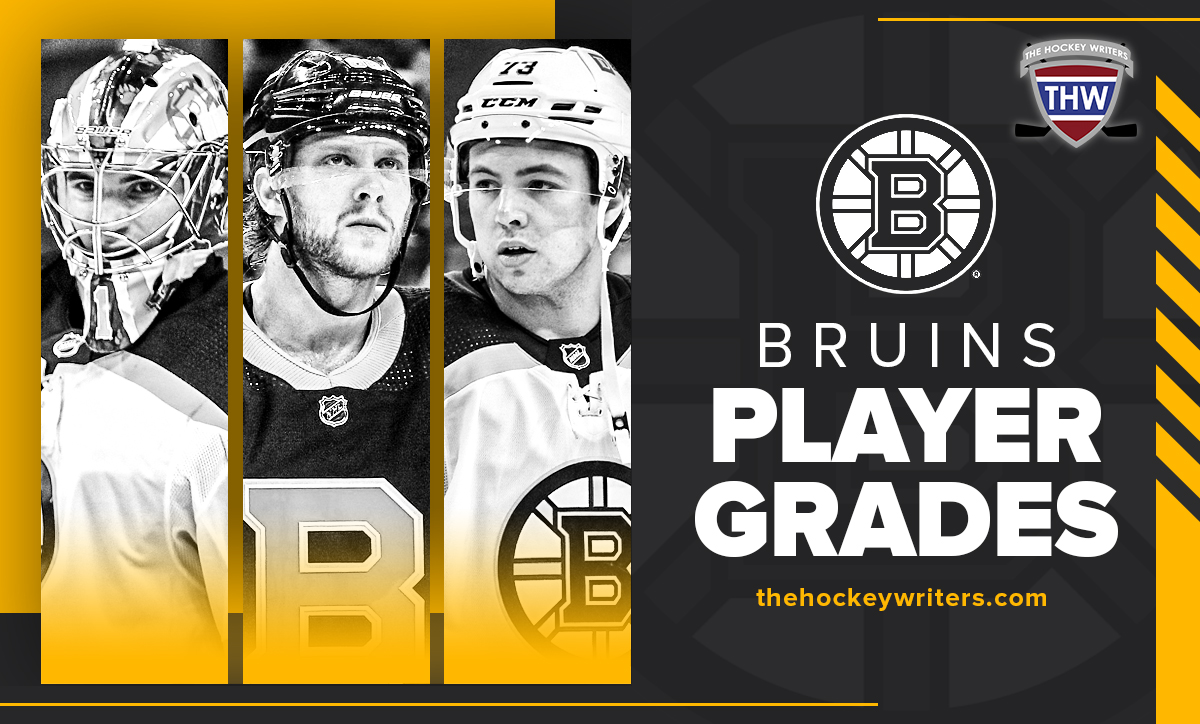 There have been multiple players that are on pace to have a career year and that combined with a roster blessed with depth both at forward on defense has been a recipe for success. As the second half of the season begins, it's time to grade the Bruins roster on the first 41 games of the season.
Jim Montgomery – A+
Taking over a veteran roster that had 107 points the previous season is hard enough, but to come in and put his mark on the first 41 games that Montgomery has is an easy grade. It seems like every move he makes works out and he has quickly gained the respect of the locker room. There is no question that he is taking full advantage of a second NHL opportunity that general manager (GM) Don Sweeney has given him. He will be the Atlantic Division coach for the 2023 All-Star Game in February.
David Pastrnak – A+
The season that David Pastrnak is having reminds me of the 2022 season that Aaron Judge had with the New York Yankees where he turned down a contract extension, and went into the season betting on himself and having a career year. Yes, baseball and hockey are different sports, but their stories are similar for a huge payday.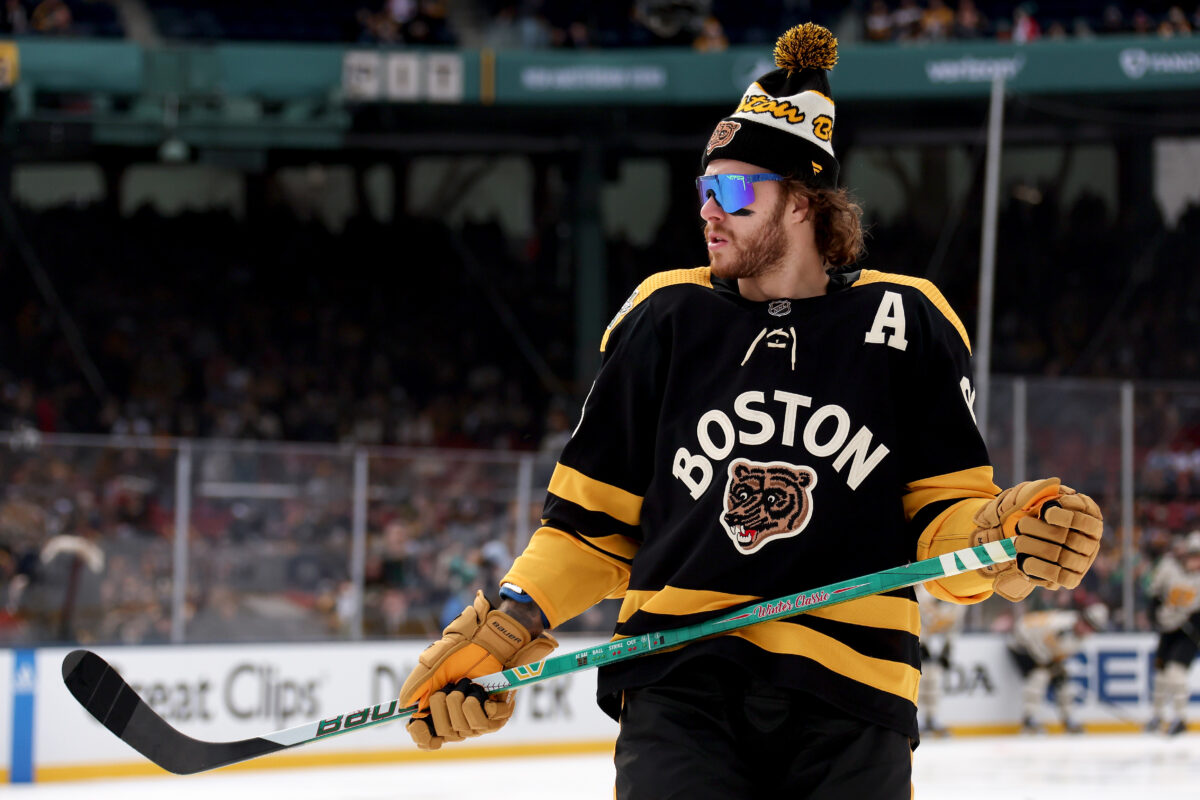 Pastrnak has 32 goals and is on the heels of Connor McDavid of the Edmonton Oilers in the race for the Maurice Rocket Richard Award, which the Bruins' 2014 Draft pick shared with Alex Ovechkin of the Washington Capitals in 2019-20. If he stays healthy, he should score 50, but will he reach 60? That's worth watching in the final 41 games.
Linus Ullmark – A+
The most surprising first half of the season, hands down, has been Linus Ullmark in goal. Who saw this start coming? He has a 22-2-1 record with a 1.88 goals-against average (GAA) and a .938 save percentage (SV%). He has to take on more of a workload with Jeremy Swayman missing the month of November with a lower-body injury, but the former Buffalo Sabres netminder was more than up to the task. He is the leading candidate for the Vezina Trophy.
Patrice Bergeron – A
At 37 years old, Patrice Bergeron is on pace for another Selke Trophy and has not skipped a beat. He has played in all 41 games with 15 goals and 18 assists. He is still winning faceoffs at an elite level, thriving in the bumper position on the first power play unit, and is leading the penalty kill as usual. Taking a hometown discount to return is paying off big time for the captain and the Bruins.
Jake DeBrusk – A-
On pace to smash his career-high in goals, Jake DeBrusk was the hero of the 2023 Winter Classic with two third-period goals against the Pittsburgh Penguins at Fenway Park on Jan. 2 in a 2-1 win, but is now out with a fractured fibula. In 36 games, he has 16 goals, 11 shy of his career-high of 27 in 2018-19.
Related: Bruins & Canucks Can Be Partners on a Blockbuster Trade
---
Latest News & Highlights
---
DeBrusk rescinded his trade request last summer and he was second on the Bruins in goals behind Pastrnak at the time of his injury. He has settled in nicely on the top-line and top power play unit and holding down the fort on the right wing until he returns will be a rotating door for Montgomery.
Charlie McAvoy – A-
Charlie McAvoy is the first defenseman on the list, despite missing the beginning of the season recovering from off-season surgery. In 27 games, he has two goals and 21 assists while averaging nearly 23 minutes a night. He hit the ground running in mid-November like he had not missed any time this season and has been excelling in all situations. Despite missing a month and a half of the season, he's still producing at a career-high level.
Hampus Lindholm – A-
Right behind McAvoy is Hampus Lindholm, who was one of the most valuable Bruins' with his defensive partner out of the lineup for the first month and a half of the season. He has been as good as Boston would hope he would be and his offensive talent is showing with 23 assists and 28 points in the first half of the season. Averaging just under 24 minutes a night, he gives Montgomery a 1A and a solid 1B with McAvoy.
Taylor Hall – B+
How many teams have a third-line left wing with the talent of Taylor Hall? Not many. He has settled in nicely with Charlie Coyle and Trent Frederic, with 13 goals, including five that have been game-winners. He is well on his way to an eighth 20-goal season and he should have no problem getting there, especially since being moved to the top power play unit in DeBrusk's absence.
Charlie Coyle – B+
Last season Coyle struggled as the No. 2 center behind Bergeron, but in the second half of the season and through the first half of this season, he has found a home as the No. 3 center. Carrying a $5.25 million cap hit, the case could be made that he was not worth it the last couple of seasons, but this season, he's been worth it. He has 10 goals and 23 points and has won 54.9 percent of his faceoffs this season. He is by far playing his best season wearing the Spoked-B after being acquired from the Minnesota Wild at the 2019 trade deadline.
Brad Marchand – B+
Despite hitting a rough patch in terms of production in December, Brad Marchand has come alive in January. Still killing penalties at an elite level and working his touch along the wall on the power play, he's getting his feet under him after recovering from double hip surgery last offseason.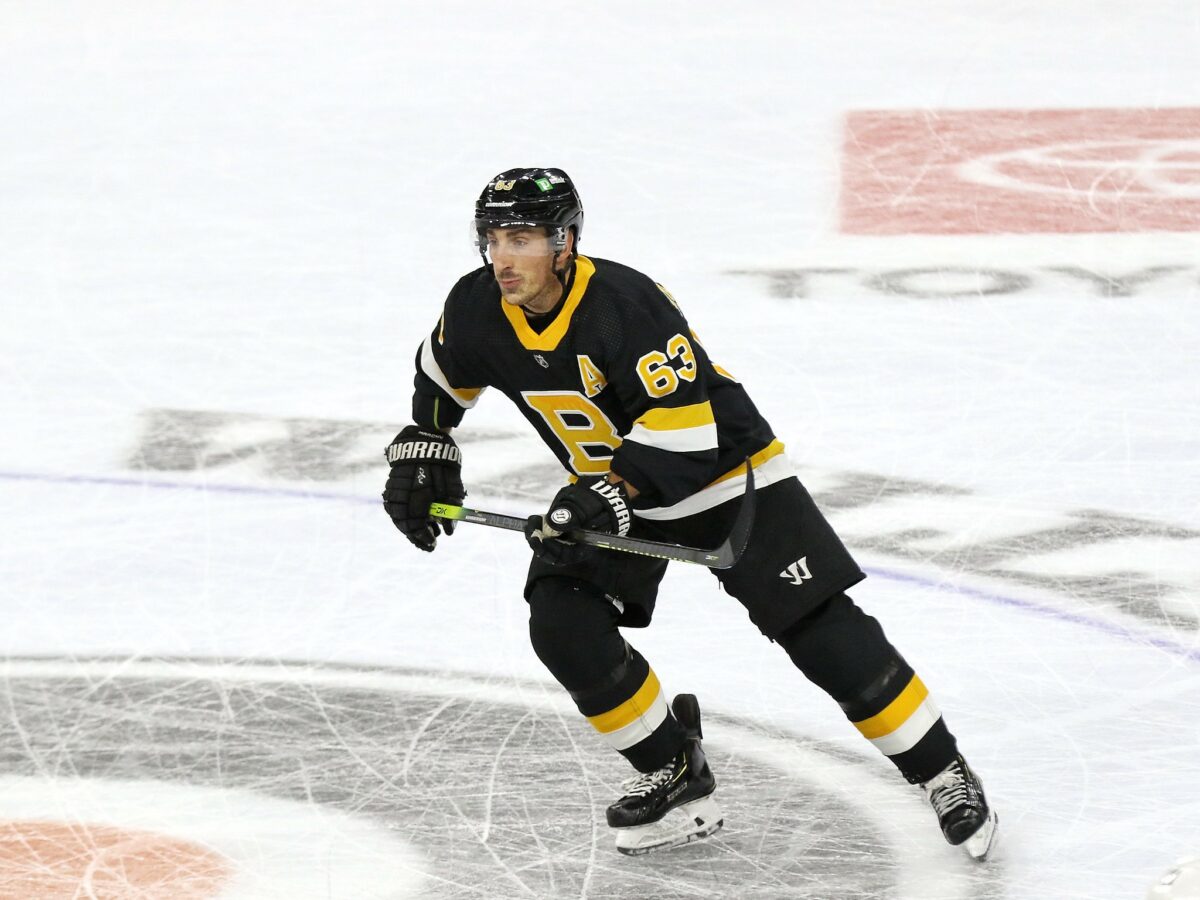 On the Bruins' recent three-game road trip through California, he had three goals and three assists in eight periods of hockey.  In 33 games, he has 37 points after missing the first eight games. He is still one of the more clutch Bruins and still makes plays that you marvel at.
Trent Frederic – B
After a frustrating start to his NHL career highlighted by inconsistency, Trent Frederic has taken the next step in his career. He already has a career-high in goals with nine, and has eight assists, two short of his career-high. More importantly, his game is rounding into form and he's found a connection with Hall and Coyle on the third line. He has been a pleasant surprise this season.
Pavel Zacha – B
When the Bruins acquired Pavel Zacha from the New Jersey Devils last July, they were hoping to get the same version, if not better than he was in 2021-22. After signing a one-year contract as a restricted free agent (RFA) for $3.5 million, he has settled in on the second line, while filling in a center.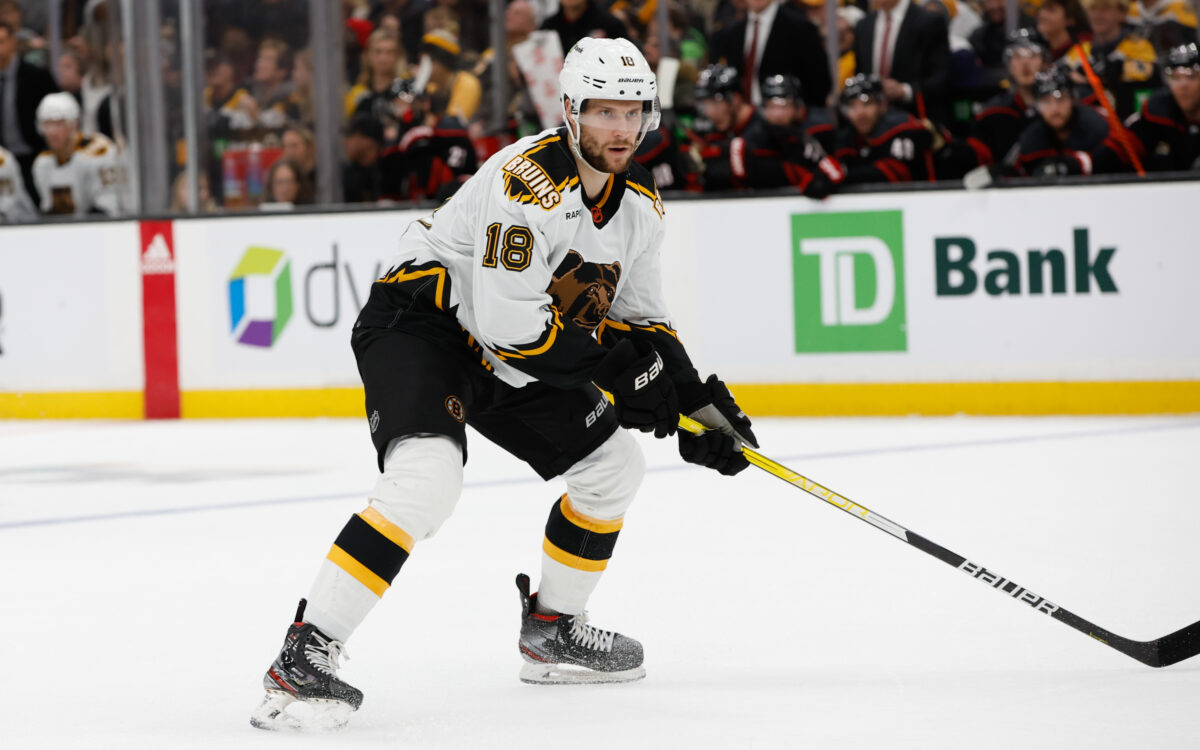 Primarily playing on the second line with David Krejci and Pastrnak, Zacha has five goals in 20 assists in the first half of the season. He has played well in all situations, but like with the Devils, his goal number could be higher with a little more luck.
Nick Foligno – B
Who saw this bounce-back season coming? After a brutal first season with the Bruins, Nick Foligno is had a very good first half of the season as he plays in the final year of a two-year contract that carries a $3.8 million cap hit. He has done what is asked of him in all situations and producing with six goals and 12 assists. Not only is he providing leadership on the ice, but he's taken on that role off the ice too. He is a very nice presence for the Black and Gold to have.
David Krejci – B
After leaving for a season to play in Czechia, Krejci returned to fill in the void as the second-line center behind his long-time teammate Bergeron. Zacha, Krejci, and Pastrnak have been a dangerous line for opponents when they're on the ice, as good things usually happen. His 11 goals and 30 points in just over 17 minutes a night have solidified the top-six for the Bruins. He would benefit from some time off later in the season to be ready for a postseason run at 36 years old.
Connor Clifton – B
One of the more steady defensemen this season has been Connor Clifton. He has benefitted from Montgomery's new system by being more offensive and having much more freedom. He has been a very physical presence with 115 hits, he's blocked 63 shots, and has three goals and 12 points with a plus/minus of plus-8, not too bad for a third-pairing blueliner. Averaging a career-high 18:37 in the first 41 games, he is in the final year of his contract and is playing himself into a descent payday, most likely somewhere other than Boston next season.
Jeremy Swayman – B-
Playing behind Ullmark, Jeremy Swayman has been solid this season, but he has shown some cracks lately by giving up some goals in key situations when the Bruins could really have used a save. Besides that, he's been good despite missing a month of the season with a lower-body injury and has a 9-3-3 record with a 2.51 GAA and a .905 SV%. Going forward, he should see more time in the second half of the season to lessen Ullmark's workload heading into the playoffs.
Matt Grzelcyk – B-
Like McAvoy, Matt Grzelcyk missed some time at the beginning of the season, but when he's been in the lineup, he's been holding down a second-pair spot. He had one goal and 12 points, although he's never been a big point player, but there have been some times in games this season where he tends to disappear. The Bruins will need him to be a little more active in the second half of the season and average more than the 17:16 he did in the first half.
Derek Forbort – B-
Prior to breaking a finger in November and missing a month, Derek Forbort was having a solid season paired mostly with Clifton. His importance on the penalty kill was noticeable when he was out with his injury and since his return, the Bruins have been near the top of the PK in the league. He's not going to light up the scoresheet, but he does all the little things that have been key this season.
Brandon Carlo – B-
As usual, Brandon Carlo has been steady this season on the back end and playing a key part in the penalty kill with Forbort. He has added a touch to his offensive game with the new system put in place by his new coach. He was the last regular Bruin to find the back of the net when he scored on an offensive rush and wrist shot against the Florida Panthers on Dec. 19. The Bruins need to manage his minutes later in the season, especially with his injury history.
Tomas Nosek – C+
It's safe to say that the first half of the season this year has been better for Tomas Nosek than all of last season. He has already tied his high in goals from last season with three, but he's been strong at the faceoff dot, winning 58.3% of his draws. One of the top penalty-killing forwards, he has settled in on the fourth-line center spot, a perfect spot for him.
A.J. Greer – C
During the first couple weeks of the season, A.J. Greer was bringing energy to each shift, relentless on the forecheck and a spark on the fourth line. Since then, things have fallen off and fallen quickly into Montgomery's doghouse. He's fighting to just stay in the lineup, mostly switching in and out with Craig Smith. That should continue as the second half of the season gets going.
Craig Smith – C-
It just simply has not been a good season for Smith. Frustrating should be the keyword and the veteran has shown a lot of it at different times this season. He has just two goals and Montgomery has tried to get him going by moving him around the lineup and it just has not worked out. He has been placed on waivers and gone unclaimed. Moving him by the trade deadline is an option, but it's going to be tough to get done. 
Jakub Zboril – C-
One of the better players in training camp was Jakub Zboril, but the regular season has just not been what he or the Bruins would like. He is very flexible by being able to slide over the right side, his off-side, in a pinch, they as the season has gone along, his playing time has slowly gone down and got to the point where he was a healthy scratch for over a month.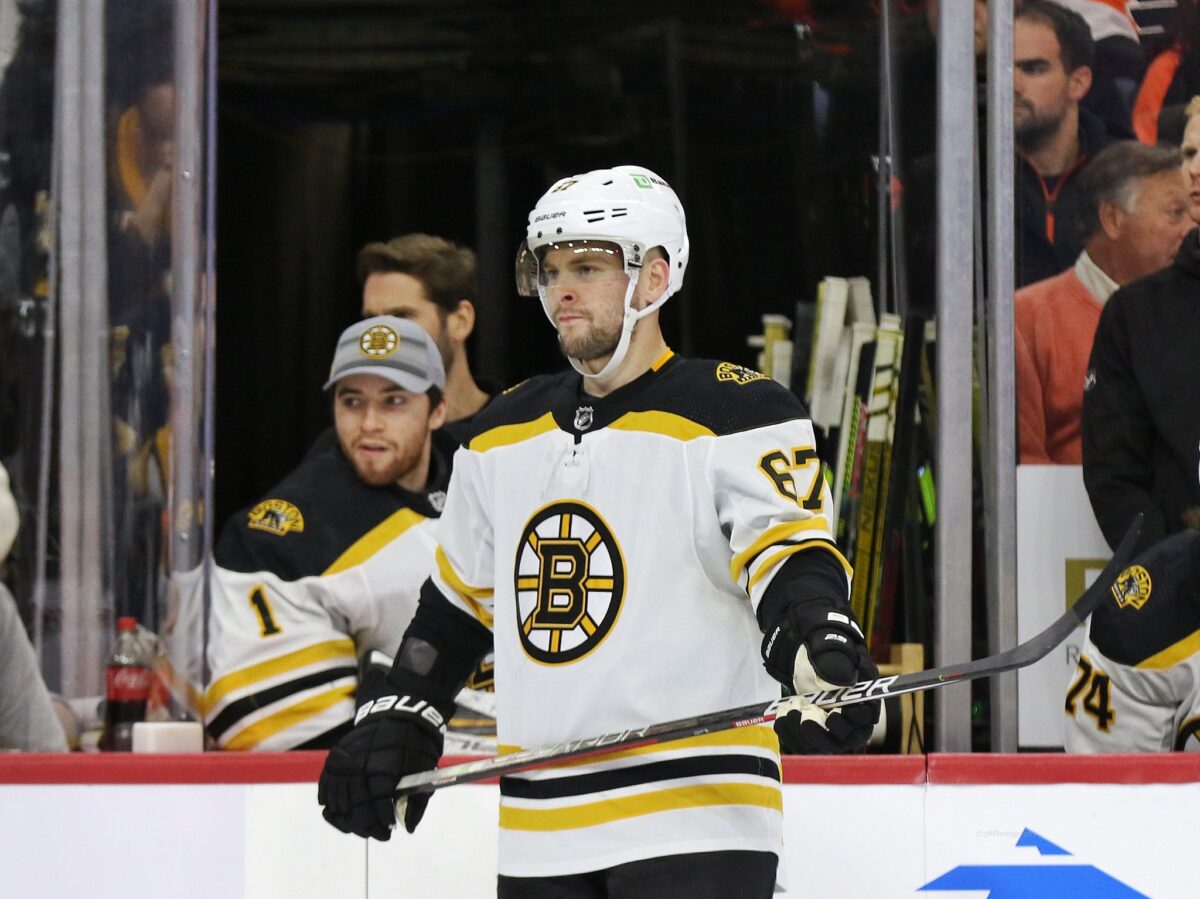 He would benefit from some time in the American Hockey League (AHL) with the Providence Bruins, but he would first have to clear waivers, and the likelihood of someone claiming him is pretty good. The Bruins are stuck in the middle of nowhere here.
Incompletes
There are some players that just did not play enough to qualify to be graded. Chris Wagner, Joona Koppanen, Keith Kinkaid, and Anton Stralman are just a few who have found their way into the lineup in 2022-23.
Overall, it was a far exceeding first half of the season for the Bruins, with several players playing well above what was expected. Can they keep the momentum going in the second half? That remains to be seen.
---
---