The Montreal Canadiens spent the weekend in the Big Apple, and while the Habs took a bite out of the shiny red delicious, there was a worm at its core. The Habs came away with a 1-1 record playing the games on back-to-back nights. Head coach Martin St. Louis has them back on track, meaning that they are no longer rolling over for opponents but instead providing the effort that the coach has demanded. Three areas stood out over the weekend matchups. While this season is unlikely to end in a playoff spot, fans can look at these takeaways and assess if there have been any improvements heading into the second half of 2022-23. 
Canadiens Takeaway No. 1: Kirby Dach Is a Center 
Kirby Dach is having a career year, points-wise. He surpassed his point total of 26 in 70 games played last season with the Chicago Blackhawks by scoring his 27th point of the campaign in only his 35th game, putting him on pace for a 50-point season. When the general manager (GM) Kent Hughes acquired him in a trade completed on the draft floor, the audience was audibly shocked at the move by Chicago. For Montreal, the expectation was that they had found a potential top-six center.  
"We've all been intrigued, you know, can he play center in this league? He's 21 years old, so I don't think any of us were ready to say he wasn't going to be a center. Sometimes circumstances make you really take a look at that now. Not that we haven't throughout the season, but you're really forced into it now. He gave us a really good game." 

–Martin St. Louis
So far this season, he has shown why Hughes targeted him. The 6-foot-4, 212-pounder plays a strong possession game and uses his size to his advantage to make use of his long reach to shield or strip the puck. He is a sublime skater, and more importantly, he has the patience to hold on to the puck as he takes the time needed to identify the best plays to be made. Offensively, this does look like a breakout year in the making.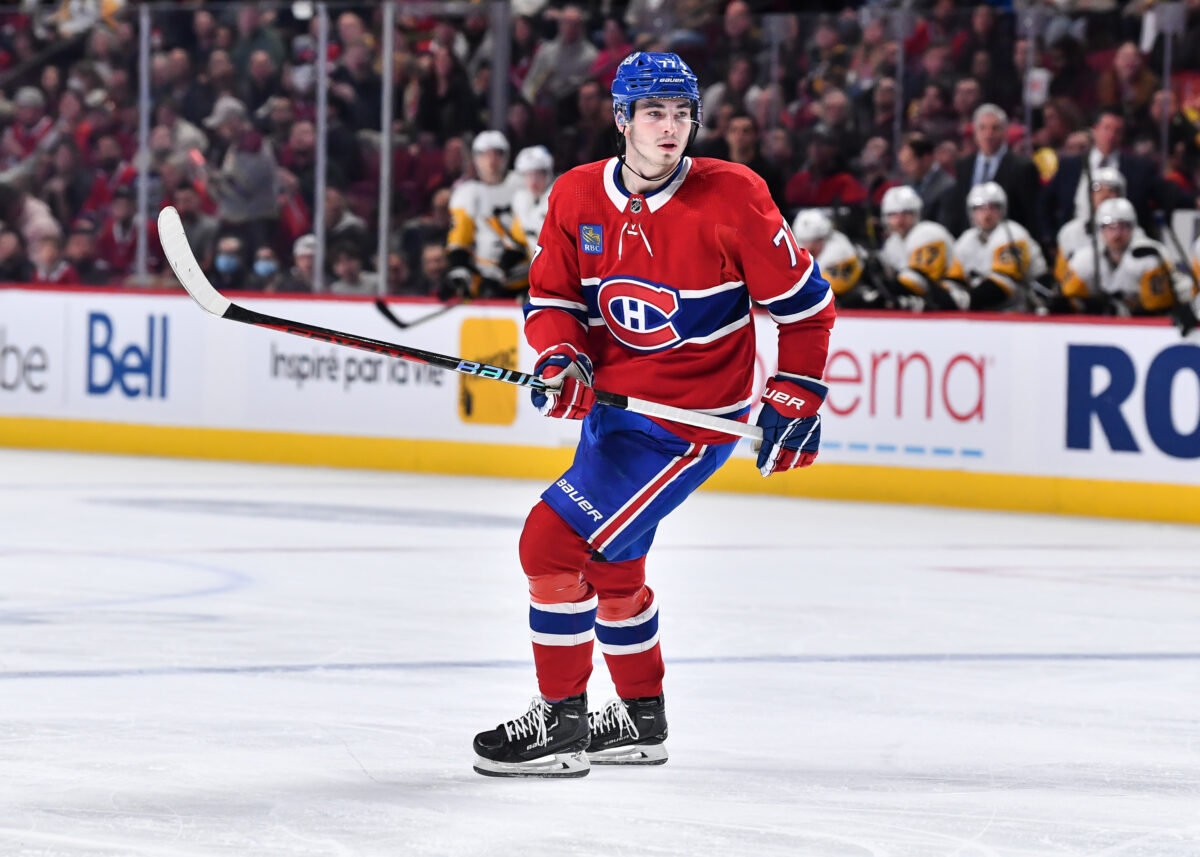 Dach seems to have embraced the concepts St. Louis has espoused and has been able to express his creativity on the ice. That showcases the talents mentioned above. It gives him the confidence to use his shot more, which, when he starts to use it more, will open up opportunities for him, as defenses can no longer cheat in positioning to cover the passing lanes but will have to respect his shot. 
A skill that can make him a valuable asset at center is his ability to generate controlled defensive zone exits as well as offensive zone entries. This is a direct result of his penchant to play a possession style that fits in with the direction Montreal is taking to generate more offense. Dach's limited time at center this season points directly to why he was a third-overall selection. This weekend in New York demonstrates the importance of having that second skilled top-six center, and it's up to St. Louis to resist putting him back on the top line as a winger.  
Canadiens Takeaway No. 2: Effort Breeds Success 
Players can't control the outcomes of a play or a game, but they can control their effort and work ethic. The two games in New York show that effort can bring positive results. Starting with the game against the New York Islanders, fans saw what a slow start could do to their Habs, as they saw them dig themselves a 2-0 deficit early in the first period. From then on, the Canadiens were the team leading the way with effort. They ended up losing the game 2-1, but that had far more to do with the stellar play of Islanders goaltender Ilya Sorokin than anything else. The Canadiens got "goalie'd." 
Overall, the effort of the team was above reproach, but one player, in particular, has embraced the challenge of consistent effort, and that is Jonathan Drouin. While he has been unable to score a goal yet this season, he has been highly effective on the power play at the point, quarterbacking the first unit, and also at five-on-five, where he has been tallying assists on a near-nightly basis. Versus the New York Rangers, Drouin had a golden opportunity but couldn't get one past Igor Shesterkin, who was the reason the Canadiens only had two goals in their win in that second game in New York. 
Related: Montreal Canadiens' 2023 Trade Deadline Preview 
---
Latest News & Highlights
---
As a team, despite playing two games in less than 24 hours, the Canadiens' work ethic allowed them to play one of their more exciting games this season. They exchanged scoring chance after scoring chance, generating some incredible moments. Going on little rest and a blue line filled with nearly all rookies, they were able to compete against a club that has legitimate Stanley Cup aspirations, thanks in large part to their effort and work ethic.  
Canadiens Takeaway No. 3: The Infirmary 
Finally, the Canadiens' infirmary will need a new wing added on, as the game versus the Rangers cost them the services of Jake Evans, with a lower-body injury, and possibly rookie Juraj Slafkovsky, whose lower-body injury has been looked at by Montreal's medical staff; no announcements on either player have been made. 
They'll join Mike Matheson, Sean Monahan, Brendan Gallagher, and Kaiden Guhle on the list of walking wounded. While it poses problems for St. Louis in balancing his lineup, it does offer the opportunity for those still able to play. Players like Justin Barron and Jesse Ylonen will get opportunities to play NHL games and show what they've got if they can be NHL players or even if they are ready to move up in the lineup to take on larger roles. Because it's a rebuild, there is no pressure for more wins, so the only real pressure is that which the players themselves place on their shoulders. That also means that there is no rush to get players back, allowing them time to fully recover.   
These two games in New York demonstrated that the Canadiens need to commit to the Dach at center experiment and that a continued all-out effort will be required to compete on a nightly basis and that injuries happen, but they provide an opportunity to others. While it's clear the Canadiens will miss the playoffs and may even finish in the bottom five of the NHL, these three points will play a large role in the team's rebuild. 
---
---