New York Rangers forward Patrick Kane bore down on goaltender Tristan Jarry, the three-time Stanley Cup winner and future Hall of Famer having what looked like a clear path to a golden scoring opportunity, with the lone Pittsburgh Penguins defender back shaded toward Kane's teammate Chris Kreider on a 2-on-1 break.
Yet Kane, he of the 449 career goals, elected not to shoot, instead forcing a cross-ice pass to Kreider, who was fading away from the net and whose ensuing shot was stopped rather easily by Jarry, who had ample time to react and get across the crease.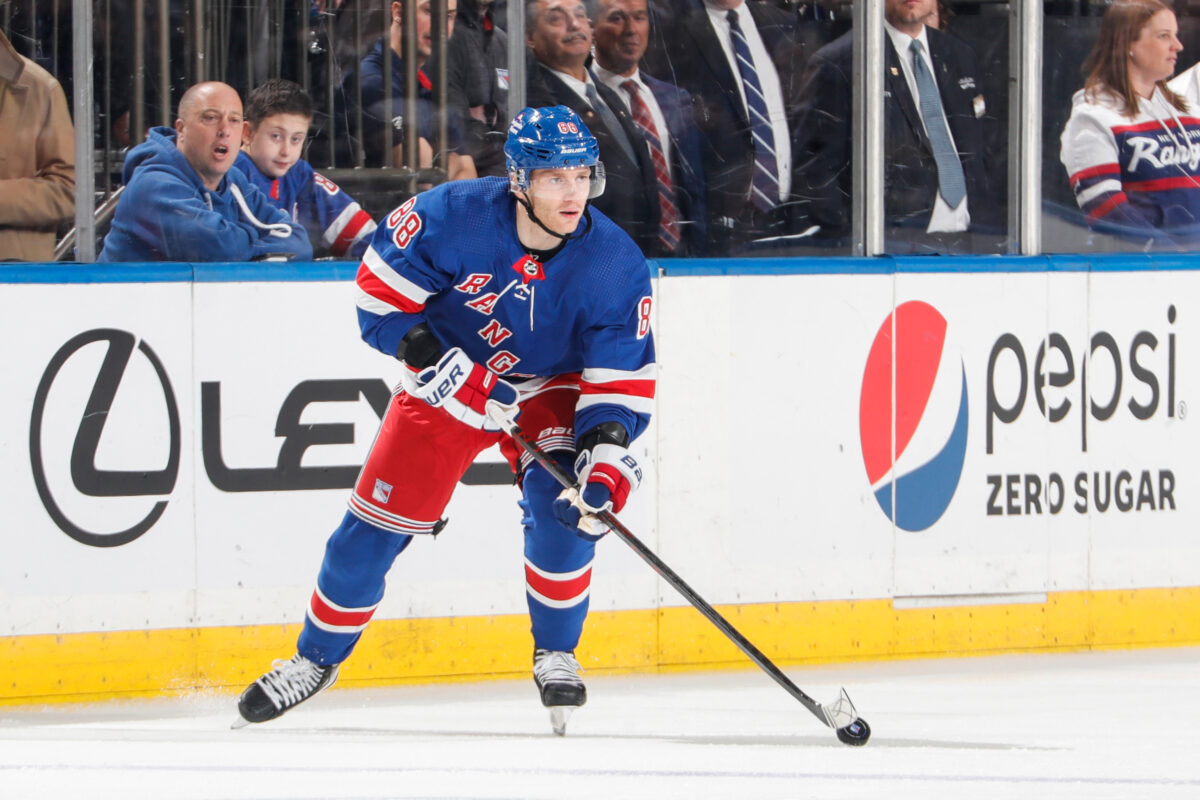 The Rangers went on to win the March 16 game anyway despite Kane's failure to convert the late second-period chance, defeating the Penguins 4-2 to move to 4-0-1 in their last five and further solidify their hold on third place in the Metropolitan Division.
Things are hardly perfect for the Blueshirts, though. Among the concerns surrounding a team trying to mesh with a remade roster is the sense that seven games into his Rangers tenure, Kane is still struggling to find his place, perhaps predictably having trouble adjusting to playing for a club other than the Chicago Blackhawks for the first time in his 16-year career.
Kane's Disposition Speaks Volumes About His Comfort Level
There's been some production, with three goals and two assists as a Ranger. Yet the evidence is more compelling that Kane is desperately trying to fit in with a new group – something he's never had to do in the NHL, and under the white-hot media spotlight of New York in the midst of a playoff race.
It's not just the passing up of what appeared to be an obvious shooting opportunity against Pittsburgh. Kane has seemed largely reserved and unemotional on the ice, the uncertainty all but painted on his face.
The 34-year-old delivered an emphatic fist pump when he scored his first goal as a Ranger on March 9 against the Montreal Canadiens, and he reacted similarly after his other two tallies in a Blueshirt. Yet when Kreider banged in what turned out to be the winning goal from in front midway through the third against the Penguins, celebrating with his trademark yell, Kane gave him a simple stick tap, his expression again passive and devoid of emotion.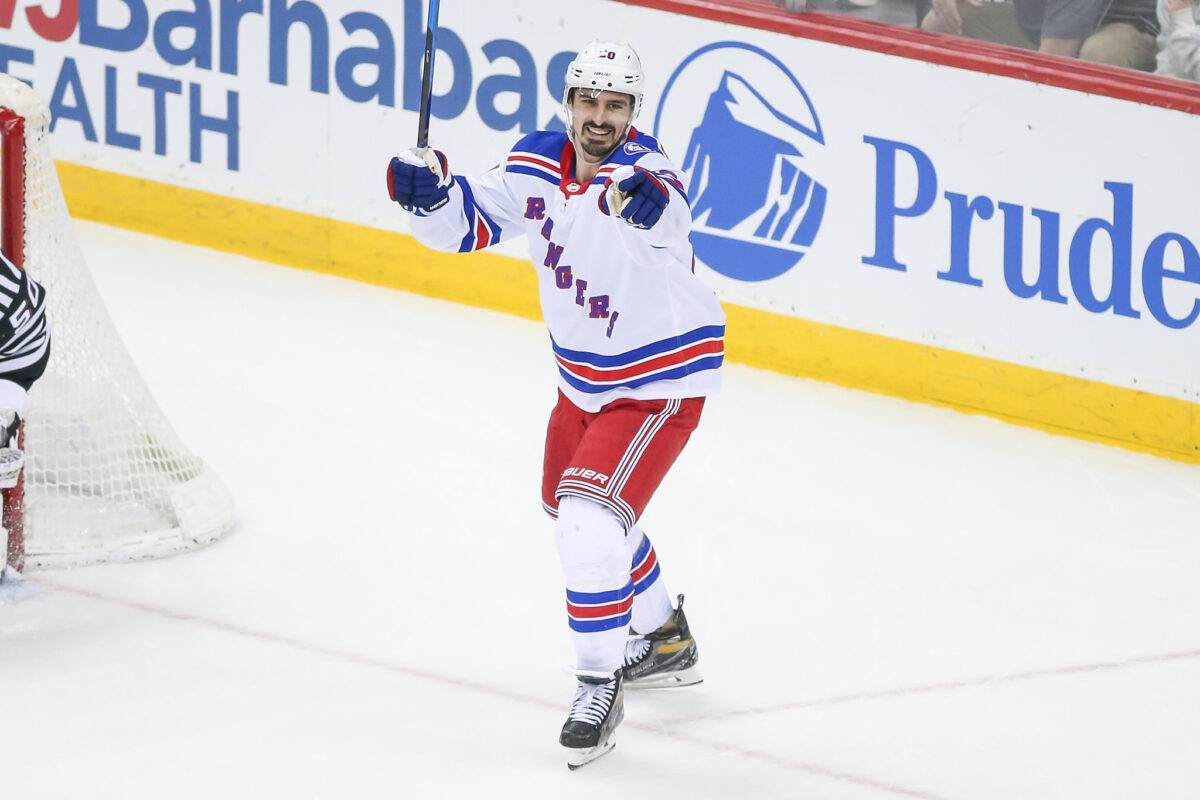 In short, Kane's body language since arriving in Gotham has conveyed an obvious sense of discomfort, his withdrawn demeanor in his new uniform seemingly speaking volumes. It's a huge issue that his new team only hopes can be resolved in 14 remaining regular-season games before the playoffs begin.
That's because the Rangers didn't go through a week-plus of what were apparently unprecedented roster and salary-cap gymnastics to add Kane, in order to end up with Kane Lite. For the Blueshirts to navigate through the absurdly loaded Eastern Conference postseason picture, they'll need the 2013 Conn Smythe Trophy-winning version of Kane, the one that went on a 10-points-in-four-games heater just before joining the Rangers in a Feb. 28 trade that might have been a year in the making.
Perhaps all of that buildup has been part of the problem. Perhaps Kane has been shocked by the move from Chicago to the massive New York media market – an easily-foreseeable condition, given that it's afflicted countless out-of-town stars who come to the Big Apple. For those reasons, perhaps the elongated settling-in period should have been expected.
---
Latest News & Highlights
---
"It is your team now, but there are guys who really built this culture up and built the team to where it is," Kane said after his first Rangers practice. "Guys like Kreider, (Mika) Zibanejad, (Artemi) Panarin, (captain Jacob) Trouba and (Adam) Fox, all these guys who have been here a long time.
"I say I want to fit in but also at the same time, I've always been better when I demand the puck and want the puck and have the puck more often. I'm pretty confident it will come, I'm confident in that, but I think right away, too, you don't want to be coming in, and especially coming from a losing team, this team has such a winning culture right now … 
"I don't want to say, I don't want to step on any toes but I'm just trying to fit in. I think it's the way to go to start but as time goes on, I think it will be important for me to be myself, especially as we get closer to the playoffs." (From 'Patrick Kane's Comfort Paramount to Rangers' Success', New York Post, 3/7/23)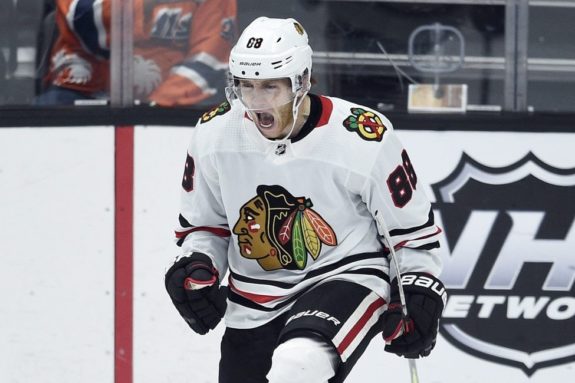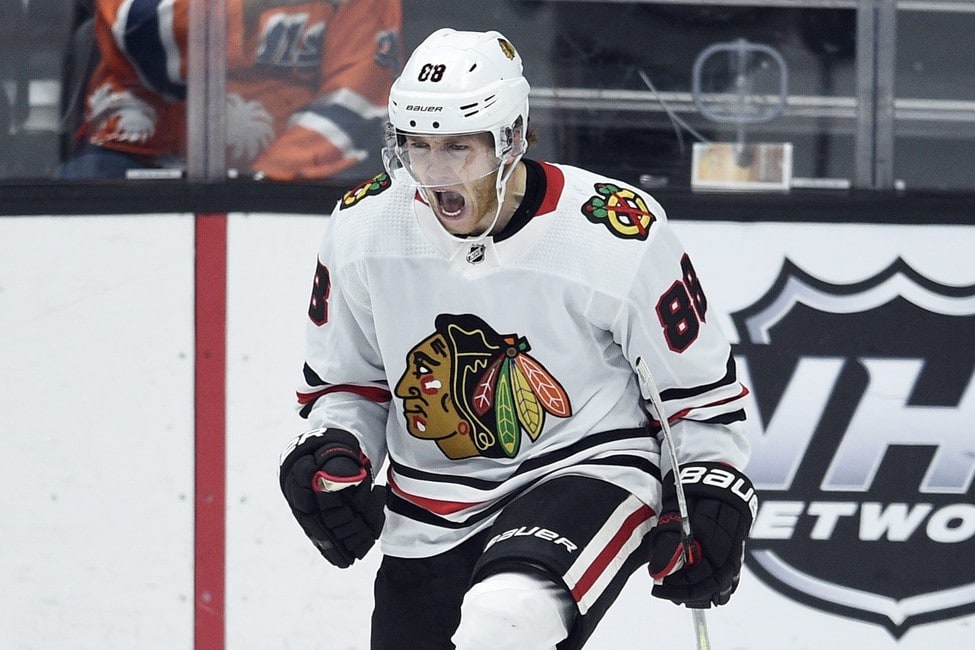 Martin St. Louis' name has been brought up plenty in the last month or so, the former Tampa Bay Lightning star being the poster child for early struggles experienced by Rangers' trade-deadline acquisitions. St. Louis, who had spent most of his Hall of Fame career with the Lightning, managed one goal and seven assists in 19 regular-season contests after pulling on a Blueshirt in 2014. His overwrought attempts to integrate with his new team as fast as possible were obvious before he finally turned it on in the playoffs, playing a key role in helping those Rangers reach the Stanley Cup Final.
Kane Has Been Too Deferential to Rangers Teammates
The Rangers, of course, were already dealing with this with Vladimir Tarasenko, who arrived nearly three weeks before Kane after an 11-year career spent entirely with the St. Louis Blues, and who has been candid about his troubles adapting to a new team, city and style of hockey.
Tarasenko seems to be coming out of it, his play more confident and productive of late. Kane isn't there yet, perhaps wandering through the same wilderness Tarasenko did for a while as the latter worked to figure out his role in an unfamiliar situation.
The Rangers have a strong leadership group in place, with the aforementioned Kreider, Trouba, Zibanejad and Kane's buddy Panarin from their Blackhawks days together forging a strong locker-room culture of accountability and cohesion. Yet no matter how hard that group works to incorporate Kane into the mix and make him feel welcome, it's possible that such a situation might, at least temporarily, actually make it tougher for the 2015-16 NHL MVP to do so.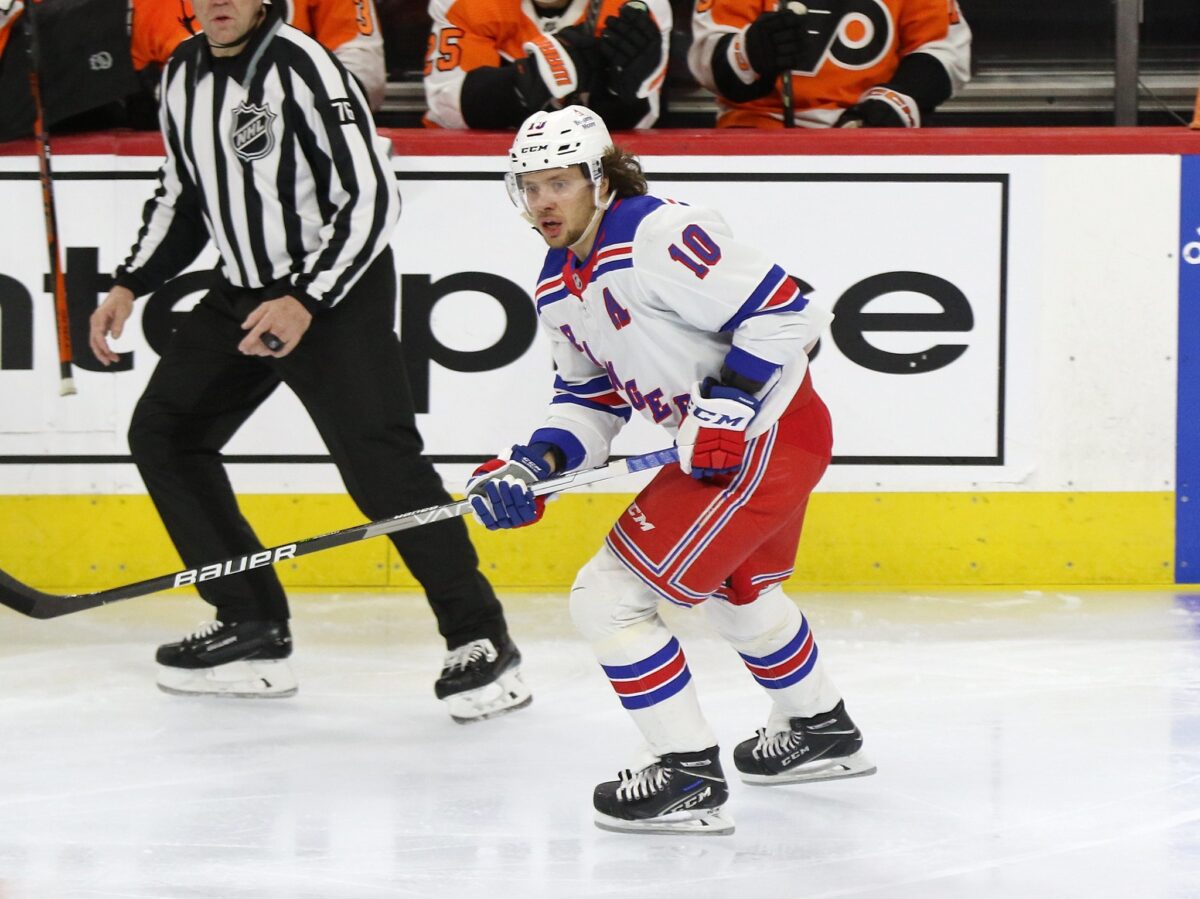 Kane and Jonathan Toews were the cornerstones in Chicago, the pair carrying the Blackhawks out of franchise darkness to dynasty status after being top-three draft picks in the mid-2000s. Having assumed that leadership and face-of-the-franchise role in his early 20s in what was initially a low-pressure situation, Kane had never known anything else. That's not the scenario in New York, with the pending unrestricted free agent aware that he's likely to be no more than a short-running engagement on Broadway after establishing himself as an all-time great for a different Original Six team.
Kane appears overly determined to convey his awareness of that to his teammates, deferring far too often and seeming almost timid at times, still wanting to, as he said, not "step on any toes." While the Rangers and their fans need to be sensitive to what Kane is going through, it's worth pointing out the other side of the coin: Kane badly wanted this – or at least, did and didn't understand what it would entail.
The club's move to acquire Tarasenko three weeks before the March 3 deadline wasn't, as we now know, necessarily closing the door on Kane for general manager Chris Drury. Yet there's little question that Kane's frustrated reaction to the trade the next day, along with his well-known refusal to waive his no-movement clause for anyone but the Rangers, could only have signaled to the Blueshirts' front office that the superstar player was eager to join the party – and that it was worth the odd spate of games with short-handed lineups and no salary-cap relief to bring Kane in.
Surging Rangers Have Luxury of Waiting for Kane to Fully Emerge
The Rangers are winning, seemingly cruising toward the third playoff spot in the Metro. Kane hasn't been bad by any means, which keeps the issue on the back burner for now. In the long-term, though, the Rangers need the Patrick Kane they thought they were trading for, who seemed to convey a clear desire to chase another championship – this time in a different uniform.
There's only so much the club's leaders can do to make him feel a part of the core. It's instructive to contrast the problems Kane and Tarasenko have had fitting in with last season's trade-deadline arrivals Frank Vatrano, Andrew Copp, Tyler Motte and Justin Braun, all of whom slid seamlessly into the Rangers' system and were big contributors in the club's run to the Eastern Conference Final.
Related: Rangers Can Secure Playoff Position with 5 Key In-Division Games
At some point, assuming he gets a handle on that system, Kane has to just decide to go back to being Kane. The dynamic assertiveness, the play-driving, the brilliant ability to create offense out of nothing is what the Rangers front office and roster are waiting for. Having Kane and Tarasenko at the height of their powers would, in theory, give coach Gerard Gallant three formidable offensive lines that could wear down opponents over the course of a postseason series – and permit this forward group, a collection of high-end talents, to reach its full potential.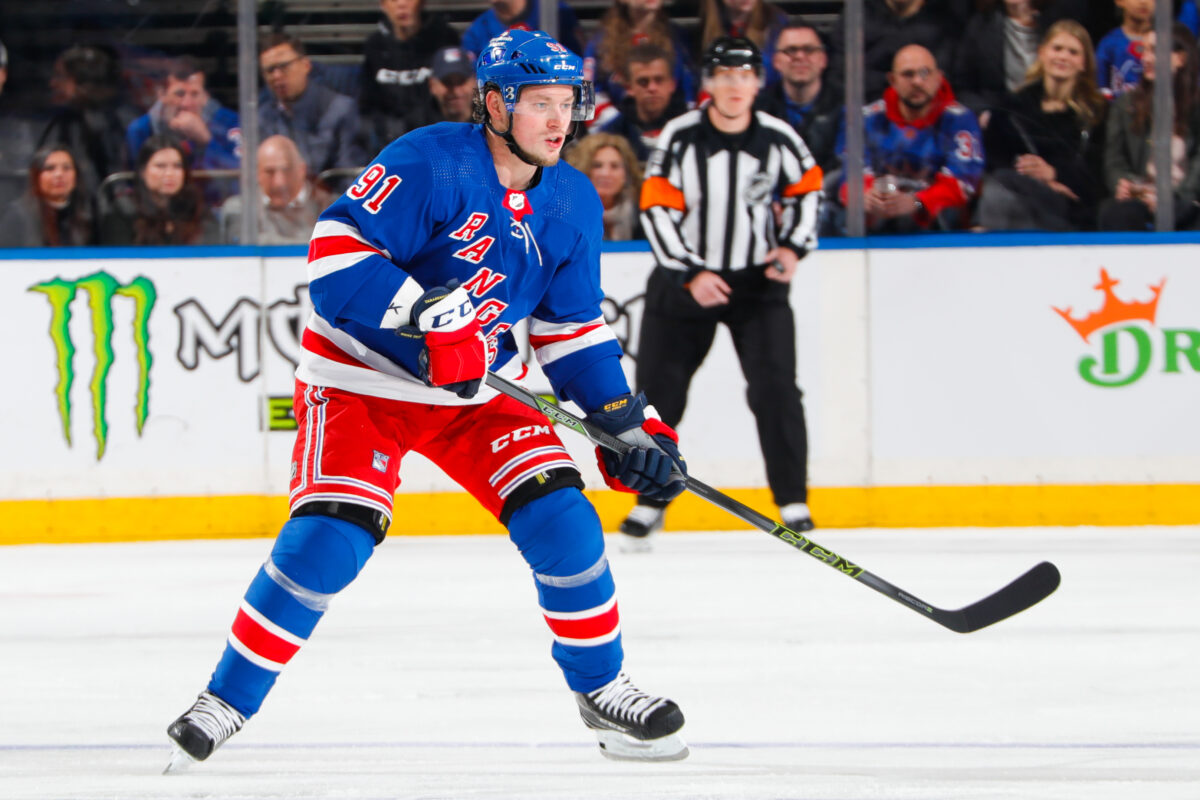 It's difficult to believe there's any tension whatsoever between Kane and a group of players looking for redemption after falling short of the Stanley Cup Final last season. The Blueshirts require the Kane of Blackhawks vintage for them to have any chance to take that next step. They can afford to be patient as Kane works to acclimate to a new life of sorts, which understandably takes time. Sooner rather than later, though, the Rangers need the guy they traded for to finally arrive from the Windy City.
"That's the real reason I'm probably here, for playoff experience and playing and coming through in those big moments," Kane said.
Unlike his decision to pass to Kreider while on the break against Pittsburgh, that sentiment was right on target.