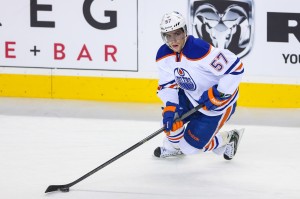 The Edmonton Oilers have finally put a stop to the ever revolving rumour mill, at least for the time being.
On Friday, the Oilers dealt winger David Perron to the Pittsburgh Penguins in exchange for Rob Klinkhammer and a first round pick in the 2015 NHL Entry Draft.
A deal involving Perron had been greatly discussed, especially so in recent weeks amidst an extensive Oilers losing streak. In Perron, the Penguins acquire an offensive threat who will add depth scoring to a Penguins team which has been marred by injuries this season.
Penguins Acquire Perron
A first round pick, 26th overall by the St. Louis Blues in 2007, Perron has scored 117 goals and 274 points in his 456 game career. Perron, who scored a career high 28 goals and 57 points in 2013-14 with the Oilers, has seen his production slip significantly this season, while his ice has also fallen as a result.
The move will see Perron jump tremendously in the NHL standings, shifting from a team tied for last in the league to one tied for fourth place, three points away from the top of the league standings.
Oilers Acquire Klinkhammer, First Round Pick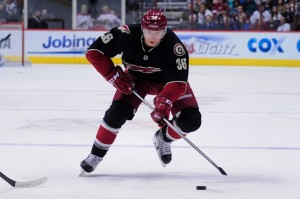 Originally signed by the Coyotes in 2012, Kilnkhammer has yet to cement himself as an everyday player at the NHL level, having played for four, soon to be five teams over the past five years. Kilnkhammer's best season came with the Coyotes in 2013-14, in which he suited up for 72 games, registering 11 goals and 20 points.
So far this year, Rob has scored a total of four goals and six points in 29 games split between Arizona and Pittsburgh.The Oilers also receive the Penguins first round pick in the 2015 Draft, a pick which based on the Penguins current position in the standings, would be the 26th overall selection.
Instant Analysis
In this deal, the Penguins are successful in addressing a definitive need, adding a highly skilled forward who can improve Pittsburgh's scoring depth. Further, Perron isn't in a rental situation, as the Penguins have control over Perron for this, and next season at a modest $3.8 Million dollars per season. With Pascal Dupuis out for the forseeable future, and other forwards either injured or soon to return, Perron is a solid pick up by the Penguins who should flourish on a highly skilled Pittsburgh team.
This trade, in my opinion, makes little to no sense at all for the Edmonton Oilers. Now in the ninth year of their rebuild, I don't quite understand how trading a proven NHL player for a bottom 6 forward and a draft pick makes the Oilers a better team.
Taylor Hall, Ryan Nugent-Hopkins, Jordan Eberle and Leon Draisaitl are your young core of players, so why not make moves to build the team around them? If David Perron was expendable, why not package another player, or even a draft pick for a player who will have a long term, positive impact with the Oilers? The Penguins are stocked with high quality young defensemen, so why not take a run at the likes of Scott Harrington or Derrick Pouliot?
Acquiring yet another first round draft pick illustrates that Oilers management are not confident in the group of players and prospects they have amassed over almost the past decade. If Edmonton management continues to trend in this direction, it will extend the rebuild likely another five years, meaning that Oilers fans won't see the playoffs for another five to ten years.