Can the Edmonton Oilers learn something from a disastrous ending to the season for the Boston Bruins? Faced with a Game 7 that the Bruins likely never thought they'd be in against the Florida Panthers, the big storyline going into that final game of the series was the question mark in goal. Vezina Trophy favorite Linus Ullmark had crashed down to earth in Game 6, allowing six goals for the first time all season and the Bruins were electing to make a change. Unfortunately, it felt like maybe the change was coming too late into a series that was getting away from Boston, and going with Jeremy Swayman didn't work.
Related: Blame for Bruins' Playoff Collapse Spreads Deep in Locker Room
Meanwhile, in a game that almost got away from the Oilers, their team found out that change can be a good thing in the playoffs. When down 3-0 in Game 4, Edmonton went with Jack Campbell to start the second period. His performance and his ability to stop the puck at a crucial time gave the Oilers a chance to battle back, tie the game, and eventually win it to even the series. The Oilers never went back to Campbell after that game, but perhaps they'll want to give it some thought and take a lesson from the Bruins' series loss moving forward.
What Did the Bruins Learn the Hard Way?
No matter how good a goaltender is, everyone gets tired. Granted, it's now been discovered that Ullmark was playing with an injury — according to ESPN and NHL Network analyst Kevin Weekes, it was a 'debilitating and painful injury' in the first six games — but that only makes it more imperative that a coach not overplay just one netminder when there are two viable options.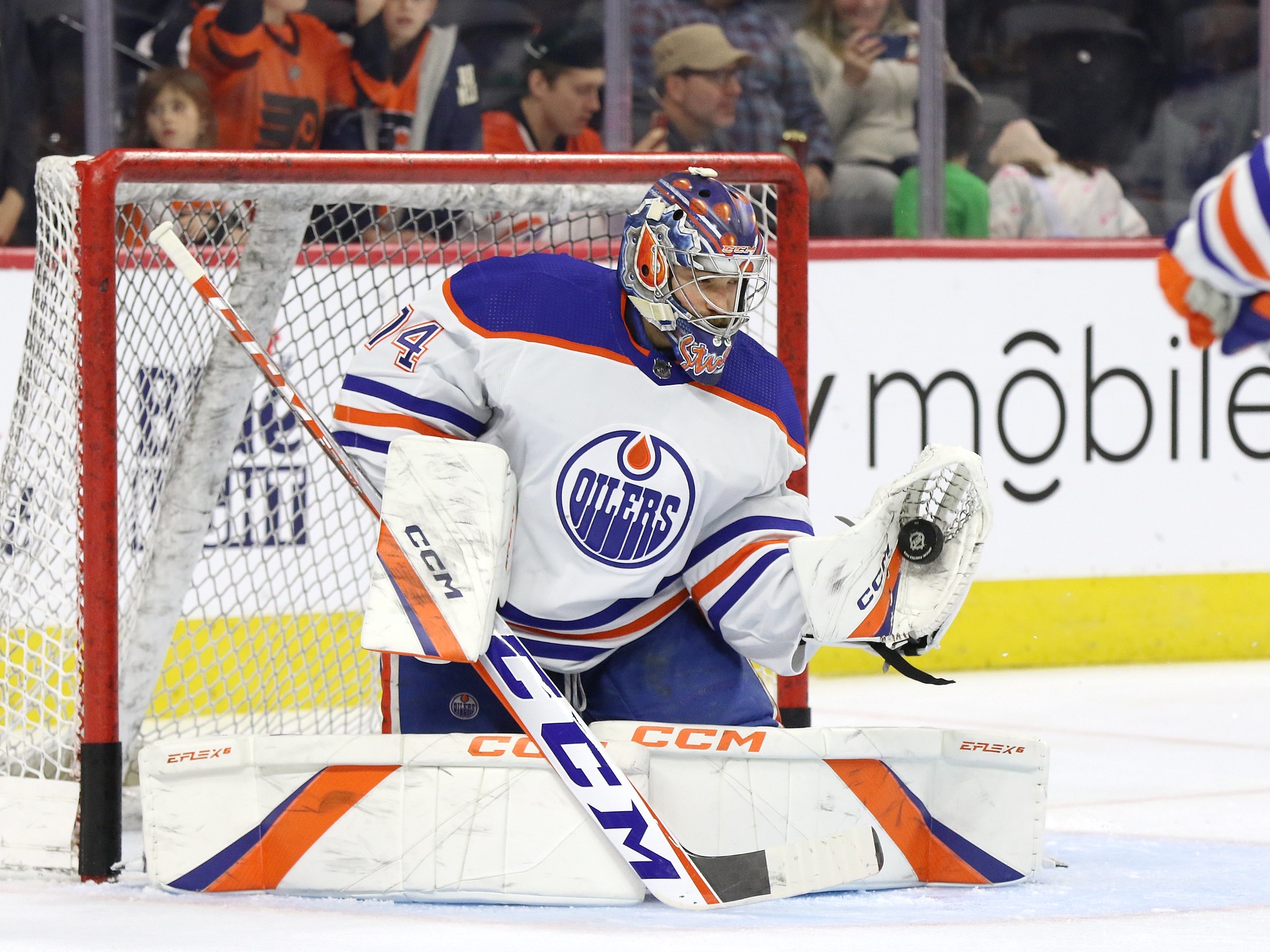 Not every team has the luxury of two goaltenders that can play and win games. As per Jay Woodcroft (and based on Campbell's performance), the Oilers do. Running Stuart Skinner in every game, especially as these series roll along might be putting a netminder at risk if not simply tiring him out. He's been solid, but he's not been spectacular. He's been reliable, but there are times he's looked vulnerable. He's been calm, but there are times he's made mistakes. He's been everything the Oilers could have wanted and more, but maybe it's worth watching him closely to see if he needs a break.

There was talk going into the series that maybe the Bruins might rotate netminders like they'd done all season. They chose not to and it appears they paid for that decision.
How Can the Oilers Play Their Tandem And Not Take Risks?
The key for Edmonton (potentially easier said than done) is to get up early in a series. If Edmonton has a chance to leave Vegas with a split, they take home ice advantage and it might be worth considering Campbell as an option. Or, if the Oilers barely pull out a win but Skinner has a questionable game, maybe it's worth giving Campbell a look. Understandably, the negatives are that Campbell can't reproduce what he did in Game 4. That would be unfortunate. The positive is that he can and Skinner gets a much-needed rest.
---
Latest News & Highlight
---
Remember, in Skinner, the Oilers are playing a goaltender who is essentially a rookie. He's been in big games in other leagues before, but this is his first run in the NHL playoffs and the grind of multiple series' (especially long ones) will take its toll. What the Oilers don't want to find out is that they waited too late and by the time they finally had to call on Campbell again, he'd gone cold from a great performance in Round 1.
This is not to suggest the Oilers get into a full rotation where they alternate starts or give Campbell every third game. This is merely a suggestion that Woodcroft and the coaching staff take very close stock of how Skinner looks in games and his energy level in practices. These players won't pull themselves and Skinner is a gamer. Sometimes, you have to take that decision out of the player's hands and do what's best.
There might be a situation where Campbell is the better option and it's better to be proactive with that than reactive like the Bruins were.