Barring another injury-riddled campaign, the 2016-17 season was always going to be a campaign in which the Edmonton Oilers made substantial gains in the overall standings. The question was whether or not the improvement would be great enough to allow them to qualify for the playoffs for the first time since 2006. Considering the club finished the year as a top ten team, the answer to the question was a resounding a yes.
"I'm honoured & comfortable to be a part of this group… I'm impressed by how we stepped up." @Klefbom93 on #Oilers growth this season pic.twitter.com/3r3fFa4Y4D

— Edmonton Oilers (@EdmontonOilers) May 12, 2017
As important as the performances of Connor McDavid, Leon Draisaitl and Cam Talbot were in helping the Oilers achieve the level of success they did, it was the play of defenceman Oscar Klefbom that was arguably the most crucial of all. Don't get me wrong, the aforementioned trio were fantastic but what they delivered could hardly be considered a surprise.
Whereas the questions surrounding whether or not the talented Swede was ready to take on the responsibility of a top pairing guy were quite real. After being forced to deal with multiple injuries over the course of his first three years in North America, staying healthy for a full season would go a long way in helping answer where Klefbom sat on the development front.
With the additions of Adam Larsson and Kris Russell to the roster and the second season of Andrej Sekera in Orange and Blue, the organization did a nice job in surrounding the 23-year old with veteran blueliners to help lighten the load. Instead of being thrown to the wolves and simply hoping for the best, something this organization specialized in for far too long, the ask of Klefbom was far more realistic than it would have been in years past.
Staying Healthy Was Key
After missing roughly the final two-thirds of 2015-16 and learning to play with a new partner in Larsson, it was no surprise to see the kid struggle to find his form out of the gate. However, when it was all said and done, the numbers spoke for themselves. Klefbom played in all 82 of Edmonton's regular season games, scoring twelve times and picking up 38 points, sixteen of which came on the man advantage and did it all for the Oilers.
He led the team in ice-time with an average of 22:22, playing in all situations and taking the heaviest of minutes on a nightly basis, and just like that the answer to where he sat on the development curve became rather obvious. From the moment he was selected with the nineteenth overall pick in the 2011 NHL Entry Draft, the expectation was for Klefbom to ultimately become a No.1/No.2p blueliner. It may have taken longer than some hoped but then again, far too many are unrealistic when it comes to so-called expectations.
With his first full season now under his belt, the Karlstad native has played a grand total 189 games in the NHL. If anything, his performance during the regular season and playoffs puts him ahead of any schedule any sane individual would have had for him. Let's not forget, his initial go-round came on arguably the worst team in the league and unquestionably its weakest crop of defenders. In a three words, it was ugly.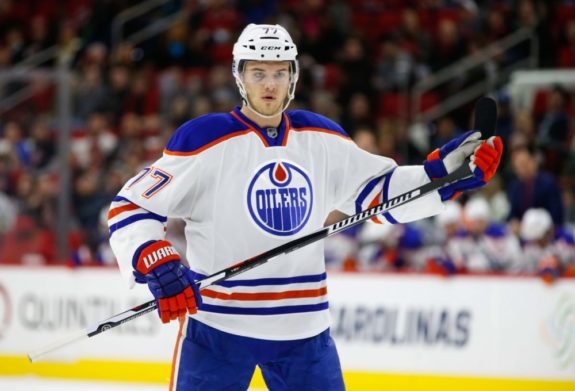 Klefbom Scratching the Surface
Not surprisingly, with the Oilers roster greatly improved and Klefbom finally at full health, it was only a matter of how quickly and not if he would take that next step. It took some time for the two to gel but he and fellow countryman Larsson were without question Todd McLellan's go-to-paring and along with Sekera, helped form the three-headed monster that made this backend go. The organization could not have asked or hoped for more from the kid in 2016-17 and yet he delivered beyond expectations.
While the sample size was relatively tiny, it seemed as though the ceiling on his ability to produce points at this level may have to be readjusted. Be it more opportunity, confidence, being more comfortable in his NHL skin or a combination of all three, Klefbom finally let loose and was rewarded for his efforts. Only twelve defenceman scored more goals in 2016-17 and outside of Brent Burns and his absurd total of 29, no one lit the lamp more than 17 times.
Impressive company to keep for a player whose previous high was four and had a total of five points on the power play for his career.  In other words, over the span of just one season, Oscar Klefbom turned himself into a legitimate top-pairing defenceman at both ends of the rink. The best part of all, it looks as though there is still more to come and the Edmonton Oilers could not be happier.
Now Available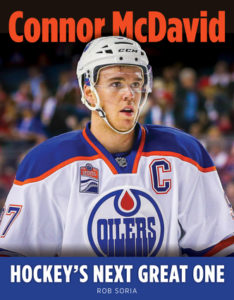 Rob Soria is the Author of Connor McDavid: Hockey's Next Great One. He has chronicled the Orange and Blue since creating his Oil Drop blog in 2011 and has also had his writings featured over at HometownHockey.ca and Vavel USA, where he has covered the NHL, MLB and ATP Tour. Rob was born, raised and still resides in Edmonton, Alberta and can be reached via twitter @Oil_Drop.