Ron Francis, GM of the Carolina Hurricanes is holding prime cards. As the 2017 NHL Entry Draft approaches, and with it the poaching of players by the NHL expansion Vegas Golden Knights, Francis is his usual stoic self. He knows he's got a good hand and, like World Series of Poker players, believes he will turn an additional card or two that will make him and his team a winner.
The Francis Strategy
At the end of the season press conference, Francis shared his straight forward strategy approaching the draft and expansion melee. Addressing the Hurricanes' goaltending situation, Francis said:
No, I think we're in a position where we have some options to look at doing some things. And certainly, with the expansion draft, there may be goaltenders that teams are going to lose that they're willing to trade, so we can look at that. I think (there are) free agent goaltenders that will hit the free agent market, we can look at that. And also, we'll dive deeper into our situation and try to figure out what's going on there, as well.
The Francis strategy is found in his statement, as it can be extrapolated to include more than just goaltenders, a position which Francis almost immediately filled with former Chicago Blackhawks' backup, Scott Darling. Knowing that the Knights will be hungry to fill its roster, Francis will quietly watch the landscape of the protected list unfold, and hope to bring players to Carolina that teams want to get something in return for, rather than losing them outright in the expansion draft.
With 10 picks overall, including six in the 1st three rounds, Francis is in a great spot to make more deals in the next few months. He believes, correctly, that as he found a willing trade partner in the Blackhawks, he will find others over the next month or so.
It won't be for situations like Matt Duchess of the Colorado Avalanche, a move at first glance might make sense. Why not give up a pick or two and bring his talent to the Hurricanes? Because, his impending free agency sours the deal for long-range planners like Francis, who will be looking for a combination of a player who can help the team, but won't become a financial liability in a year or two.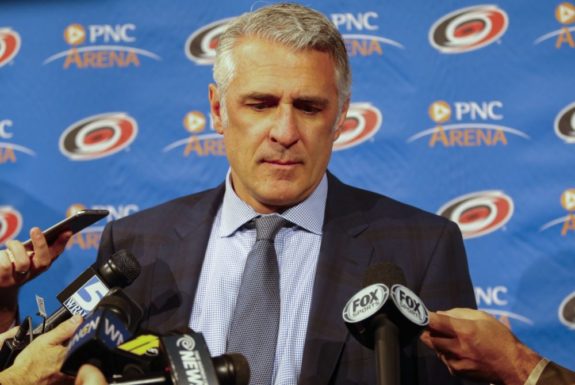 Francis on the Hot Seat?
A few weeks ago, Charles Taylor at cardiaccane.com wrote this opinion in an editorial:
While not totally his fault, Carolina has lacked the headline grabbing moves to really help draw attention back to the team. For some franchises, that meant the draft lottery. For others, that's through trades and free agency. It is time for that to happen in Carolina. The Canes have a golden opportunity to really surprise this off-season and it must be taken advantage of.
The point of Taylor's piece was that time may be running out for Francis to get his team into the playoffs, the highlight is on Taylor's confirmation that this summer presents a golden opportunity for Francis and the Hurricanes. Finding a proven player that a team cannot protect before they lose him to the expansion draft is what Francis is looking for this offseason.
On May 2, Luke DeCock of the Raleigh News & Observer also wrote a piece that hinted at the pressure to produce a playoff team being on Francis' shoulders. DeCock wrote:
After three years of stockpiling prospects and dumping contracts under Francis, the Carolina Hurricanes have built a solid foundation for the future, but none of that will mean much if that eight-year playoff drought doesn't end, and after falling short again this season, there will be no excuse next season…There will never be a summer more ripe for making moves than this one. Francis has spent three years laying the groundwork for this. It's time for his vision to come to fruition.
I would not go as far as to say that Francis is on the hot seat. He is loved and revered by the majority of "Caniacs." But, the fans are restless, eager to see their team back in the playoffs. Many fans have abandoned going to games, giving the Hurricanes the distinction of the lowest average attendance in the NHL this season.
https://twitter.com/OakCitySJ/status/866654487217393664
Winning should help the attendance woes, but the team would benefit from more fan support in the meantime. Nevertheless, I would say that Francis is holding prime cards in the form of draft picks, cap space and only missing a few pieces that could make the difference. If he plays his cards right, getting a playmaker/scorer or two, this coming season could see the Hurricanes competing more seriously for a playoff position.
Francis' young guns are developing well, but the team needs a veteran player with proven ability. Francis has proven that he has a plan and he is sticking to it. Thus far, it's a plan that is building hope for the future. But, his tenure as Hurricanes' GM would be greatly bolstered if he can put together a playoff team this season.