There is no question that Edmonton Oilers general manager Craig MacTavish had a lot on his plate heading into the 2013 National Hockey League Entry Draft. While much of the focus was being placed on who would still be available for the Oilers to select with the seventh overall pick, be it Sean Monahan, Valeri Nichushkin or Darnell Nurse, the rookie GM also had his hands in a couple of things leading up and including draft day.
While he ultimately decided to not pull the trigger on a pair of deals that could have seen Edmonton land goaltender Cory Schneider and defenceman Braydon Coburn, there was a much smaller fish to be had that this organization inexcusably allowed to slip through their fingers.
Blackhawks Hands Were Tied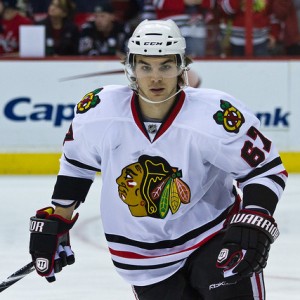 After winning the 2013 Stanley Cup, the Chicago Blackhawks were forced into making some rather difficult decisions thanks to the NHL Salary Cup. In the end, Stan Bowman decided to re-sign playoff hero Bryan Bickell to a multi-year extension and part ways with the duo of Dave Bolland and Michael Frolik. While Bolland was shipped to the Toronto Maple Leafs in exchange for a trio of draft picks in 2013 and 2014, Frolik was sent to the Winnipeg Jets for even less…a third and fifth round pick at that afternoon's draft.
The Hawks were willing to give away a key contributor to their Cup winning side and for some unknown reason, Edmonton was unwilling to part with a pair of mid to late round picks to acquire a player that perfectly suited their needs. What made their lack of interest all the more puzzling, was the fact they eventually moved some of those same picks in order to acquire a couple of extra picks later in the draft.
In my mind, Frolik should have been a priority on the Oilers list heading into the draft but MacT was obviously zeroing in on improving in goal and along the blueline and frankly, who could blame him. With that said, a more seasoned general manager would have likely found a way to bring in a guy as talented as the former tenth overall pick of the Florida Panthers while still trying to improve his roster in other areas. 
A Perfect Fit For The Retooling Jets
Unfortunately, that is not how things played out and the Jets were more than happy to steal a very good player to help with the restructuring of their club. Fast forward nearly two full seasons and Edmonton is still searching for a player with Frolik's exact skill-set while Winnipeg is on the verge of returning to playoffs for the first time since the franchise relocated from Atlanta following the 2010-11 season. Not surprisingly, the talented Czech has played a rather large role in the turnaround and luckily for him, he is set to hit the open market as an unrestricted free agent for the first-time in his career.
While he was a highly regarded prospect heading into the 2006 Entry Draft,  tagged by many as "Baby Jagr", he never quite developed into that elite scorer during his time in Florida and was eventually sent to Chicago in 2011 for prospect Jack Skille. To his credit, the former Rimouski Oceanic standout morphed into a completely different during his time in the Windy City and is now more than capable of playing anywhere in the lineup.
After essentially being used as nothing more than a bottom six guy by the Blackhawks, Frolik was given far more responsibility with the Jets and has promptly responded with back-to-back forty point campaigns and is just two goals shy of reaching the twenty goal plateau for the first time since kicking off his career with a pair of twenty-one goal efforts. Not too shabby for a guy being paid $3.3 million and asked to play in all situations for Paul Maurice and his coaching staff.
 Frolik Would Like To Stay But….
Frolik on his contract status, and the #NHLJets addition of Stempniak. >> http://t.co/6UHilGNHGY pic.twitter.com/mzIfUKcgXR

— Winnipeg Jets (@NHLJets) March 2, 2015
While both sides would likely love for this relationship to continue, it will ultimately come down to how much money and term Kevin Cheveldayoff is willing to cough up. The chances of him returning to Winnipeg after July 1st are probably nil, which is exactly what a team like the Oilers should be hoping for. If teams are given a shot at bringing him on board, Jets fans may as well kiss him goodbye.
With all due respect to Derek Roy, if MacTavish can go out and finally acquire the second line centre this roster has been missing for ages, suddenly the addition of a player like the Jets No. 67  to what is already here will give Edmonton a fairly formidable first three lines.
While it would not surprise me in the least to see Nail Yakupov in a different NHL city come next October, making such move and signing Frolik would allow the Oilers to roll-out a group of wingers that could quite possibly consist of Taylor Hall, Jordan Eberle, Benoit Pouliot, Frolik and Leon Draisaitl, should they feel last summer's third overall selection is ready to make the jump to the National Hockey League on a full-time basis but not necessarily as a centre.
No matter how you look at it, the Edmonton Oilers need to add another veteran winger who can play somewhere inside their top nine and contribute on a nightly basis…and that would be on top of whatever moves they still need to make at centre, in goal and on defence.
While Craig MacTavish made the mistake of allowing his rather lengthy to-do list to get in the way of not only recognizing but ultimately seizing the opportunity of grabbing a player of Michael Frolik's ability in the summer of 2013, it is a blunder this franchise can simply ill afford to have it happen again.
Rob Soria is the Author of Connor McDavid: Hockey's Next Great One. He has chronicled the Orange and Blue since creating his Oil Drop blog in 2011 and has also had his writings featured over at HometownHockey.ca and Vavel USA, where he has covered the NHL, MLB and ATP Tour. Rob was born, raised and still resides in Edmonton, Alberta and can be reached via twitter @Oil_Drop.