Many have felt that a lack of consistent, high-quality goaltending is what's prevented the Edmonton Oilers from winning a Stanley Cup. The Oilers feature the consensus best, and arguably second best, offensive players in the sport, but until last year, Edmonton had not experienced much postseason success during the Connor McDavid/Leon Draisaitl Era.  
Even when the Oilers reached the 2022 Western Conference Final, they still ended up eight wins short of hoisting the Cup, after being swept by the Colorado Avalanche in the best-of-seven series. Edmonton's erratic goaltending tandem of Mikko Koskinen and Mike Smith simply weren't capable of being quality for long enough to get the Oilers far enough to challenge for a championship.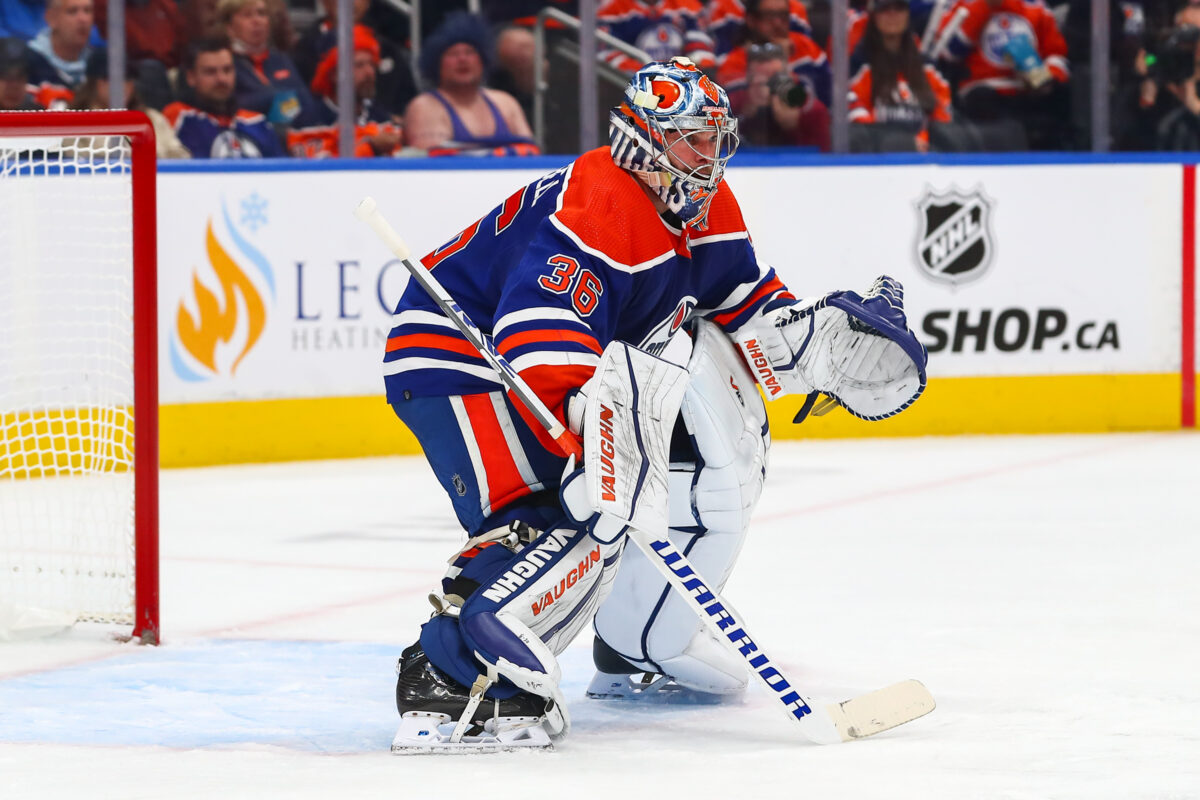 So, during the offseason, Edmonton bid farewell to the two netminders (Koskinen became a free agent and ended up joining HC Lugano in Switzerland; Smith was placed on long-term injured reserve in a move that seemingly meant the end of the 40-year-old's career), and signed free-agent goalie Jack Campbell, formerly of the Toronto Maple Leafs, while promoting Stuart Skinner, who split last season between the Oilers and the American Hockey League, to the role of NHL backup. 
Campbell, who went 31-9-6 with a 2.64 goals-against average (GAA) and .914 save percentage (SV%) with Toronto last season, was going to be the solution to the Oilers' netminding problems. At least that's what Edmonton general manager Ken Holland hoped. 
But now more than three-quarters through the Oilers' 2022-23 schedule, their goaltending situation isn't that much different than a year ago. They still don't have a consistent starter. Or, at least, they don't have a goaltender that's started consistently.  
Campbell Struggles, Skinner Rises to Occasion 
How did the Oilers end up back in this spot? Well, they never really got out of it in the first place. So ghastly was Campbell's play in his early days as an Oiler that he was already losing a grip on his status as Edmonton's No. 1 netminder by Halloween. He went from starting five of Edmonton's first six games, to effectively alternating starts with Skinner over the next 10 games, to making just five appearances during a seven-week stretch from Nov. 11 and Dec. 29. 
At this point, Skinner had clearly seized the role of Edmonton's starter between the pipes. Through 36 games, the rookie goalie was 11-9-1 with a 2.81 GAA and .916 SV%, while Campbell was 8-6-1 with a 4.02 GAA and .876 SV%. The Oilers, it appeared, finally had solved their goaltending dilemma, just not the way they expected. But that was before New Year's happened. 
Skinner Slumps, Campbell Steps Back Up 
Skinner, who had never previously been pulled from a start in his NHL career, got the hook twice in one week, on Jan. 3 after allowing four goals on 20 shots against the Seattle Kraken, and on Jan. 9 after giving up three goals in the first 23:51 to the Los Angeles Kings on the first stop of a four-game road swing for the Oilers. 
Following the game in L.A., Skinner left the Oilers and flew back to Edmonton to be with his wife for the birth of the couple's first child, and it would be nearly two weeks before he returned to the lineup. In the meantime, Campbell suddenly turned into that elite goalie that Holland had banked on. 
Related: Oilers' Stuart Skinner Is the Most Unlikely All-Star in Team History
---
Latest News & Highlights
---
Campbell went five weeks without a loss, winning eight straight games between Jan. 10 and Feb. 14. Skinner, meanwhile, struggled during infrequent appearances, picking up just one win between Dec. 31 and Feb. 20.  
Skinner was actually voted to Team Pacific for the 2023 NHL All-Star Game, becoming the first Oilers rookie goaltender to be part of the midseason classic in more than four decades, since Grant Fuhr in 1982. But, ironically, when Skinner suited up for the All-Star Game on Feb. 4, he wasn't even the top goalie at that moment on his own team. 
But goaltending being goaltending and the Oilers being the Oilers, it was only a matter of time before the situation was turned upside down again. 
Skinner and Campbell Swap Spots on Depth Chart Again 
In the first 16 games of the calendar year, the Oilers won just one of seven games that Skinner started, while winning all nine games started by Campbell. Since then, the Oilers have lost all five games started by Campbell, while winning six of seven started by Skinner. 
Campbell's recent performances have been even worse than those during the opening part of the season. Since his last win on Feb. 11, Campbell has given up at least four goals in five straight outings, an unfortunate streak unlike any an Oilers goalie has suffered through since Jeff Deslauriers in 2009-10.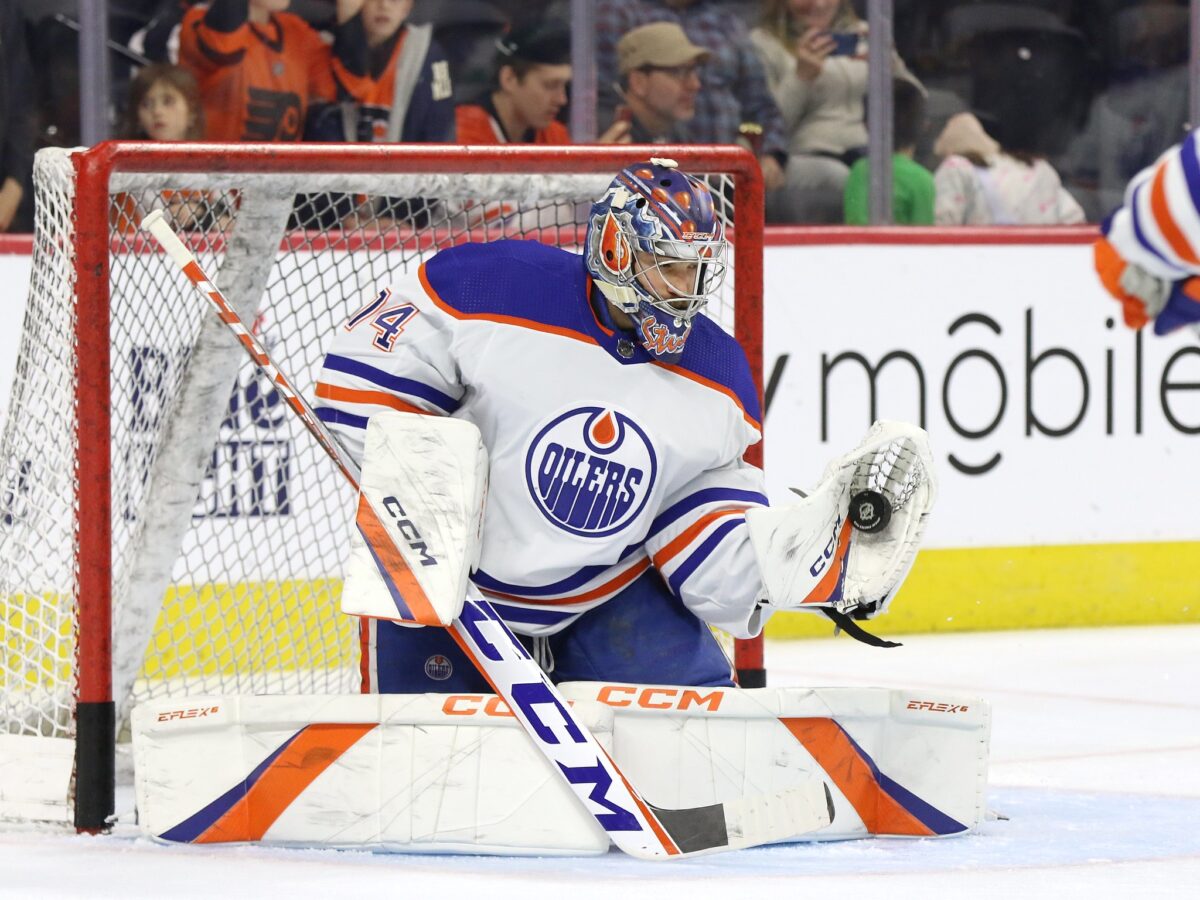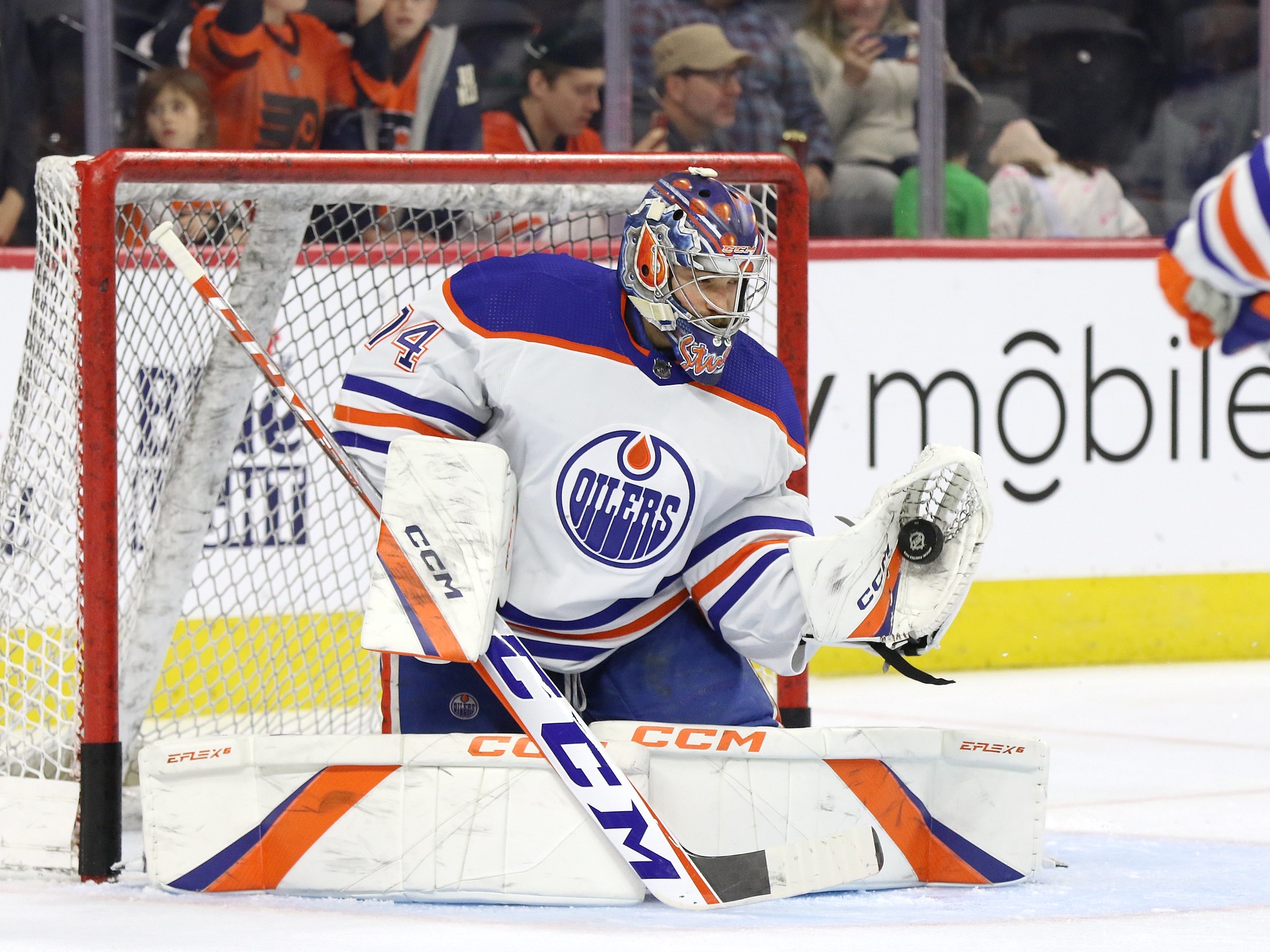 On the other hand, Skinner is back playing at the level that made him an All-Star, going 4-0 with a 2.24 GAA and .927 so far in March. He made 26 saves in Edmonton's 3-2 road victory over the league-leading Boston Bruins on Thursday (March 9), a monumental win that pulled the Oilers to within four points from the top of the Western Conference standings. 
The Oilers are in the race for first place In spite of their goaltending inconsistencies because at pretty much any point throughout this season, one of the their two goalies has been on top of his game. Campbell and Skinner just haven't both been in prime form at the same time. 
You may also like:
Can the Oilers make a deep playoff run by riding the hot hand in goal, or will the Stanley Cup remain out of reach until they have a permanent resident between the pipes?  
The former is not unprecedented: just six years ago, the Pittsburgh Penguins won the championship with Marc Andre-Fleury starting the team's first 15 playoff contests, from Game 1 of the first round to Game 3 of the Eastern Conference Final, before Matt Murray made 10 consecutive starts through Pittsburgh's title-clinching victory in Game 6 of the 2017 Stanley Cup Final against the Nashville Predators. But Oil Country would be a lot more comfortable at this time of year with consistency from its last line of defense. 
---
---