Connor McDavid did it all in his rookie season in the NHL.
He was a force on the ice on a nightly basis. His skill, despite his inexperience, was indisputably amongst the greatest in the League, earning respect from his peers before even stepping on to the ice against his opponents for the first time.
In his much-anticipated rookie year, McDavid not only produced at a 1.07 P/GP clip, but he also put himself into serious Calder Trophy consideration despite missing 37 games due to a broken clavicle. In fact, his P/GP mark was the highest of any rookie player during the 2015-16 NHL season, and he was the only first year player to produce at or above a point per game pace.
When it comes to the League as a whole, McDavid's efforts become even more impressive, as his P/GP mark ranked an incredible third best amongst all players to play over 40 games, putting him alongside the likes of Patrick Kane and Jamie Benn, while besting Sidney Crosby.
As such, it goes without saying that McDavid's inaugural NHL season can be defined as nothing other than a success – with of course the disappointment of a major injury mixed.
Despite his young age, McDavid quickly showed the NHL why he has been the best player on the ice no matter where he has skated. As a result, this begs the question of what McDavid could possibly achieve in his sophomore season.
Shattering Expectations
No matter where he has played, McDavid has shattered his yearly expectations.
After posting a 209 point season – that's right, 209 – with the Toronto Marlboros in 2011-12, McDavid made the jump to the Ontario Hockey League. He was selected first overall by the Erie Otters after being awarded exceptional status by Hockey Canada and continued his dominance despite his young age.
A 25 goal, 66 point rookie season playing for what was at the time one of the OHL's most futile teams announced McDavid's presence and skill in the League. He followed up his rookie of the year showing by scoring 99 points in 2013-14, followed by 120 points in just 49 games in 2014-15.
McDavid had long been expected to become one of the best players in the world, but was he expected to be this good?
Poised for Domination
Given the fact that he surpasses common expectations on a yearly basis, what should truly be expected from McDavid in 2016-17?
In his rookie season, the young phenom recorded 16 goals and 48 points. His goal total placed him fourth overall on the Oilers, while his point total placed him third within the organization.
Firstly, let's take a look at what to expect from McDavid in terms of his offensive production.
Offense: 
McDavid is a world-class player, a fact which needs not be repeated. As such, it would be safe to assume that the rising star's offensive totals will surely rise in his second season in the NHL. The real question is by how much.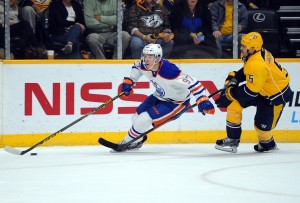 During his rookie campaign, McDavid's 0.35 G/GP mark saw him record 16 goals, a count cut short by his injury. However, had McDavid played the full 82 game season in 2015-16, he would have been on pace to score an amazing 29 goals as a rookie.
Further, his P/GP mark of 1.07 alone was incredible, but when it too is stretched out over the entire season, McDavid would have been on pace to record 88 points in his first year in the League, good for third best in the NHL. A 29 goal, 88 point season surely would have secured McDavid the Calder Trophy.
With this in mind, what is a reasonable total to expect in 2016-17?
Given he was on pace to record 88 points and 29 goals as a rookie, and that fact that he will surely produce at a greater offensive rate in his second season, would a campaign of 35+ goals and 100 points really be out of the question?
Absolutely not.
Defense: 
One of the most valuable aspects of McDavid's game is his commitment to playing a 200 foot game. Sure, he is a dominant player in the offensive zone, but his defence has long been a solid, yet heavily over-looked part of his complete game.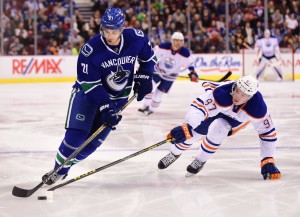 In 2015-16, McDavid recorded a plus/minus rating of -1, the top value for any Oilers player who played over 40 games during the season.
For those of you who are deep into analytics, McDavid finished his campaign with a 58.1% CF rating, meaning that he by far generated more shot attempts for than he allowed against while on the ice. In comparison to his teammates, McDavid's CF% rel of 14.2% indicates that while he was off of the ice, his fellow Oilers allowed for more shot attempts against than they created – a positive indication of McDavid's presence on the ice.
With that being said, McDavid's already solid defensive game would appear to need little to no improvement. His Face-off% of 41.2% was surely the ugliest statistic McDavid recorded as a rookie, and is an area of his game which he will surely look to improve considering he is slated to be a long-time franchise centre-ice man.
If he can get his Face-off% closer to 50%, even in the high 40's, it would represent a dramatic improvement in his game, especially so when considering he is taking draws against some of the strongest, most experienced centre's the Western Conference has to offer.
What to Expect
With all of this being said, what should truly be expected of McDavid in 2016-17?
As a rookie, McDavid was on pace to once again shatter the expectations placed upon him, however a freak injury cut his breakout season short. Considering he was on pace for a 29 goal, 88 point season in 2015-16, and that fact that he will surely be more productive in his sophomore season, it is downright terrifying to consider what he could be capable of in 2016-17.
Realistically, McDavid should be expected to score 30 goals, while recording at least 90 points in 2016-17 – providing he does not endure a sophomore slump.
Yes, these offensive totals are immense for a second year player, but it bears repeating that McDavid is no ordinary player.