On Wednesday, Team USA announced that New Jersey Devils right wing Kyle Palmieri will replace Tampa Bay Lightning forward Ryan Callahan at this year's World Cup of Hockey.
Forward @kylepalmieri of the @NJDevils added to U.S. roster for 2016 World Cup of Hockey: https://t.co/bI6EXBjSPL pic.twitter.com/x0d7XseqbJ

— USA Hockey (@usahockey) July 20, 2016
On June 23, the Lightning announced that Callahan had undergone surgery to repair a labral tear in his right hip and would be out for at least five months. The announcement meant Callahan would be unable to play at the World Cup, an international tournament set to take place Sept. 17 to Oct. 1 at the Air Canada Centre in Toronto.
Palmieri, 25, is coming off his most successful NHL campaign during the 2015-16 regular season, registering career highs in games (82), goals (30), assists (27) and points (57). Palmieri was awarded earlier this off-season, when he signed a five-year, $23.25 million contract extension with the club.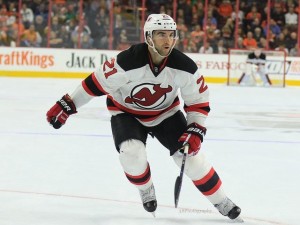 Born in Smithtown, NY, but raised in Montvale, NJ, Palmieri has previously represented his country five times in international tournaments.
In 2007, Palmieri played in six games for Team USA at the World Under-17 Challenge, scoring three points and helping the team to a second place finish. At the Under-18 World Championships in 2008, Palmieri tallied four points in seven games as Team USA finished third. During the 2010 World Junior Championships, Palmieri had his most success for Team USA, with nine points in eight games and taking home a gold medal. During 2011's tournament, Palmieri and Team USA were bronze medalists. Palmieri was also a member of Team USA's 2012 World Championship team.
Palmieri was originally drafted by the Anaheim Ducks 26th overall in the 2009 NHL Entry Draft and played parts of five seasons with the club before being traded to the Devils on Jun. 27, 2015, at the 2015 NHL Entry Draft.