The Edmonton Oilers have one of the most passionate and engaged fan bases in the NHL. It seems like every time Connor McDavid, Leon Draisaitl, Zach Hyman, or Ryan Nugent Hopkins put the puck in the net, they're setting a new record or personal best. On the ice, the Oilers have captured the hearts and minds of fans throughout Edmonton, Northern Alberta and across Canada, and they are winning even more fans for what they've been doing to help others in the community.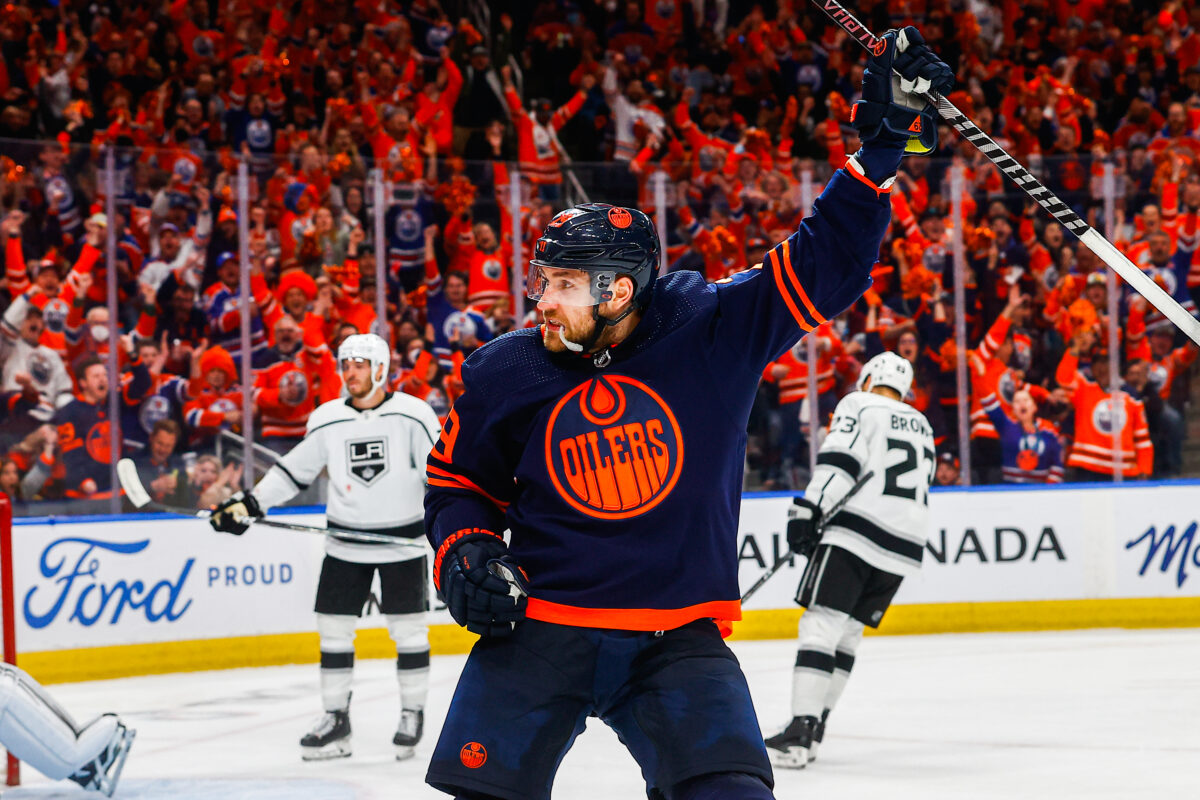 The Edmonton Oilers Community Foundation (EOCF) helps thousands of people in the Edmonton area. And, the same can be said for the players who proudly wear the Oilers uniform. But there are countless stories that have captured my imagination and many of those in the community. I'd like to shed some light on some that have touched my heart, and hopefully yours.
A Boy Named Ben Stelter
Many Oilers fans are familiar with Ben Stelter and his friendship with McDavid. Ben fought a courageous battle with an aggressive glioblastoma brain tumour, and sadly passed away on Aug. 9, 2022, at the age of 6 years old. Ben, who was first introduced to Oilers fans as Scotiabank Skater of the Game on March 24, 2022, provided the Oilers with inspiration throughout the latter part of the 2021-22 season and into their playoff drive to the Western Conference Final last spring.
Related: A Tribute to Edmonton Oilers Superfan Ben Stelter
---
Latest News & Highlights
---
This past December, a special fund was announced to honour the life of Stelter to support the fight to end cancer. McDavid also got involved and personally promoted the Ben Stelter Fund and Stollery Kids through his personal Instagram and Twitter pages. Ben's parents Mike and Lea and his family have provided Oilers fans and the community with inspiration for their strength, courage, and vision to continue to help people battle cancer. Their story provides a reminder in this day and age, that kindness and compassion can go a long way.
The Inspiring Story of Ben Blum
On Dec. 3, 2022, the Scotiabank Skater of the Game was sledge hockey player Ben Blum. He has hereditary spastic paraplegia, which is a general term for a group of rare inherited disorders that cause weakness and stiffness in the leg muscles. Ben's parents Ashley and Christian mentioned recently that, "Ben hasn't let anything get in the way of his goal to play for Canada's Para Hockey Team in the Olympics someday."
---
---
Ben was chosen in a draw conducted by an organization called disABILITY Accessible by Design which was started by disability advocates Brad Bartko and his wife Jenn back in 2021. Bartko and disABILITY Accessible by Design are on a mission to make this world a more inclusive place for all. Keep your eye on Ben as a future Olympian, his parents said that after his experience with the Oilers, he's more determined than ever to win a gold medal for Canada.
Make A Wish Brings a Boy's Oilers Dream to Life
The story of Kohen Flett dates back to 2016 but it is truly an inspirational story of how the Oilers lifted the spirits of a little boy and his family thanks to the Make-A-Wish Foundation. At the time of his visit with the Oilers, he had over 70 chemotherapy treatments but was able to skate with the team. Kohen not only won the hearts of the Oilers players, but he also made a lasting impression on those who saw his story.
Countless Stories of Bringing the Community Together to Help
The Edmonton Oilers Community Foundation has contributed over $86 million to more than 2,900 charities, community groups and minor hockey programs throughout Northern Alberta since its inception in 2001. Thanks to the generosity of hockey fans, Oilers players, the EOCF Board of Directors, Oilers Entertainment Group (OEG) employees, and the Katz Family this past 2021-22 season, it set an NHL record with more than $20 million donated to charities and minor hockey groups.
This season, it seems like the Oilers Community Foundation 50/50 draws are bigger than ever. The proceeds donated within the community have kept the Oilers near the top of the standings in terms of organizations that give back to their communities within the NHL. You should be proud Oilers fans. Not only of your team's success on the ice but what they do for others off of it as well.
---
---