In their most recent outing, Saturday (Jan. 21), the Edmonton Oilers picked up a sixth consecutive win, 4-2 at Rogers Arena over the Vancouver Canucks, with a scoring summary that epitomizes this season. 
Not only did Leon Draisaitl, Zach Hyman, Connor McDavid and Ryan Nugent-Hopkins each score once, the quartet accounted for all 10 points recorded by Oilers players in the victory as Edmonton improved to eight games above .500, a new high for this season. 
That's fitting because 2022-23 has been all about the Four Horsemen of Oil Country: Draisaitl (28 goals), Hyman (24), McDavid (40) and Nugent-Hopkins (22) have scored a combined 114 times this season, an average of 2.38 goals per game and close to two-thirds of all Edmonton's tallies in 2022-23. 
Oilers' Big Four Scoring Nearly Every Game 
The four have combined to score at least once in all but three of the 48 games the Oilers have played this season, including every time they have either won or picked up a point via overtime/shootout loss. Between them, Draisaitl, Hyman, McDavid and Nugent-Hopkins have more goals than the Chicago Blackhawks do as a team (109). They've also got 160 assists among them, giving the foursome 274 points through Edmonton's first 48 games.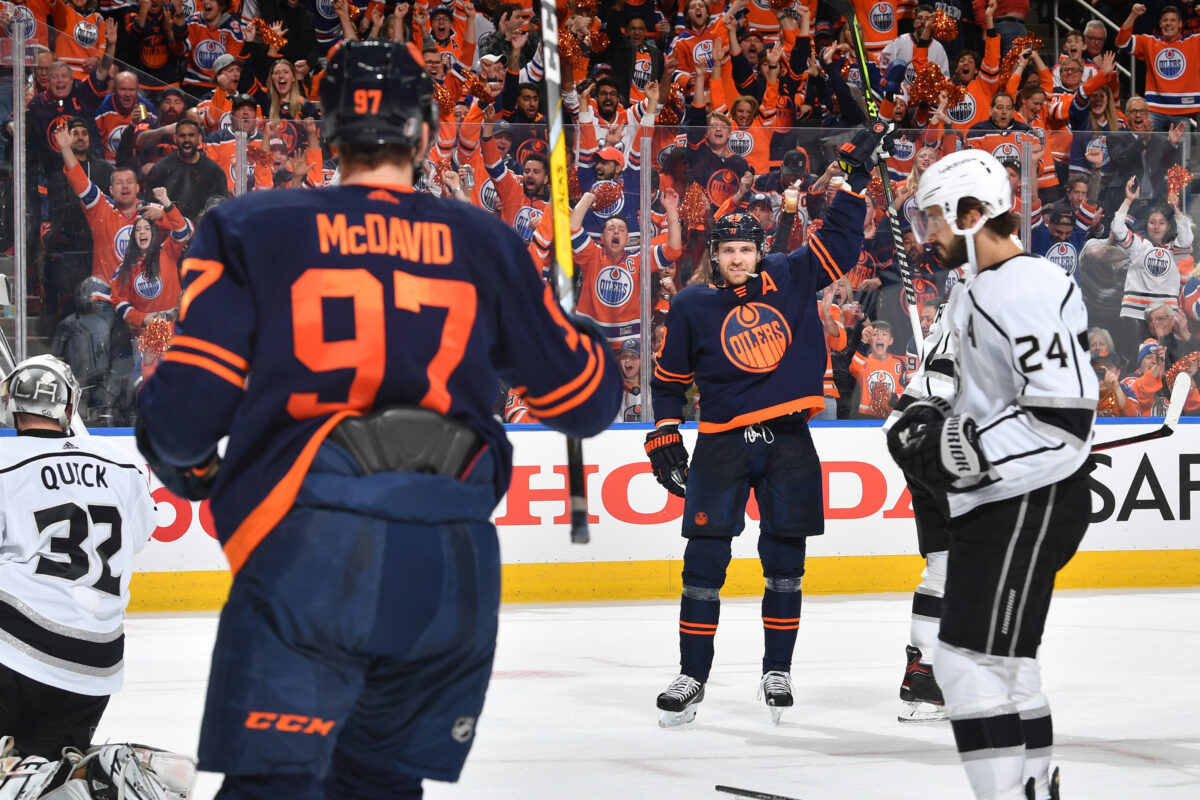 McDavid is averaging 1.83 points per game (40 goals and 48 assists in 48 games), Draisaitl is averaging 1.59 points per game (28 goals and 45 assists in 46 games), while Hyman (24 goals and 32 assists in 47 games) and Nugent-Hopkins (22 goals and 35 assists in 48 games) are both at 1.19 points per game.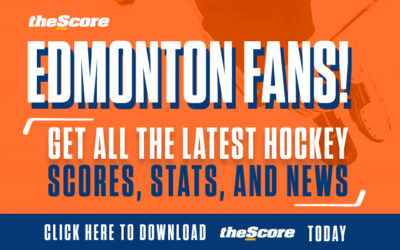 Assuming they play in all 34 games remaining on the Oilers' schedule, McDavid projects to finish with 150 points including 68 goals, Draisaitl is on pace for 48 goals and 130 points, Nugent-Hopkins projects to hit 97 points including 37 goals, and Hyman is on pace to finish with 41 goals and 96 points.  
Current Oilers on Pace with Edmonton Legends 
During their dynasty seasons in the '80s, the Oilers featured a quartet of future Hall-of-Fame forwards: Glenn Anderson, Wayne Gretzky, Jari Kurri and Mark Messier. The four spent eight years together in Edmonton, from Anderson and Kurri's rookie campaign in 1980-81 until Gretzky was traded following the 1987-88 season. 
Offensively, Anderson, Gretzky, Kurri, and Messier were the most prolific scorers on the most prolific team during the most prolific era of NHL hockey. From 1981-82 to 1985-86, the Oilers scored, respectively, 417, 424, 446, 401, and 426 goals – the five highest-scoring seasons by a team in NHL history.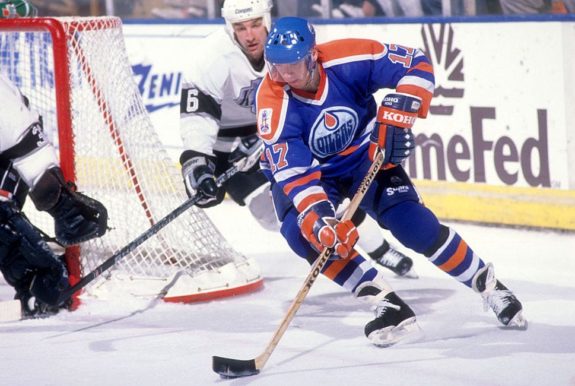 Spanning 1980-81 to 1987-88, the quartet combined for 20 40-goal campaigns and 20 100-point campaigns. But only in 1982-83 did Anderson, Gretzky, Kurri and Messier all reach triple-figures in points. 
The quadruple-triple is such a rare feat that no NHL team has achieved it in three decades. The last with four players scoring at least 100 points was the 1992-93 Pittsburgh Penguins – and they barely made it: Ron Francis finished with exactly 100 points, joining teammates Mario Lemieux (160 points), Kevin Stevens (111) and Rick Tocchet (109). 
Now with less than 40 percent of the 2022-23 schedule to be played, there exists a very real chance that Draisaitl, Hyman, McDavid and Nugent-Hopkins could all record 100 points. That is, in a word, remarkable. 
Oilers and Leafs are Putting on a Show 
Hockey Twitter exploded last month following a tweet from the account for Sportsnet show Tim and Friends that asked if there was a better group of four forwards in the NHL than the Toronto Maple Leafs' quartet of Mitch Marner, Auston Matthews, Willian Nylander, and John Tavares. 
The Oilers' official Twitter account responded with a quote tweet that pointed out how their team's foursome of Leon Draisaitl, Zach Hyman, Connor McDavid and Ryan Nugent-Hopkins had combined to score 31 more points than the four Toronto forwards had totalled. 
In the month and a half since, that differential has doubled to 62 (Marner, Matthews, Nylander and Tavares now have a combined 212 points for the Leafs, who like the Oilers have played 48 games). 
But here's the thing: Toronto's Big Four is nothing short of spectacular. The 2022-23 Maple Leafs have three players (Marner, Matthews, and Nylander) on pace to top 90 points. A team has not had that in one season since Pittsburgh in 2000-01 with Jaromir Jagr (121), Alexei Kovalev and Martin Straka (95 apiece). Two teams can do it this season. 
Related: Oilers & Maple Leafs Competing Over Same Trade Deadline Deal
---
Latest News & Highlights
---
Social media can argue all it wants about Edmonton's stars vs. Toronto's studs. The Oilers' quartet is outscoring the Leafs' foursome significantly, but Toronto has 66 points in the standings compared to 57 for Edmonton, and you can be sure McDavid and co. would trade their individual points for a few more points as a team. 
Ultimately, the hockey world is blessed to be witnessing this greatness. The fan base in Toronto is quite lucky to watch it unfold at Scotiabank Arena. And Oil Country is the most fortunate of all because it's been 40 years since Edmonton has seen anything like Draisaitl, Hyman, McDavid and Nugent-Hopkins, and even though all are under contract to the Oilers for several years, there are no guarantees that every one of the four will simultaneously perform so exceptionally again. 
And besides, at day's end this is really just about one thing, and that's capturing the Stanley Cup. In the meantime, the Four Horsemen of Oil Country are putting on one heck of a show. Next performance: Wednesday (Jan. 25) night at Rogers Place vs. the Columbus Blue Jackets.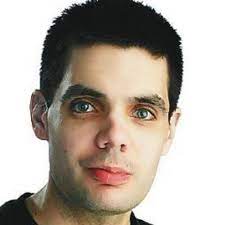 Brian is an Edmonton-based sports writer and broadcaster. His experience includes working as a sports reporter for the Edmonton Sun, where he covered the Edmonton Oil Kings 2013-14 Memorial Cup championship season.