The Montreal Canadiens started the season with high hopes of having a busy trade deadline. General manager Kent Hughes had five unrestricted free agents (UFA) that could have been moved for future assets by March 3. As the season progressed, that number dwindled to three: Sean Monahan, Jonathan Drouin and Evgenii Dadonov. Jake Allen signed an extension taking him off the UFA board, and Paul Byron was placed on long-term injury reserve (LTIR) due to a hip injury that may end his career. The deadline has come and gone, and the Habs were heavily restricted from doing much of anything; for Hughes to get what he wants, he must prepare to make moves this offseason.
Injuries Reason for Canadiens' Quiet Deadline
The Canadiens had a quiet deadline primarily due to injuries to key players and a lack of production from others. Hughes did manage to trade Dadonov to the Dallas Stars for Denis Gurianov, a first-round pick (12th overall) in 2015. Gurianov started excellently with the Stars, scoring 20 goals in his 2019-20 rookie season but regressed after that; although his point total slightly increased yearly, his goal total decreased. Dadonov didn't quite fit in with the Habs and struggled throughout his time in Montreal; a change of scenery for both players was needed, and the trade was made in hopes both players would improve with their new teams.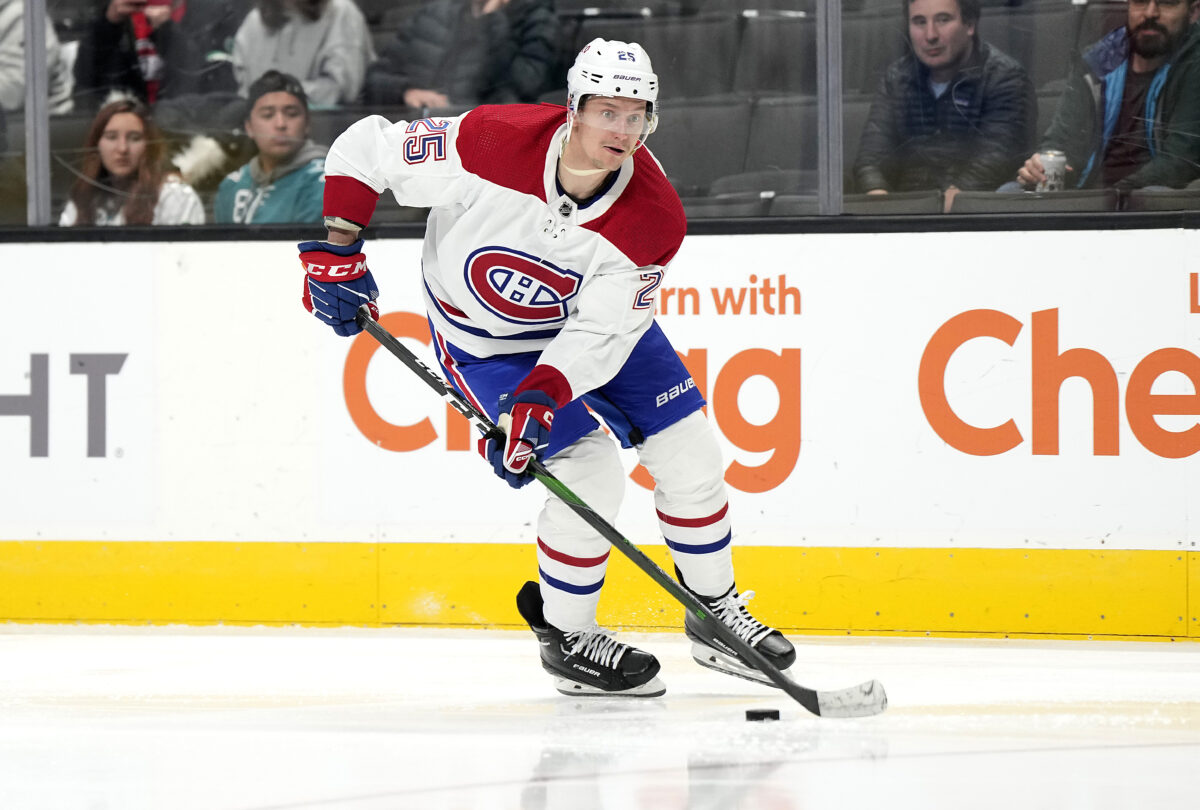 This was the most significant trade made by Hughes at the deadline. Injuries to Monahan and Joel Edmundson kept them from being moved for a return that he would be happy with. Drouin's injuries and inconsistency were a big reason why interest in him was meager, if there was any at all. To say Hughes was handcuffed is an understatement – while many would see this deadline as a failure, it wasn't one that the GM could avoid, and he was better off not making a trade simply to make one.
Canadiens Could Use Offseason to Move Players
Hughes could still move players in the offseason that he failed to move at the deadline. Players with term like Mike Hoffman or Joel Armia; both players still have a year left on their contract – Armia has two – after this season but have more significant cap hits. Moving them in the offseason will be easier when teams have more flexibility. This is also true for Edmundson who, while battling injuries, had an interest at the deadline. If he remains healthy, he could draw interest again for a potentially better return after the season ends.
Related: Canadiens Preparing for Busy Summer of Trades
---
Latest News & Highlights
---
The Canadiens have several overpriced players, and if Hughes wants to shed their cap hit, he will need to find a willing trade partner. Hoffman could be easier to move with only one year left, but the return may not be anything special. Armia will be much harder due to his salary and injury history, so he probably won't go anywhere. Conversely, Edmundson could fetch Hughes a return he has been looking for, like a third first-round pick or a high-quality prospect. The problem is Edmundson's value might not be as high in the offseason as it will be at next season's trade deadline, so Hughes will have to weigh the options with him and consider his injury history.
Canadiens Could Be Big Movers at 2023 Draft
The 2023 Draft is the next big non-playoff event for the NHL, and the Canadiens will be a big part of it with two first-round picks, one of which will probably be in the top six. Last year, they had the first overall pick and drafted Juraj Slafkovsky, and then made a blockbuster trade when they acquired Kirby Dach from the Chicago Blackhawks. The draft was in Montreal, and Hughes ensured all the attention was on his team through the first night. He could quickly do the same this year in Nashville by making moves to acquire another first-round pick or a young star player.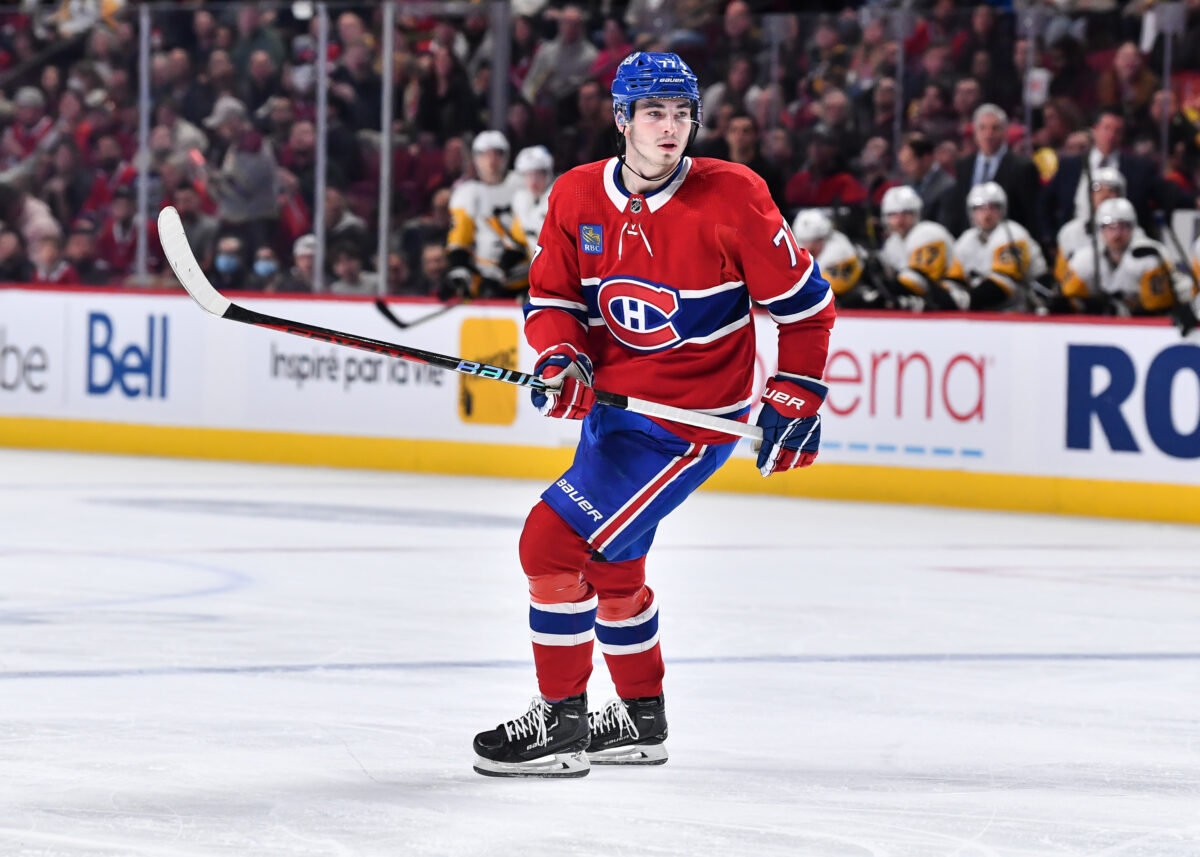 This year's deadline may have been quiet, but that doesn't mean Hughes can't make moves at the draft. With it being as deep as it is and his quality tradable assets running low, it will be interesting to see what he can or can't do in a trade. He would need to give up something substantial to get another first-round pick. Last year he traded Alexander Romanov for the 13th overall pick, which he flipped to Chicago for Dach. It could take another move like this involving a young player to acquire a pick this year as well. With the abundance of left-handed defencemen, one of the younger studs could be on the move if Edmundson can't bring the return Hughes would like.
The draft is three months away, and Hughes has a lot of time to figure out what he needs to do. The issue is he doesn't have a quality asset to trade that isn't part of his building blocks. To get what he wants, he may have to part with Josh Anderson, Jordan Harris, or Arber Xhekaj. This would not be ideal, but it could work. In the end, it will all depend on how badly Hughes wants the extra pick or top prospect. Don't be surprised if one of your favourite players gets moved, but also don't be surprised if nothing happens either, like at this year's trade deadline.
---
---