Recently, there has been a lot of talk about the Sharks new young stars.  That talk has centered around Logan Couture and Joe Pavelski becoming the new leaders on the team.  But, why talk about new leadership when the old one is still churning out solid production?  The Sharks old core of players, namely Joe Thornton (34), Patrick Marleau (34), and Dan Boyle (37), all hold letters on the front of their sweaters.  And they still have the captaincy for good reasons.
Declining Stat Lines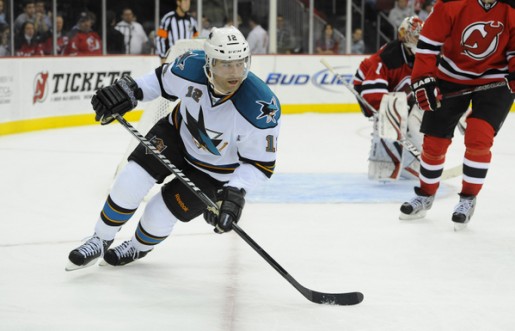 There is no denying that all three of the Sharks old core have seen their stats plummet in recent years.  But that is to be expected with age.  Only a very select few produce elite numbers into their mid-thirties let alone beyond that.  The arguments for ousting the old men are mostly based on the downward trend of all three on the score sheet.
The Captain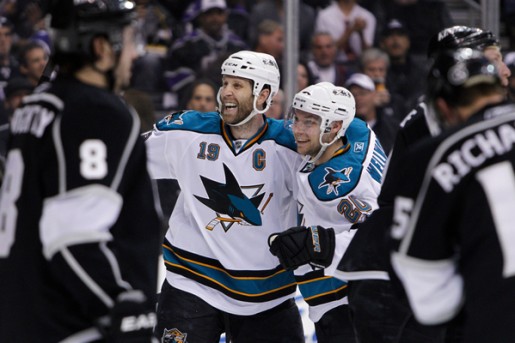 Jumbo Joe has always been seen as a great leader.  His reputation garners respect from the league.  But in the last few seasons, his goal totals have dropped out of the sky.  While he has never scratched the 40-goal mark in his NHL career, but he has not reached more than 21 in the last four seasons.  The old center's points have also taken a hit with drops from his usual 80s to the 70s.  His assists have seen solid production, however.  What bothers most, however, is the lack of speed from Thornton.  His speed has become somewhat of a liability and can limit San Jose's options up front.
The Streaker
What can I say about Patty Marleau that I have not harped on recently?  The love-hate relationship he has with many Sharks fans changes almost every week.  His streakiness and the reputation that follow it will never leave him.  Marleau has retained his elite speed, but his point totals have seen a near double digit difference every year since 2009.  His goals and assists have dropped each season as the bad streaks start to get longer and longer.
The Old Man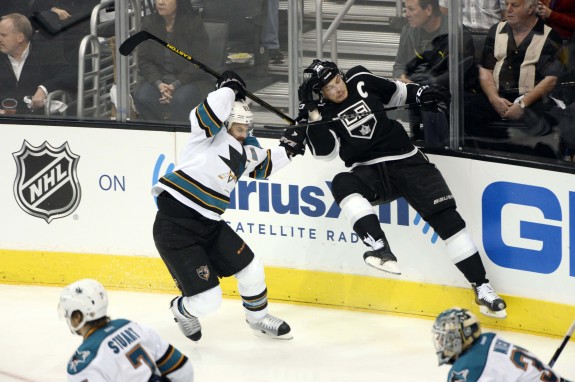 Dan Boyle, while the oldest skater on the team, has the most consistent production of the three elder statesmen.  But, down the stretch, Boyle was slowing down considerably and at times was seen as a liability.  His offensive numbers slipped in the shortened year, and it's very unlikely that his numbers will rise again in the years left in his career.
Sharks Old Core Still Has Some Bite Left
Stats are not the bottom line when it comes to hockey analysis.  If they were, there would be no need for writers like me or ridiculous commentary from Pierre McGuire.  Even so, some lesser-known stats are in favor of the old guys.
Thornton led the team in assists and faceoff percentage (33 and 58.5%)
Marleau was second on the team in powerplay goals (6)
Marleau also led all forwards in ice time per game (19:06)
Boyle led the team in ice time per game (22:47)
Boyle led defenders in points (20)
Boyle also was second on the team in blocked shots (81)
What stats can never show is the high hockey IQ of all three players.  They work hard but efficiently
To continue support of Boyle, need we remind you of the Sharks' goal of the year? But, what is not mentioned on the scoresheet is shown on the ice.  Chemistry is what holds teams together when times get tough.  The Sharks old core has made a habit out of being exceptional leaders.
Jumbo Brings Up Burns
The meteoric rise of Brent Burns was a major headline of the 2013 season.  But what really caused Brent Burns to have so many opportunities to score?  Well, Joe Thornton centered his line with TJ Galiardi.  The leadership and work ethic of Joe Thornton resulted in many chances for Burns.  A few of Burns' goals were directed off of assists from Thornton.  His hockey IQ forces opponents into poor decisions and causes turnovers.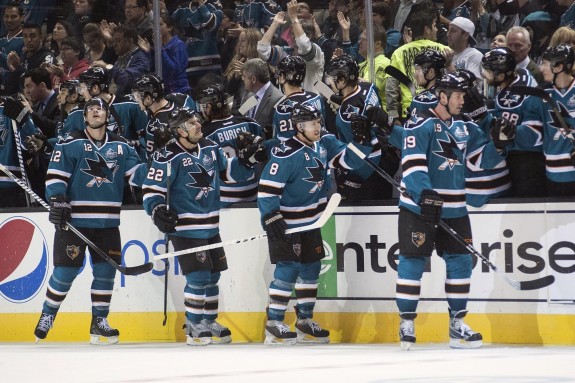 Boyle Leads Blue Line
Dan Boyle has been one of the few players on the blue line in San Jose to make an impact offensively.  The Sharks struggle to score in general, but each goal they earn from the blue liners is extremely valuable.  Boyle has also earned his role as a leader and has shown through exceptional CORSI numbers that he makes a positive impact.  His 12.81 is second best on the team behind Brent Burns and just above Joe Thornton.  Finally, it seems as though the defense has plenty of young talent waiting in the wings.  But no-one to really mold that talent.  Boyle may not play for many more seasons, but his time in teal is still valuable.
Marleau Shines in Playoffs
If for at least that first series in which every Sharks player scored and the Canucks imploded.  What it showed us was that Marleau can still dominate play with the best teams in the league.  His streaks may bring him down, but the goal-scoring streaks are phenomenal times.  His explosion to start the season was the direct cause of the Sharks flying start.  Seven straight wins after nine goals?  Name a single NHL team that would refuse that.  The droughts may drive the fans nuts and give writers headaches, but the explosions bring all the nay-sayers back.  He is in the right place at the right time.  A very valuable trait in the NHL.
The Future of the Old Guard
Joe Thornton will likely get a two or three year contract from San Jose.  The captain will retain his spot.  Patrick Marleau will earn a similar contract but may not keep his "A."  Dan Boyle will have to play his way to another contract.  He nearly fell out of favor last season, but his future depends on the season he has.  I doubt he and Marleau both keep their letters for next season as Couture and Pavelski continue to rise.  If Boyle gets another contract, it would be surprising to see more than a one year deal.
The NHL regular season schedule was released on Friday. Check out our partners at TiqIQ for the best deals on San Jose Sharks tickets for all 2013-14 games.
Kenneth is a graduate of the University of San Francisco in Politics and Chemistry. But his passion in life has always been hockey. He has played since he was four and even coached a few teams. Kenneth writes for the San Jose Sharks at thehockeywriters.com