The Kelowna Rockets simply had a great year last year. Well, a great regular season anyway. After finishing atop the WHL's B.C. Division they seemed to be destined to meet the Portland Winterhawks in the conference finals. Unfortunantely for the Rockets, that match up didn't happen.
After a barely surviving a tough, physical seven-game first round series with Seattle the Rockets could not muster much in the second round as they were swept by the Kamloops Blazers.
This year they are set up for another shot at getting to the WHL finals and perhaps the Memorial Cup.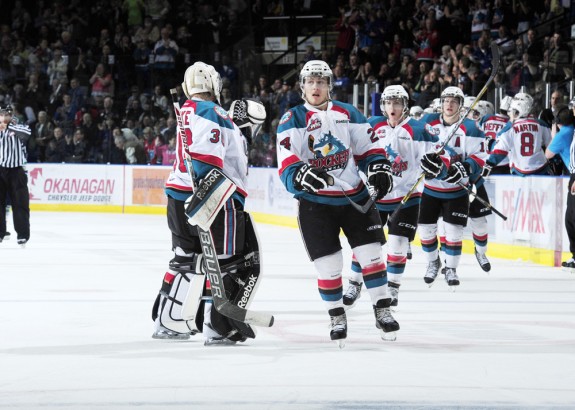 Last year the Rockets went an impressive 52-16-3-1, scoring 309 goals — which was the league's second best total behind Portland. The Rockets were tough at their home rink as well as they only dropped five regular season home games, while winning 31 of them and set a new franchise record with a 23 game home winning streak. They return a big portion of the roster that got them those numbers and the expectation is for even greater success this year.
Those expectations don't phase head coach Ryan Huska. Huska, who was just given a contract extension, is entering his seventh season with the Rockets and says that the bar in Kelowna is always high.
"I don't necessarily think its a good thing to kind of to look back at what a team did a previous year," he says. "We have a lot of expectations of our players and what we want to achieve this year. We bring a lot of players back but I think the danger is that it will be easy coming back after the season we had last year and that's something we want to try and avoid."
While Huska will lose last year's captain Colton Sissons, who moves on to play in the pro ranks with the Nashville Predators, he still has a loaded roster. They will miss Sissons , and his leadership, but they have plenty of players to pick up any slack that Sissons' graduation might create. Most notably, last year's leading scorer Myles Bell (38g 55a 93p) is back for another year playing forward and could put up even better numbers in his second year up front.
They also expect big things from 2014 NHL Draft prospect Tyson Baillie. Baillie is entering his draft year after an impressive 26 goal campaign in 2012-2013. Huska likes the make up of his blossoming forward — who picked up 14 points in nine playoff games last spring.
"He does have a good future in front of him because one intangible or characteristic he does have is that he loves to play the game," Huska says. "He really enjoys being around the rink. This is all he wants to do all day long and I think because of that he finds a way to make himself better all the time. We expect him to improve on what we got from him last year and we look forward to seeing him becoming a better two-way player again for us this year."
The Rockets also have other young players that Huska expects to take a big step up this year. That includes forward Cole Linaker and Rourke Chartier. Both players are coming off their rookie years in the WHL and Huska feels that they have the potential to be real contributors for Kelowna this season.
Best back end in the league?
When you are the second highest scoring team in the league it makes sense that your offense gets a lot of ink. The Rockets are more than an offensive juggernaught, they can stop you from scoring as well. In fact, only two teams in the WHL gave up fewer goals last year (Edmonton and Portland) and Huska says that the Rockets success starts with how they play in their own end.
"We want to be good in our own zone," he says. "We want to spend as little time as we can in our own zone, so that kind of philosophy helps us not play in our own zone. Having an older back end and older defense should help in that area again. It is critical, teams that win at the playoff time of the year are teams that always are good defensively or take a lot of pride in how they play the defensive side of the puck."
Kelowna's experience back end is highlighted by two NHL prospects in Damon Severson (New Jersey) and Madison Bowey (Washington Capitals). Severson is a big physical presence who can contribute offensively while Bowey is the offensive defensemen of the group. They also will get solid contributions from veterans Jesse Lees and Colten Martin.
The Rockets are also blessed with two quality goaltenders and may have the best tandem in the WHL. Last year Jordan Cooke got the majority of the work and played well in Kelowna's first round playoff series. Backing him up is Jackson Whistle, who appears to have all the talent to be a number one goalie. For now, Huska says it's the 20-year-old Cooke's job, but that there is still a competition.
"They're both capable of playing a lot of games now, we have a lot of confidence in both guys," he says. "Jordan will start the year as our number one goaltender but Jackson will be given every opportunity to play. I think that internal competition its going to create will be good for those guys and at the end of the day we're going to go with the guy who's playing the best."
The Rockets have one of the deepest rosters in the WHL and are looking to go deeper in the playoffs this year. They seemingly have all the pieces in place to do that — an explosive offense, strong defense and quality goaltending. It really just may come down to focus and execution for the Rockets.
"We have to have a group of players that want more," Huska says about this season. "I think we have to do it within our team setting, that will be important for us because we are returning a few players. Next thing is that we need to learn to play the game a little quicker than what we have in the past, that's going to be one of the challenges. "
Where will they finish?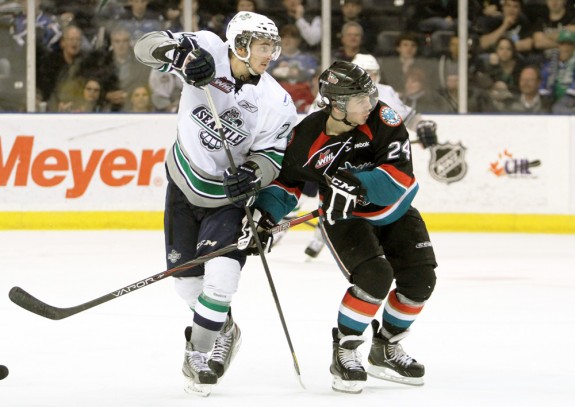 The Rockets will have some stiff competition in the always physical Victoria Royals for the B.C. Division title. The Rockets are not the most physical club in the league and will have their hands full with the Royals. In the end however, the Rockets have too much depth and scoring for the Royals to overtake them in the division race. Kelowna should end up with home ice advantage for at least the first two round of the playoffs and if they can stay healthy they should find themselves in the Western Conference finals. There they most likely will have to face the Portland Winterhawks, who won't be as stacked as they were last year when they won the WHL Championship. Is this the year that Kelowna can unseat the three time Western Conference champions? They have the horses to do it.
Andrew writes about the WHL and NHL Draft Prospects. He also covers the Seattle Thunderbirds for 710 ESPN Seattle and spent two years with Sportsnet. Follow him on Twitter @andyeide.