Every trade has its risks and rewards. Washington Capitals General Manager George McPhee made a huge one last summer when he acquired Nashville Predators forward Martin Erat for a controllable asset. He also received center prospect Michael Latta in exchange for former first round pick and arguably Washington's number two forward prospect at the time in Swedish native Filip Forsberg.
Erat played in nine regular season games for Washington last season, but contributed only three points with one goal and two assists, good for .33 points per game. After a 33 point season in Sweden, Forsberg went on to total one point in five games for the Nashville Predators. Expect the 19 year old forward to play a top six role for the Nashville Predators this season and make an impact for the years to come in the Western Conference.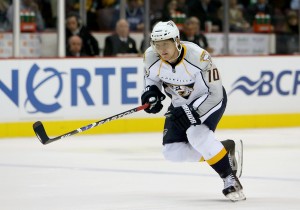 Advanced stats from last season don't make the Erat deal any better to this point. Along with being an ineffective forward for his short period of time with the Capitals, the 32 year old Czech spent less time in the offensive zone than his primary line mate in Washington, Troy Brouwer, along with third line grinder Eric Fehr. While these statistics include his time spent in Nashville this season, other metrics prove he wasn't the same player he was in his prime years with the Predators. Erat should have a good year in Washington this season, likely  a .5 points per game player with the potential to total 50 plus points per season.
When on the ice last season, his team's save percentage was .906, bleak enough for second worst for Capitals forwards with at least 30 games played during last year's lockout shortened campaign. Marcus Johansson's was the worst at .904. His ice time severely decreased from his career average (16:53 ATOI) to 13:55 under Oates. His shooting percentage last season (7.2%) provides hope for goal scored for Erat this season, based on bad luck. His career shooting percentage is 12.4%, which includes a ridiculous 17.8% clip from the 2011-2012 season where Erat totaled 19 goals in 71 contests.
| Player | CorsiOn | Offensive Zone Start % |
| --- | --- | --- |
| Alex Ovechkin | -1.83 | 54.50% |
| Eric Fehr | 4.13 | 48.50% |
| Nicklas Backstrom | 2.8 | 49.90% |
| Marcus Johansson | -1.58 | 52.30% |
| Martin Erat | -3.9 | 43.70% |
| Troy Brouwer | -5.4 | 43.40% |
Capitals' management and their fans should not be giving up on Erat quite yet however as he'll be lined up with new center man Mikhail Grabovski and power forward Troy Brouwer on Washington's second line. Grabovski, a former Toronto Maple Leaf, will bring better shooting along with far better possession skills than former Capital Mike Ribeiro provided.
Erat's long term future in Washington relies on the factor of cost, the most important thing when making a business decision like his next contract. He currently holds a cap hit of 4.5 million for the next two seasons, but his contract structure gives Washington an advantage because they only have to pay him 5.625 million for the remainder of his seven year deal that he signed in Nashville many seasons ago.
Enter Washington's first round pick from the 2013 NHL entry draft, Andre Burakovsky. The 18 year old Swedish winger was selected 23rd overall by George McPhee's staff, and could fill a void by the potential departures of Erat and Troy Brouwer in the next couple of seasons.
"I will work hard every day to work to get to Washington's team," Burakovsky told reporters today in Newark after he was selected. "I think about two years I will be ready, but I have to work hard every day."
"Andre is explosive and powerful. His skating is excellent and he has the ability to challenge defenders, put them on their heels and make them vulnerable very quickly. He is the type of player who makes defensemen nervous because he is not only fast, but determined as and he will not back down from the competitive areas and is very difficult to deter. He can come at you from anywhere on the ice and combined with excellent sense, he knows how to use it to gain those advantages. Good puck skills and can make plays at high speed and he is capable of beating you with a drive to the net or with a pass given the opportunity. He is a game-breaking type of player who plays when it matters and makes teams better," said TSN analyst Craig Button.
Burakovsky will be spending the 2013-14 season in the OHL with the Erie Otters, but could join the Capitals AHL affiliate, the Hershey Bears, in the spring when his junior season is over. A spot could open up for Washington when Erat's contract expires. Washington has a few young forwards including Stanislav Gailev and Riley Barber who also could be NHL regulars if they continue to develop.
The NHL salary cap is surely to go up in the coming seasons, but with young goaltenders continuing to get sizeable contract extensions, Braden Holtby could be next in line. Washington's defense needs substantial improvement and it should not be fixed internally. Adam Oates said John Erskine is a top four defenseman for his team, which clearly shows a glaring problem in roster philosophy.
Defensive prospect Dmitry Orlov has had his struggles at the AHL level, especially last season, but Connor Carrick has impressed in training camp this fall and last season with the OHL's Plymouth Whalers, who helped developed Washington hard-hitting forward Tom Wilson.
Patrick Wey is another Caps blue liner to keep an eye, as he turns pro in the AHL this season, following four strong years at Boston College. Nate Schmidt will also see time in Hershey to start out the season.
You can follow Matthew on twitter @m_speck and email him at mspeck21@yahoo.com with any questions or comments.