As the 2013-'14 campaign approaches, there is no shortage of uncertainty surrounding the Pittsburgh Penguins.  From, "Can Marc-Andre Fleury return to the form of a Stanley Cup champion?" to "Do the Pens have enough depth up front to make a deep playoff run?", there are some questions that we won't be able to answer for several months.
It appears, however, that the "What will the Penguins' top-six look like?" question is nearing an answer.  And it's a solution that the club hopes Pittsburgh fans will surely enjoy.
With Sidney Crosby, Evgeni Malkin, Chris Kunitz, Pascal Dupuis and James Neal on the roster, it's pretty clear who will occupy five of those six slots.  Who fills the final vacancy and which specific wingers would skate alongside Sid and which would flank Geno, however, seemed to be up for debate entering training camp.  Would, for example, Jussi Jokinen or Beau Bennett earn that coveted final spot?  Would Kunitz and Dupuis remain on a unit with Crosby?
Clearly, nothing is set in stone but it isn't difficult to see which way Coach Dan Bylsma is leaning.
Beau Knows Fitting In
Two seasons ago, Malkin, Neal and Kunitz made up what was arguably the best line in hockey.  Geno captured the Art Ross and Hart Trophies, James pocketed 40 goals and Chris (while potting 61 points, himself) added a physical element that made the unit almost unstoppable.  When Kunitz was reunited with Crosby and Dupuis last year, though, Malkin and Neal burned through left wingers faster than Elizabeth Taylor rifled through husbands.  Sure, the chemistry between the two stars remained but, whether it was Eric Tangradi, Zach Boychuk or even Jarome Iginla, nobody was able to replicate the success Kunitz had with the dynamic duo.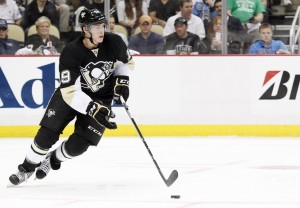 Of all the wingers to flank Geno's left side last year, perhaps Bennett looked the least out of place.  Though he didn't play on the unit exclusively, he never looked uncomfortable skating alongside Malkin and Neal.  As a result, the 26 games he played during his rookie campaign saw him collect a respectable three goals and 14 points during the restricted action he saw.  Unfortunately for Beau, his limited experience and the arrival of Iginla combined to push him down the depth chart once the stakes got higher and the Pens forged through the stretch run and postseason.
But with a new year comes new opportunity.  Motivated by Bylsma's offseason endorsement that the youngster could find himself in a top-six role this season, Bennett showed up to camp noticeably stronger, having bulked up to 207 pounds (he was listed at 176 when he was drafted in 2010).
"Beau came into camp stronger. Faster. A little more mature…He's fit right in from Day 1. He's going to keep getting better" – James Neal
And it's that added weight and strength that could ultimately help Beau fill the void that was created when Kunitz was reunited with Sid.  Though not overly large by NHL standards (neither is Kunitz, by the way), Bennett's bulked up frame will make it easier for the sophomore to create more space for the all-world players on his line.  Never shy to drive to the net or dig out pucks along the boards, Bennett is sure to make life easier for both the ultra-skilled Malkin and sharpshooting Neal.
While creating space on the ice will certainly help, it's by no means the only benefit Bennett brings to the table.  No, his patience and puck skills make him a gifted playmaker in his own right and his pinpoint shot makes him a threat to score from virtually anywhere.
http://youtu.be/brPV5gPAQgg
Ultimately, though, it might be Bennett's smarts that prove to be his biggest asset.  In fact, according to Penguins' TV color analyst, Bob Errey, "His hockey IQ is off the charts."  Perhaps that's why Beau doesn't look out of place alongside Malkin and Neal in a role that so few have been able to excel in; his keen ability to read the play truly allows him to almost always be in position.  Furthermore, his defensive awareness and play in his own end is almost unparalleled for a player of his age.
Combining all of that with the skill sets of Malkin and Neal provides the Penguins with the makings of something special.  And while the club is admittedly less than a week into training camp, it appears that the trio is already developing a special chemistry with one another.
Beau Bennett looks the part to be Malkin and Neal's linemate, I'll tell you that. Kid is good.

— Ryan Wilson (@GunnerStaal) September 14, 2013
If they can further develop that bond, the Malkin, Neal and Bennett unit could represent a nightmare for opponents on a nightly basis.  Particularly if they form the Pens' "second line".
Crosby-Kunitz-Dupuis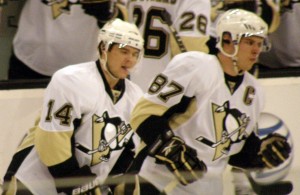 Whether or not it has solely been a product of the media, there has always seemed to be a question as to who Kunitz should be skating alongside.  Perhaps that's why many are suggesting that it might behoove the Penguins to reunite the Malkin, Neal and Kunitz trio and, thus, give Bennett a shot alongside Sid and "Duper".
While the new combination is an interesting idea (and may very well be something we'll see at least temporarily sometime this year), it isn't all that likely upon the season's inception.  Crosby, Kunitz and Dupuis have clearly developed a chemistry with one another and, by all accounts, less than a week of training camp has the three buzzing around the ice as if they're in midseason form.  Given their performance last year as the league's most productive line, that chemistry isn't something Bylsma is likely to disrupt at the beginning of a new campaign; as a result, the Pens' "top line" will likely remain in tact.
And should that trio remain as lethal as it was last year, it will no doubt combine with a new look Malkin unit to form arguably the most dominant top-six in the NHL.