One of the biggest criticisms that Pittsburgh Penguins head coach Dan Bylsma faced during the 2013 NHL season was about his usage of younger players and rookies.
Through much of the year, it appeared that Bylsma lacked confidence in his younger players and would pull them at the first sign of trouble. This continued until the Penguins acquired Jarome Iginla, Brenden Morrow, and Douglas Murray – ensuring that there would be no room for inexperience.
Despite the appearance of veteran-favoritism among the coaching staff, a couple of players did break through to impress the organization and the fans. One of them was defenseman Simon Despres, who was still underutilized.
[See – Simon Despres: Arrested Development by Mike Colligan]
The other was 21-year-old rookie forward Beau Bennett, who wasn't even expected to get to the NHL in 2013. Bennett decided to ignore timelines and predictions though. He played so well that he gave the Penguins no choice in the matter.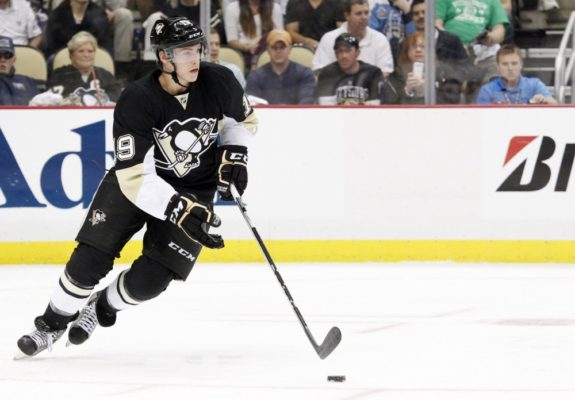 California Grown
Unlike most of his peers around the NHL, Beau Bennett didn't exactly grow up at an ice rink where his NHL future would become a legendary tale. Instead, he took a more progressive route towards professional hockey. Growing up in sunny, Southern California, Bennett started out his career path by playing inline hockey. In fact, he didn't even step on the ice until he was 9 years old and wasn't seriously committed to ice hockey until around the age of 15.
The late start on the ice certainly didn't hurt Bennett's career though. He has frequently credited inline hockey with boosting his hockey sense and creativity. With those attributes, Bennett joined the Los Angeles Junior Kings Under 18 team in 2008-2009 and led the team in scoring with 58 points in 46 games.
After growing up and playing in Southern California, Bennett moved on to the British Columbia Hockey League in 2009-2010. It was another successful step as he led the Penticton Vees with 120 points in 56 games. Bennett was named the Rookie of the Year for the Interior Conference and also won a share of the Brett Hull Trophy as the top scorer in the league.
He then committed to the University of Denver for 2010-2011, but he still had one more thing to do in Southern California before moving to NCAA hockey. At the 2010 NHL entry draft, held in the Staples Center in Los Angeles, Bennett became the highest California native drafted in NHL history (20th overall, Pittsburgh).
Beau Bennett – Early Arrival in Pittsburgh
Bennett's career with the University of Denver lasted just two seasons. He finished with 25 points in 37 games as a freshman in 2010-2011. He was limited to only 10 games (13 points) in 2011-2012 after suffering a ruptured tendon in his wrist. Despite the limited playing time, Bennett signed a three-year entry level deal with the Penguins in April of 2012.
As the NHL went into lockout mode for the fall of 2012, Bennett went to work with the AHL's Wilkes-Barre/Scranton Penguins. Despite concerns about his size (6'1, 180 lbs. when drafted), Bennett quickly demonstrated that he was ready for the jump to professional hockey. He recorded 24 points in his first 30 games to lead the AHL's Penguins in scoring as the NHL lockout ended.  He was also selected for the AHL All-Star game.
When NHL teams held their shortened training camps in January, the Pittsburgh Penguins invited Bennett and even gave him some time alongside Evgeni Malkin and James Neal. There were still too many factors weighing against his NHL call-up though. The team wanted to be careful with his development in his first professional season and it wouldn't be worthwhile to stunt his progress with a lack of playing time in Pittsburgh. He still had plenty to learn and too many guys ahead of him.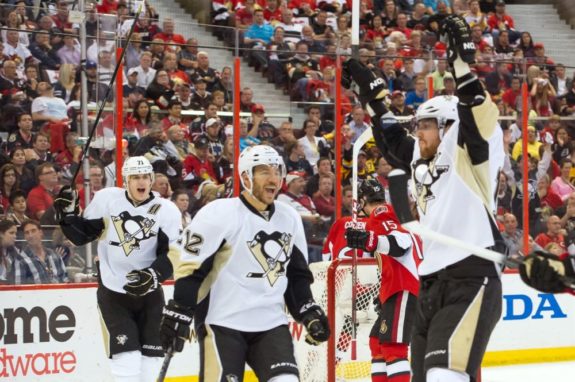 A month later, the story shifted in Bennett's favor. The Penguins had been struggling to find a winger for Malkin and Neal through the first month of the season. They had given up on Eric Tangradi, who was traded to Winnipeg, and waiver claim Zach Boychuk, who was unable to step up in that role. With Tangradi's roster spot open, the team called up Bennett to make his NHL debut.
He produced a surprisingly strong first effort on the 3rd line, blocking two shots and demonstrating sound defense that few initially expected from the offensively-gifted forward. His hard work continued to pay off with his first NHL goal a few games later. All of a sudden, there was no question that Bennett was ready for the NHL level.
After finishing the regular season with 14 points in 26 games, Bennett was rewarded with a lineup spot in Pittsburgh's first playoff game. Dan Bylsma's decision to trust Bennett paid off almost immediately:
Despite the quick start, Bennett was only dressed for 6 of the team's 15 playoff games as the Penguins were swept out of the Eastern Conference Final by Boston.
Future Outlook for Bennett
According to the original plan, Bennett was supposed to fight for a spot in training camp this fall and make his NHL debut this upcoming season. Instead, he will be looking to gain more playing time and solidify his spot among the top 6 forwards. Additionally, he'll be looking at a small, outside chance of representing Team USA in the 2014 Winter Olympics after being invited to their camp this summer.
Bennett will certainly get his chance to start a youth movement in Pittsburgh in 2013-2014. Based on his upward trend, he will be exactly the fresh face that the Penguins need over a full season. The only question will be if the Penguins are ready to give him the minutes that he can earn.
If this season goes anything like Bennett's career so far, he won't give them a choice.