While expectations for the 2013-14 Buffalo Sabres may be low, one player's expectations will be squarely under the spotlight. Much has been made about Thomas Vanek and Ryan Miller's play during the season and how it will affect their possible trade value as the deadline approaches. However, after Vanek's $7.1-million cap hit and Miller's $6.25-million, comes Tyler Myers at $5.5-million. Myers has failed to live up to expectations since his rookie campaign. So, while many will be watching Miller and Vanek for the purpose of seeing if they remain in the blue and gold or what they can fetch in a deal, even more will be evaluating Myers and just what his future is with the organization.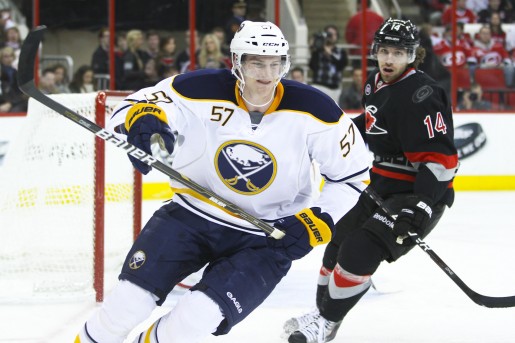 Myers' Rookie Success
Myers was picked by the Sabres in the first round, 12th overall, of the 2008 NHL Entry Draft. The same draft that featured defenders Drew Doughty, Zach Bogosian, Alex Pietrangelo and Luke Schenn, all of whom were selected before Myers. After returning to his junior team, the Kelowna Rockets the following season and winning gold with Canada at the World Junior Championships in Ottawa, Myers made the Sabres to begin the 2009-10 season. At 6'8, 227lbs, he already possessed the size to play at the NHL level.
Myers appeared in all 82 games for the Sabres in his rookie season. He scored 11 goals, 37 assists, for 48 points and was a plus 13, all of which remain his career highs. Myers also added a goal in the Sabres six-game playoff series, which they lost to the Boston Bruins.
Despite the early exit from the post season, Myers' regular season accomplishments had him named as the Calder Trophy winner as the most proficient player in his first year of competition in the NHL. It was the first time a Sabre had won the award since Tom Barrasso in 1984 and the third in team history (Gilbert Perreault 1971).
Sophomore And More Slump
In his second season, Myers' numbers began to decline but it wasn't significant enough for any flags to raise. He finished the 2010-11 campaign with 37 points, 10 goals and 27 assists and had an even +/- rating. The slight decline didn't seem to concern the front office as just before his third season, the Sabres signed Myers to a seven-year, $38.5-million contract extension. The contract was only set to begin in 2012-13, where Myers earned $12-million including a $10-million bonus.
But the problems began after signing the massive deal, in the final year of his entry-level deal. In 2011-12, Myers appeared in just 55 games, thanks to injuries and being a healthy scratch. He finished that season with just 23 points, eight goals and 15 assists.
With the lockout to begin this past season, Myers decided to go over to Austria to play for Klagenfurt AC. He looked to be regaining his form with 10 points in 17 games. However, when he returned to the NHL after the lockout ended, he resumed his decline. Once again, his season was limited because of a leg injury, but in 39 games he managed only three goals and five assists and was a -8.
Reasons For Optimism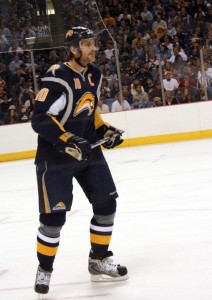 Perhaps the best news for Myers heading into the second season of his seven-year deal is that the Sabres reacquired Henrik Tallinder. This may seem to many as just one of the conservative, minor moves the Sabres pulled off as they rebuild or retool, but the importance of this cannot go unnoticed. Tallinder was Myers' defense partner during his rookie season where he won his Calder and put up his career highs. The Sabres must be hoping that Tallinder can come in and help get Myers back on track.
Yet Myers needs to work on his own flaws. Despite his size, he still has not been aggressive enough specifically in his own zone. Being one of the largest players in the game, Myers needs to become an intimidating presence for the Sabres.
Also, at this point in his career, he needs to fine-tune his skills. For someone of his potential he makes too many mistakes, specifically in the passing game, and if the Sabres are going to build their blue line around him, that has to end.
Future Outlook
Hopefully for the Sabres and Myers himself, he can regain his past form but what if he cannot?  The Sabres would find themselves in quite a difficult situation. They have a player signed for the next six years at a cap hit of $5.5-million annually. With the Salary cap set to drop, this is a huge number. Considering Myers had just eight points last year in a 48 game season, even by playing just 39 games, it makes him almost impossible to move. The Sabres would have to look a buyout options to try and alleviate some of the pressure on their finances.
Without a Myers who is firing on all cylinders the Sabres on the ice and in the accountant's books can never rebuild properly. He is more critical to the future of the franchise than anyone else because the only salary numbers higher than him have contracts that expire at the end of this coming season. If the Sabres are forced to carry a player that cannot produce and who consumes a huge chunk of their payroll they will be in for a long stretch and that is why Myers will be under the spotlight this season. The Sabres are counting on him this season more than ever.
The NHL regular season schedule was released on Friday. Check out our partners at TiqIQ for the best deals on Buffalo Sabres tickets for all 2013-14 games.