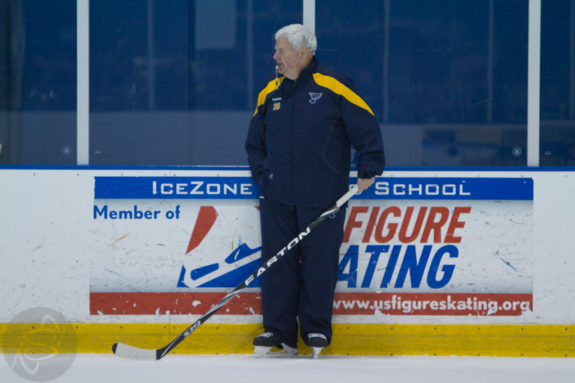 Line combinations are always a topic of conversation. With the latest additions of Derek Roy, Magnus Paajarvi and Maxim Lapierre, Coach Ken Hitchcock has a plethora of options at forward. There's flexibility through the lineup and by seasons end, I'm sure he'll go through just about every one of those options.
The start of training camp is almost upon us. While it's unclear if defenseman Alex Pietrangelo will be signed by then, one thing seems to be certain: Hitchock will start with a certain set of "twosomes" at forward.
"We're comfortable with twosomes (and were) wanting to see threesomes," Hitchcock said. "We've got combinations that we want to see, then it's where does (T.J.) Oshie fit, where does (Vladimir) Tarasenko fit, where does (Jaden) Schwartz fit. We've got some twosomes that we're going to focus on and then see where it fits from there."-Norm Sanders, News-Democrat
The twosomes Hitchcock is referring to are Backes-Steen, Roy-Stewart, and Berglund-Paajarvi. Looking at the Blues player usage chart, Hitchcock has a shut-down forward paired with a two-way forward on each of his top two lines. That's no coincidence considering how defensive minded Hitchcock is.
While Paajarvi was sheltered in his time with the Oilers, Hitchcock has him paired with Berglund due to the chemistry they displayed during their time together on team Sweden. Their size and ability to hang on to the puck is what drew Hitchcock's attention.
"Two big guys that hung onto the puck," Hitchcock said. "(The World Championships) is a month-long competition so how do you know? But all I know is the two guys held onto the puck. Nobody could get the puck away from them and they were hard guys to play against."

-Jeremy Rutherford, St. Louis Post-Dispatch
Like Hitchcock has mentioned, he still needs to figure out where Oshie, Tarasenko, Schwartz, and even Sobotka fit. However, Hitchcock also believes that Tarasenko and Schwartz need to play in the top 6, thus forcing Oshie into a 3rd line role and Sobotka into a 4th line role. Say goodbye to the CPR line Blues fans.
Projected Lines
Steen-Backes-Tarasenko
Schwartz-Roy-Stewart
Paajarvi-Berglund-Oshie
Sobotka-Lapierre-Cracknell/Reaves
At first, it seemed like Tarasenko would be an ideal fit on the left wing with Roy and Stewart. Tarasenko's excellent shot alongside the play making abilities of Roy would provide the young Russian a center who can continually feed him the puck. Stewart's big frame on the right side would create more room for Tarasenko to use his quick hands. As a result of the added time and space, Tarasenko would be able to dangle with the puck more efficiently.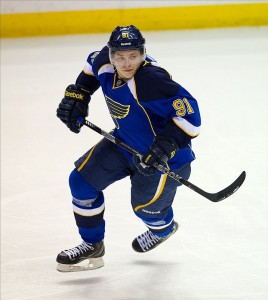 What's the problem then? Jeff Gordon of the St. Louis Post-Dispatch confirmed to me that Hitchcock prefers Tarasenko on his off wing (the right wing since he is left handed). This allows Tarasenko to cut to the middle of the ice on his forehand and take a quick shot on goal.
Hitchcock could switch Stewart to the left wing, but why would you move your leading goal scorer into an uncomfortable and unfamiliar position? You don't and that means Stewart and Tarasenko will be on different lines. The only other right wing spot that's open is on the 3rd line, but as Hitchcock stated, he needs to give guys like Tarasenko and Schwartz top 6 minutes.
Can Tarasenko thrive in a top-line role alongside Steen and Backes? As long as he stays healthy, Tarasenko certainly has the talent to become a top-line forward.
That being said, Schwartz becomes the best option at left wing on the 2nd line with Roy and Stewart. Schwartz displayed his offensive abilities at the end of last season and proved he could play against the opposing team's best players. His ability to drive the net while protecting the puck may be second to none on this Blues team. That skill will be vital to the 2nd line's success because it will create more scoring chances around the net for Stewart. Considering most of Stewart's goals last season were scored in that area, Schwartz's ability to get the puck to the net is very important.
This leaves Oshie to play right wing on the 3rd line with Paajarvi and Berglund. While Oshie's offensive skills are deserving of a top 6 spot, he may be best suited playing on the 3rd line. Hitchcock mentioned he liked how the two Swedes controlled the puck at the World Championships and Oshie was top 5 amongst Blues forwards (minimum of 400 minutes) in possession last season. If this line sticks, they may get the nickname "the possession line" (you heard it here first).
In regards to the 4th line, the Blues didn't sign Lapierre to a $1.1 million dollar contract for 2 years to play in the AHL. Since Hitchcock loves what Sobotka brings to the team, these two seem like a lock to start out on the 4th line. That leaves one open spot for guys like Adam Cracknell and Ryan Reaves. While Cracknell deserves the first crack at that spot (purely based on his play in the playoffs), don't be surprised to see him and Reaves switching in and out of the lineup depending on the Blues opponent.
Hello hockey fans; my name is Bill Sunshine. I am currently working to obtain my B.A. and Journalism Certificate as a student of the University at Buffalo. I first started writing about hockey after repeated attempts to educate my friends about the ins and outs of hockey, only to read those same ideas I shared with them in newspapers. My knowledge about the game of hockey derives from my experience as a player of the game and a die-hard fan of the sport. For updates on my latest posts, give me a follow on Twitter @BBSuns.