There needs to be tempered expectations on this one. Coyotes GM Don Maloney uttered the words that "everybody is up for grabs", and attention immediately turned to 23 year-old defenceman Oliver Ekman-Larsson. Maloney went on to say they would be "reluctant to part with" Ekman-Larsson, but that ball is now in the air. And it's certainly an interesting nugget. Arizona has been dreadful this season. They need to re-build and start over.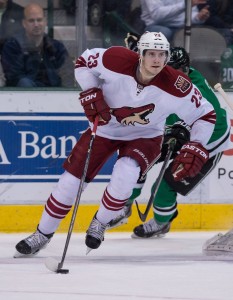 The Coyotes will Trade Anyone?
Shane Doan is untouchable, so don't even ask about him. But trading Keith Yandle makes sense. Parting with Antoine Vermette makes even more sense. But OEL is on his way to becoming a star. He had 15 goals and 44 points last season, and he already has 13 goals this year. He's got a minus -12 rating, but remember that he plays for the Coyotes. He's on the ice against the oppositions best players, and he's still developing his game.
OEL is 6 foot 2, and though he doesn't necessarily impose himself physically, he has a presence on the ice. He is able to move the puck with ease, and has a unique offensive flair. He is exactly the type of stud blueliner every team should want. So it would likely take a lot to pry him out of Arizona, but evidently Maloney is willing to listen. And for a team like the Oilers, they had better be making that phone call.
The Oilers Need a Defenceman
Yes the Oilers have a few first overall picks on their roster. But it's been well documented that they've tanked in the wrong years. They were too good in 2009 to get John Tavares. They finished a little too high in 2013 to snag Nathan MacKinnon or even more importantly Seth Jones. And they were just a little off last season and missed out on Aaron Ekblad. The players they have aren't terrible, but they aren't the best, and that's a big reason why the Oilers have struggled.
Signing Justin Schultz was supposed to be a real shrewd move by the team. But so far, he has been underwhelming, and for whatever reason he just hasn't developed the way they hoped. The team is being more patient with Darnell Nurse, which is finally a good decision, but it's hard to predict what kind of player Nurse will be, and if he can become that cornerstone defenceman. Well Oliver Ekman-Larsson is already that guy, which is why a team will have to blow Maloney's socks off to get him. But the Oilers may be just the team to do that.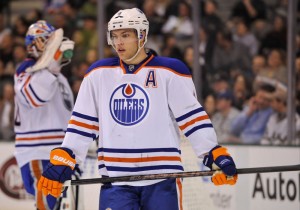 If it would take, for example, Nail Yakupov or Jordan Eberle and the first round pick acquired from the Penguins, I make that trade yesterday. But I'm thinking that may not be enough. I am not a proponent of trading Taylor Hall. I don't believe moving him will make the team better. The Oilers would be dealing him from a place of weakness, and they probably wouldn't get value back for him. The only scenario that trading Hall should be a possibility would be if the player coming back to Edmonton was just as good.
OEL doesn't get a ton of attention being buried in the desert, but I believe he is just as good as Hall. In fact, I believe he's better because he fills a need on this roster. Now, there are many who think that giving up Hall will cause this team to take a step back. And, even a quality defenceman wouldn't shine with the Oilers goaltending and style of play. But, OEL is only 23, and has already been developing at the NHL level. He's the guy you want on your blueline. Maybe there is another deal to make that wouldn't include Hall. The Oilers should at least kick the tires on it.
But fans, don't get your hopes up, because re-build or not, the Coyotes can't part with such a quality player. But, if a really good piece was coming back their way, maybe they would. It's not likely to happen, and there's likely to be a big asking price. But asking doesn't hurt anybody. Imagine if it all works out in Edmonton's favor?