The hockey genes run strong throughout Matthew Tkachuk's family. His father, Keith, was a 1,000 point scorer in the NHL before retiring and being inducted into the US Hockey Hall of Fame in 2011. Matthew, also, has a few prominent cousins in the hockey world, including former NHLer and current Pittsburgh Penguins assistant general manager Tom Fitzgerald and Jimmy and Kevin Hayes of the Florida Panthers and New York Rangers, respectively.
Tkachuk is one of the more interesting players on the United States Under-18 National Team Development Program. The native of St. Louis, Missouri recently de-committed to Notre Dame after verbally committing to the university in January 2013.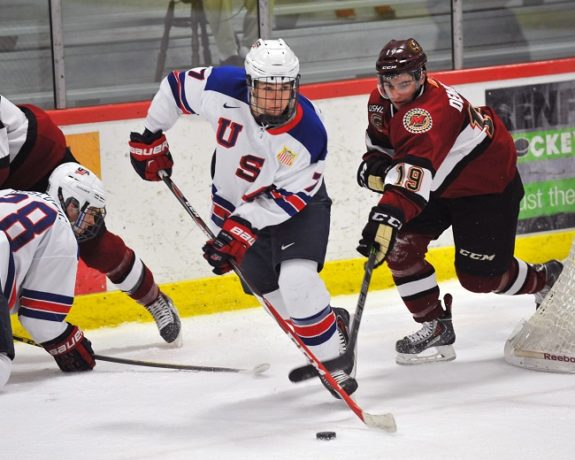 "Nothing against them. It's a great school and I like a lot of things about them," Tkachuk told SBNCollegeHockey.com in November. "It's just right now I'm trying to focus on hockey, and get better at hockey and try to win U-18 Worlds. I'll look at schools over the summer after the season."
It is unknown what is going to happen for Tkachuk next season, but it should be noted the London Knights hold his OHL rights, having drafted him in 2013.
In 38 games this season, Tkachuk has 21 goals, 27 assists.
Tkachuk, a left-winger, is known for being a smart player and has natural goal-scoring instincts, much like his father. Listed at 6-foot-1, 188lbs, Tkachuk is destined to be an effective, big-bodied forward in the NHL in coming years. He is already projected to be a first rounder in the 2016 NHL Draft.
The Hockey Writers caught up with Tkachuk for a Q-and-A to discuss what it is like to play in a hockey family among other things:
The Hockey Writers: Your dad, Keith, was a great hockey player back in the day. What did you learn from him, and what did he teach you growing up?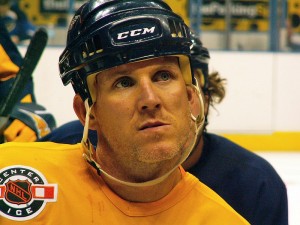 Matthew Tkachuk: Just to love the game. Of course he helped me out with all the skills and stuff, but basically, you have to have a love and passion for the game to make it [to the NHL]. I just try to live by that every day.
THW: Did any other players help you out other than your dad?
Tkachuk: I was always around the rink. Nobody in particular, but I just watched how they go about their daily habits and regular routines. I try to do that now.
THW: How is it growing up in such a big hockey family? Is there any pressure involved?
Tkachuk: We all like to push each other, that's for sure. We all use it as motivation. It has helped all of us out.
THW: Describe your game and who you compare yourself to.
Tkachuk: I like to play like a James van Riemsdyk. A big left-winger, strong, and good down low with pretty good hands.
THW: Are you going to make a run for the Team USA World Junior Championship roster in 2016?
Tkachuk: Of course. It would be a dream come true to make that team next year, so that's my goal.
THW: What about you makes yourself a top 2016 draft prospect?
Tkachuk: I don't really like to think about what makes me [a top 2016 draft prospect], but I feel like if I play my best, I can take care of myself. If I feel like I can keep playing [like this], move my feet, I feel like I can be in that category.
THW: What is it like playing with an elite skater like line-mate Auston Matthews?
Tkachuk: It makes it so much easier to play with a guy like that, a possible first overall [pick in 2016]. It's easy. We just feed off each other. We have pretty good chemistry.
THW: How has the NTDP developed you into a better hockey player?
Tkachuk: It's done everything for me. I wouldn't take back anything. If I could come here again I would. It is great for development and I recommend it to any young players.