What started out as a Friday night filled with hope for the Carolina Hurricanes, quickly turned into an early nightmare for Anton Khudobin. The St. Louis Blues struck quickly, as Ryan Reaves scored at 1:48, assisted by Steve Ott and Marcel Goc. Goc, acquired January 27th from the Pittsburgh Penguins, made his presence known early with the assist, and would continue to hound the Hurricanes throughout the contest.
Blues Captain David Backes followed up at 3:25 with a blast of his own. Two goals allowed on three shots was more than Hurricanes Head Coach Bill Peters could tolerate.
Don't blame Khudobin
[tweetthis]Coach Peters quickly went to the hook and yanked Khudobin[/tweetthis]. After the game, he explained that it was not so much Khudobin he was concerned with, as much as the start that his team was having overall:
"The goalie change was more just to slow their momentum down. It's obviously not a reflection of the goaltender, but we didn't start on time, that's for sure. They were apologizing to Dobby before he even got within 50 feet of the bench."
In defense of Khudobin, the Hurricanes defense in front of him left the Blues in good position to attack the net. But, in the "what have you done for me lately" world that is professional sports and the NHL, Coach Peters had no qualms about making the early goaltender change.
All-star Recovery
Leave it Justin Faulk to get the Hurricanes back into the game on what was the team's first official shot on goal:
Assisted by Jay McClement and Brad Malone at 10:57, Faulk scored on a nice blast from fairly far away from the net. Credit Brad Malone for taking away the line of sight of Blues goalie, Jake Allen. Net-front presence is something Coach Bill Peters has consistently preached to this team, and they are responding.
Night after night, Justin Faulk does at least one, and usually several, significant things for the Hurricanes. He is an anchor for the team, and is so much more than a defenseman. Faulk was well-deserving of his NHL All-Star selection. And imagine this, Justin Faulk is only 22 years old.
Murph Madness
Ryan Murphy tied the game at 14:19.
It has been a nice week or so for Ryan Murphy, who had been sent down to the Hurricanes' AHL affiliate Charlotte Checkers during the NHL All-Star break. He played in the AHL All-Star game, and was a +5. Friday night, he got his first NHL goal of the season.
By the way, Jordan Staal was in front of the net on the play like Brad Malone was for Faulk's goal. Net-front presence anyone?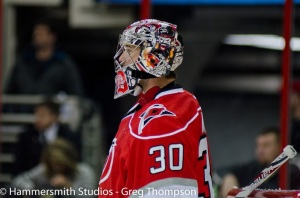 Cam Ward Returns
Cam Ward returned to the net in replacement of Anton Khudobin. He was excellent. He saved 29 shots. His only blemish was in the shootout where the Kevin Shattenkirk solved him for what would be the shootout win for the Blues.
Ward commented after the game that he was ready to come in at a moment's notice because, "Part of being a professional is that you have to be ready at any given time." He certainly played a very strong game against a St. Louis Blues team that could very well contend for the Stanley Cup this season. Cam Ward summed up the obvious nicely:
"We got a point out of this game, and we can move on to New York and hope we get off to a better start." –Cam Ward #STLvsCAR

— Carolina Hurricanes (@Canes) January 31, 2015
The question is who will start tonight against the New York Rangers for the Carolina Hurricanes, Cam Ward or Anton Khudobin? Also, will Alexander Semin get off the pine and onto the ice? (You can read my post about how the 'Canes are dealing with Semin here). Can the Hurricanes get off to a better start against the Rangers?
They will need to, or Coach Bill Peters might be yanking more than his goalie off the ice. He is serious about getting this team to be consistent. The road trip that starts in New York will be a good test for his team. Consistency for sixty minutes would be nice.